| | |
| --- | --- |
| Film Review | Sunday, 01 November 2009 | |
In a world of mass cinematic disappointment, Pixar are a rare anomaly. So much so, that one almost starts to get apprehensive about the consistent quality of Disney's 3D animation branch, from Toy Story all the way down to Wall-E. You begin to entertain notions of conspiracy theories… or, at least, you start thinking that maybe, this is all too good to be true, and that a clunker will come steaming out of the digi-studios soon enough.

The situation is rendered all the more baffling by the fact that, strictly speaking, there is nothing revolutionary about their feature films, not in terms of plot anyway. They are largely coming-of-age tales, with a predictable trough of innocence compromised, lessons learnt, happiness secured. Any 2D Disney film will teach you that much, and simply tacking on a third dimension does not genuine magic make. One can only conclude that what gives Pixar a genuine edge over the competition (which, if we're honest, can only translate into 'Dreamworks') is that their emotional mini-epics boast real heart. A potentially mawkish moment is always undercut by a silly bit of quirky humour, characters are fleshed out as real from the very beginning, and we're charmed by their growth as we're taken on their journey. This could have something to do with the fact that Pixar is a company that nurtures maverick talent (it is, after all, co-owned by Apple Computer maestro Steve Jobs), and that it may not be as ready to give into slapdash, committee-written, cliché-ridden characters and plots. Whatever the case, Pixar has done it again, and Up is most certainly a triumph.
The irresistible charm which we've grown accustomed to is very much in evidence from the get-go, as we witness a young Carl Fredricksen (voiced by Edward Asner) fall in love with both the explorer Charles F. Muntz and Ellie, an assertive but quirky tomboy, in rapid succession. The couple share an obsession with exploration and adventure, and the two embark on a (seemingly) perfect journey towards marital bliss. Spoilers will be avoided, but suffice to say that directors Peter Docter and Bob Peterson show a remarkably astute restraint and economy in the way that they render the (largely silent) prologue – we get to know all there is to know about these people with just a few quiet, tender sequences that hit just the right emotional spot. And there is melancholy here, real melancholy that you're unlikely to find in any other kid-friendly animated feature. But things get brash again once the elderly Carl is visited by eight-year-old Wilderness Explorer Russell (Jordan Nagai), and the two whisk away to the South American wilds on… Carl's house.
The whimsical concept is already a winner, and the old-man-harried-by-annoying-kid setup is enough to get the bums on seats. But considering that there is little by way of incident until the unlikely pair encounter their antagonist (an embittered, scorned explorer voiced with hammy perfection by Christopher Plummer), it is a credit to the writers that we're already on board before the action starts. The poignancy of the prologue makes any cuteness welcome, so it's never mawkish. But the humour (or, rather, the pitch-perfect comic timing) is what sticks out most, especially when a flightless bird (whom our adventuring pair name Kevin) and Dug, a dog with a translating collar join the proceedings. This is not to say that the visuals shouldn't be talked about. With crisp landscapes and vibrant colours, Pixar manage to wield a magic that's stylised and realistic in turns, whenever it needs to be. And truly, the same could be said of the script itself. Up is a rollicking adventure with a heart. A big heart. Much like The Incredibles, it is refreshingly frank about life's many quiet (as well as not-so-quiet) disappointments, but it radiates hope with equal intensity. A simple enough formula, bound to fail if it falls into the wrong hands. Luckily, Pixar have not allowed for this to happen yet.
---
Any comments?
If you wish your comments to be published in our Letters pages please click button below.
Please write a contact number and a postal address where you may be contacted.
---


All the interviews from Reporter on MaltaToday's YouTube channel.
---
EDITORIAL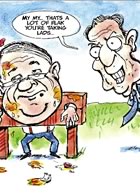 Coming down to earth