| | |
| --- | --- |
| Film Review | Sunday, 04 October 2009 | |
Journalists seem to be slowly turning into Hollywood heroes, by the looks of it. When you have the star of Gladiator taking on the role of a hardened, idealistic newshound (in State of Play), you know something's up, especially when you consider Russell Crowe's very public hatred for the profession. Now we have what looks to be the man of the hour Robert Downey Jr. (having phoenix-ed his way back into the silver screen these last couple of years) snuggling up to a role as Steve Lopez, a real-life LA columnist who discovers a musical prodigy, Nathaniel Ayers (Jamie Foxx) bumming around Los Angeles' Skid Row, playing music on a two-string cello after being kicked out of university. The columnist, struggling with stories and anxious due to cutbacks at the newspaper, sees the down-on-his luck musician's plight as an opportunity for a story but, as Nathaniel's schizophrenia begins to unravel, Lopez begins to develop a sense of responsibility, that could be redemptive for the journalist in more ways than one.

Wright's depiction of the Los Angeles Skid Row is especially impressive, particularly in the way it never explicitly hammers home any message about race, which would have been an incredibly facile move, given the geographical circumstances under scrutiny. It would have been very easy to ruin it with any sort of preachiness: histrionic monologues, very obvious episodes of racial discrimination etc., but Wright never allows it, letting the social conditions unravel visually. One thing you can't say about Wright's direction is that it lacks confidence. Especially considering how he's coming into it from lush period dramas (Pride and Prejudice, Atonement); this feels like a gritty change of pace that's most welcome, even if its motives are deliberate. Praise also must go to the two leads. They infuse an otherwise brittle script with vitality and charm. Downey snugs up to the role of deshevelled, amoral journalist with nearly worrying ease, but makes for enjoyable viewing and, through his perforamance alone, the film gains some sort of suspense, as we are left rooting for his altruism to come through in the end. However, a one-sided effort, no matter how brilliant, would have made for a deflated experience: luckily, Downey's interactions with the troubled Nathaniel feel seamless. This is partly thanks to Foxx's well-pitched depiction of the gifted schizophrenic. He is a pitiful figure, but the heartstrings are never pulled too obviously, and a dangerous edge is always looming over him, keeping our sympathies at arm's length. What is also refreshing is that, in a film that is basically drawn from a series of newspaper articles, voiceovers are used sparingly.
The main problem is the lack of any real character propulsion. Granted (again), that the film is a true account based on a series of newspaper articles, but liberties are already taken with Lopez's life (he was never divorced), so a few more twists couldn't have hurt. It looks as if Wright simply relied on the quirkiness of the real-life tale and the performances to carry the whole film, but what should have been an emotional rollercoaster ends up feeling a bit deflated. Fact – as anybody who has been shuffling around this mortal coil for some time will surely tell you – is sometimes stranger than fiction, and while Nathaniel's story would make for interesting reading as part of your morning coffee, it's fascinating precisely because it resembles a Hollywood cliché. Transmitted back onto the big screen, this edge is lost.
But as far as padding goes, Wright does a not-bad job of filling in the cinematically-unfriendly gaps in the story with a few evocative visual tricks. Among these are Nathaniel's lapse into some sort of synaesthesiac ecstasy, as different colours suddenly assault the screen, shifting accoring to musical mood. Also of particular note is the way Los Angeles comes alive, beginning from Nathaniel's musical escapades in a tunnel overlooking the LA Times building, as Wright follows a pigeon's journey to the prodigy's expert playing. Again, we are made to see that the director is in possession of great skill, and displays a more-than-adequate hand at depicting both outer and inner landscapes, but when the script flags, there is little one can do to pick up the pace. Still, the raw material of the tale, while not entirely engaging as a cinematic experience, keeps the potential schmaltz at bay thanks to genuine performances from its leads, and an open-ended dénouement which – without spoiling anything – inspires hope precisely because it does not give in to a rose-tinted approach.
---
Any comments?
If you wish your comments to be published in our Letters pages please click button below.
Please write a contact number and a postal address where you may be contacted.
---


All the interviews from Reporter on MaltaToday's YouTube channel.
---
INTERVIEW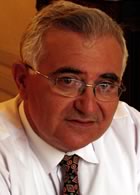 I, father confessor
---