| | |
| --- | --- |
| News | Sunday, 13 September 2009 | |
The Nationalist Party parliamentary group was convened this Friday, the first meeting that government MPs have had in three months.
Consonant with the gloomy mood amongst most of the backbenchers, one MP told MaltaToday that "a bocci club meets more times in a month than the PN parliamentary group."
Of particular note was the fact that the party administration did not issue an agenda for the meeting, fearing any leaks to the press. The same source said the discussion was "of no importance... MPs were even just walking in and out of the room during the meeting."
But it was newly-elected backbencher Franco Debono who was conspicuous by his absence.
Last Sunday, MaltaToday reported his denials of having privately suggested he was considering crossing the House to the Labour side.
This newspaper is reliably informed of persistent reports that Debono, 35, told colleagues and friends he would switch political allegiance.
His alleged ramblings about the government's lacklustre performance were linked to an imminent Cabinet reshuffle. Debono privately expressed his opinion that he expects to be appointed to a new cabinet.
Sources told MaltaToday such an appointment was considered "impossible", something Gonzi aides have long denied.
MaltaToday is informed that Debono is particularly at odds with the Nationalist government on the issue of the 100MW extension to the Delimara power station.
The controversial tender was awarded to Danish firm BWSC for a diesel-engine turbine, which will have to be converted to gas in future. Rival bidders Ido Hutney-Bateman Projeckt claim their own combined-cycle gas turbine, was cheaper than BWSC's, and filed a judicial protest.
The Labour Party is expected to take up the issue once parliament meets up again, and Debono is rumoured that he could make life difficult for the PN on this subject.
Adding to his concerns is the fact that the PN is looking for new candidates on Debono's fifth district. Debono surprised the electorate in 2008 when he managed to oust veteran minister Louis Galea from his constituency, to garner the highest number of votes in the district, which comprises his hometown Zurrieq.
Debono is already a prime candidate in the area. Without Louis Galea, he is virtually without any strong competition inside the district. Debono is said to have expected "some consultation" on the choice of the new candidates.
Asked last week whether he would deny or confirm that he was suggesting that he would cross over to the Labour opposition, Debono first insisted that MaltaToday send him an email.
When MaltaToday insisted on a confirmation or a denial, Debono first refused to comment and then said he definitely could deny the rumour.
---
Any comments?
If you wish your comments to be published in our Letters pages please click button below.
Please write a contact number and a postal address where you may be contacted.
---


All the interviews from Reporter on MaltaToday's YouTube channel.
---
EDITORIAL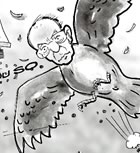 Making the same mistake twice
---
INTERVIEW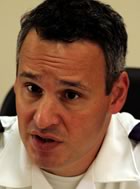 Between a rock and a hard place