| | |
| --- | --- |
| News | Sunday, 13 September 2009 | |
Matthew Vella
Alternattiva Demokratika, the Green party, said its position on spring hunting had been vindicated by the decision of the European Court of Justice which declared a derogation from the ban on spring hunting, had been irregular.
The Maltese government opened the spring hunting season for four years in a row since accession to the EU, in breach of the Birds Directive's rules on how to derogate from the ban.
AD spokesperson on sustainable development and local government Carmel Cacopardo said the decision showed that the government was wrong, "as AD and environmental organisations had been maintaining all along… AD hopes government will take this as a lesson and starts implementing EU environmental laws rigorously. It's in our common interest."
AD chairperson Prof. Arnold Cassola said the government and MEP candidates from both the PN and Labour had kept giving the impression that spring hunting could continue thanks to special concessions. "The ECJ decision shows this was just misleading propaganda and a vote-catching exercise."
Yesterday 52 volunteers from eight European nations joined Maltese conservationists to monitor bird migration and illegal hunting during BirdLife Malta's Raptor Camp, over the next three weeks.
The international bird monitoring camp started yesterday and will run through the peak migration of raptors (birds of prey) until 4 October. While recording migration data, Raptor Camp volunteers will also remain vigilant for illegal hunting and trapping activities. Camp attendees will pass on information and evidence to the police regarding illegal hunting activities to assist in their investigations.
BirdLife said it did not oppose hunting in autumn as long as it is practiced within the parameters of the law.
Maltese hunters can legally shoot 32 species from 1 September until the end of January. Hunting after 3pm between 15-30 September is banned to protect birds of prey from poaching. During this period, large numbers of these birds stop to rest in the Maltese islands during their journey to Africa, and are thus vulnerable to poacher's guns. In recent years they have also been targeted by poachers at night while they sleep, BirdLife said.
"Since the beginning of migration two weeks ago, we have once again started to witness illegal hunting and receive shot protected birds... The aim of our Raptor Camp is to stop the illegal killing of protected species and not all hunting in Malta," said Dr Andre Raine BirdLife conservation manager.
Finch trapping is no longer allowed in Malta as the five-year transition period to phase out this practice, agreed upon with the EU during Malta's accession, expired at the end of last year. Bird trapping is banned in the EU under the Birds Directive.
But the government has announced it will apply a derogation to allow trapping of Turtle Dove and Quail between 1 September and 10 October as well as Golden Plover and Song Trush between 20 October and 10 January.
"However, any derogation needs to be justified through a report that will be submitted to the Commission showing that there is no alternative to the trapping of these species.
"It also needs to prove that the birds are trapped in small numbers and also that it is strictly supervised. Otherwise the Commission may react as it did with the spring hunting case and take Malta to the European Court of Justice," Raine said.
The most common migrating birds of prey at this time of year are Honey-buzzard, Marsh Harrier, European Hobby and Common Kestrel, while over 100 wild bird species can be observed over Malta during the autumn migration period.
---
Any comments?
If you wish your comments to be published in our Letters pages please click button below.
Please write a contact number and a postal address where you may be contacted.
---


All the interviews from Reporter on MaltaToday's YouTube channel.
---
EDITORIAL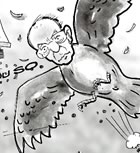 Making the same mistake twice
---
INTERVIEW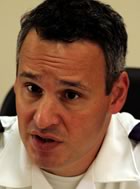 Between a rock and a hard place