| | |
| --- | --- |
| News | Sunday, 09 August 2009 | |
James Debono
Malta will not be sending a letter of congratulations to Iranian President Mahmoud Ahmadinejad on the occasion of his re-election and re-appointment as President of the Islamic Republic of Iran.
A spokesperson for foreign minister Tonio Borg told MaltaToday that Malta was acting "in unison with the European Union's position."
Mahmoud Ahmadinejad took the oath of office as Iran's president for a second term on Wednesday, while hundreds of opposition supporters gathered around parliament where the ceremony took place.
"We heard that some of the Western leaders had decided to recognise but not congratulate the new government... Well, no one in Iran is waiting for your messages," Ahmadinejad said in his speech after taking the oath of office in parliament
The Maltese government had signed a declaration agreed upon by all EU member states, expressing concern at the human rights situation following the presidential elections in Iran.
Mirhossein Mousavi and fellow defeated moderate candidate Mehdi Karoubi alleged fraud in the election which saw Ahmadinejad winning two thirds of the vote. They have rejected the new government as illegitimate, defying Iran's most powerful figure, Supreme Leader Ayatollah Ali Khamenei, who backed the election result and endorsed Ahmadinejad.
---
Any comments?
If you wish your comments to be published in our Letters pages please click button below.
Please write a contact number and a postal address where you may be contacted.
---


All the interviews from Reporter on MaltaToday's YouTube channel.
---
EDITORIAL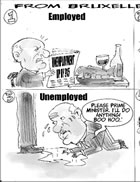 The little things that matter most
---
OPINIONS


Saviour Balzan
A 24-point guide to rock 'the Rock'
---


Martin Scicluna:
On remarriage, the Church's response is fundamentally flawed


Evarist Bartolo
BWSC's equipment turns us into guinea pigs


Vince Farrugia
Rent reform is an unjust law