| | |
| --- | --- |
| Saviour Balzan | Sunday, 09 August 2009 | |
Part One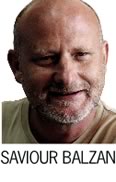 To start with, this write-up will not be referring to our four most favourite characters. They are undoubtedly Dr G the clueless man, JM the wannabe premier, the fascist bitch (no introduction needed), and more importantly the Cardinal, the man who would have been EU Commissioner were it not for the fact that Joe Borg seems to be the most probable choice.
What I will be trying to do is list and illustrate the 24 cardinal steps needed to turn this torrid and barren rock into that metaphorical Switzerland in the Mediterranean.
Step 1
Abolishing the use of the word "Hi…" (as in 'brother'…)
'Hi!' (pronounced 'heee'), that Godforsaken word used by those who cannot tell the difference between a cockroach and human being. The patron at Tarragon always replies to a telephone inquiry with the usual riposte: "No tables available heee…"
At Mater Dei, the blood is pouring down your forehead and the receptionist tells you: "Poggi heee, u stenna sakemm nghajtulek." (Sit down heee, and wait until it is your turn). Hi will be abolished and instead the word 'sir', or 'madam', or better still 'excuse me, sir/madam' will be used.
Step 2
Customer service
The other day I walked into Zara. Now I am fully aware that I'm no stud have neither the looks nor the body of Lou Bondì. But can someone have the decency to ask me if I have a problem?
I waited for five minutes and not a soul to my rescue. No one came up to me. Not even a heee.
And then I walked to NEXT. Really, the slogan should read, NEXT TIME. Once again there is little doubt in my mind that retail outlets are doing so well that they could not give a flying f*** whether they sell their wares or not.
Therefore all salesgirls or salesboys (or is it salespersons?) will have to say 'good morning' to their clients, smile and ask them if they would like to be showed around. Preferably, they should also know the difference between leather and plastic, cotton and acrylic, and accept the fact that not everyone knows his waistline.
Step 3
Wardens
I am proposing that Kenneth Demartino, Malta's biggest recipient of public funds (and fines…) is given a big golden handshake and told to take his wardens to another country and leave us all alone. The golden handshake must ensure that poor little Demartino does not starve to death after having been deprived of so many unprofitable projects.
To ensure some discipline in our roads, the traffic police complement will be trebled and put to good use. And instead of escorting silly little Cardinals up and down Malta, they will be out and about proving their mettle.
Underground parking will be constructed from funds collected by MEPA. And a tram system will be constructed from Valletta to B'Kara, Valletta to Paola and Valletta to St Julian's.
Step 4
Austin Gatt offered a retirement plan
After having literally decapitated Radju Bronja, ruined PBS, introduced electricity and water tariffs in the worst economic year in ages, shift the blame of Enemalta's mismanagement on us, privatise gas and allow the fat cats to raise their prices, allow for extravagant court tariffs, fail in reforming the public transport service, introduce congestion parking fees in Valletta, privatise hearses and allow for a hike in their prices, manage the sale of public land to the smart asses from Dubai and for having literally turned the art of politics into the art of kiss-my-ass-if-you-do-not-like-it, I am proposing an early retirement plan and a swift exit from politics for the man.
Step 5
Public Transport and Taxis
A complete revision of the public transport system and white taxi service to ensure that everyone will be able to use them without feeling robbed. This will mean that all taxi drivers will be sent to Hollywood and asked to take up residence there to star in the thriller movie, 'The Pimp And The Terrorist'.
All Maltese buses will be sent to the London transport museum. Instead we will be regaled with cute taxi drivers who offer affordable trips and buses that are smallish, air conditioned and driven by polite chauffeurs.
Step 6
Tidiness and dumping
There will be zero tolerance for anyone who dumps or creates a mess. And instead of unsightly trashcans made up of barrels cut in half, someone will think of something more in tune with 2009. Anyone caught littering will be cautioned the first time, fined €100 the second, doubly fined the third time and then trebled for the fourth time.
Step 7
Income tax and tariffs
To inject some feelgood factor in the population, the income tax band will be reviewed at once. The minimum wage increased. Hopefully this should lead to more consumer spending. Company tax will be reduced by 10%. VAT on construction and renovation will be reduced to 5%.
Step 8
One TV, NET, PBS and dinosaurs
For starters, party stations One TV and NET should have their licences removed. PBS should be headed by someone who is not a political appointee, and replaced with a head of news that enjoys the credibility and respect of everyone. The national station should be allowed to create its own programmes and stay away from intervention from the State. Needless to say, the BBC model should be followed.
And the Broadcasting Authority should be abolished and simply replaced by an ethics commission.
Step 9
Windfall tax and roads
A windfall tax should be applied to all the companies that have benefited from privatisation. MIA, Maltapost, HSBC, cargo handling, gas and so many others. The monies collected from these poor souls should then be channelled to upgrade our roads. The project will also solve the water problem at Msida and Qormi and Marsa.
Step 10
Better health, better wages
Reform the private health insurance schemes, allow for salary increases for doctors and paramedics at Mater Dei to allow them to improve on more operations and working hours. Increase the national insurance contribution but channel it directly into health.
Step 11
Presidential system
Introduce a Presidential system whereby a President is elected and given executive powers. The post of Prime Minister is abolished and the President may choose technocrats to be in his or her Cabinet. Parliament down to 35 members.
Step 12
Hunting and petards
Abolish hunting forever and ban the use of petards. Ask the Church to intervene. Since we are told that most hunters are being diagnosed with depression from being deprived of killing our feathered friends, provide Lino Farrugia with an address list of psychotherapists.
Next week: 12 more steps to Paradise
---
Muscat bugged and revealed
After last week's unbelievable telephone conversation between the PM and MEPA chairman Austin Walker, this week MaltaToday reveals a telephone conversation between Joseph Muscat and Jason Micallef leaked to this newspaper from a mole inside the glasshouse.
Jason Micallef looks out of his panoramic window and dials 666.
"Leader?"
"Yes Jason, what is it?"
"Ara leader, can you tell James Piscopo (Labour's CEO) to stop bugging my ass?"
"What happened now?"
"Ara Leader, I had this Chinese delegation here and I was going to buy them a prezzie, and James P told me that we should give them the Malta 360° publication. Al M*****! Over my dead body – that book is published by that p**** Eddie Aquilina, that Nationalist stooge."
"So what are you suggesting?"
"I thought of giving them an almond cake from Borg Bonaci!"
"What?? An almond cake? Are you mad? Insomma, please do not drag me into this, I have more important things to do."
"Sorry leader, this is not about the present, but about my authority. I AM THE SECRETARY GENERAL, u ma jigix dan iz-z*** telling me what to do!"
"Jason, stop it, I can smell you from here – have you been drinking?"
"Leader, I only had an Amaretto!"
"Jason, it is 10am and you've already had an Amaretto!"
Dring, dring. "Hold on, Jason, I have another call… Hello, yes tell me Toni (Abela)."
"Leader, there are a group of women Laburisti from St Julian's and they would like to present you with a gift, it will only take a minute."
"Ostra, Ton, I am busy… ejja tell them to come in but I only have a minute. And tell James P. to come in here too… Jason, are you still there? Ejja come in too, ghax haqq…!"
The three women come in, their clothes an explosion of orange, reds and blues. Toni Abela, trousers up to his navel, accompanies them. James and Jason follow, their artificial smiles all too apparent. "Leader," the ladies crow, "we wished to give you this small present as a token of our appreciation for your first year as party leader."
They present him with a neatly wrapped gift, suspiciously looking like a book.
"Uuuu, issa x'ridtuh dan? (You shouldn't have)," Joseph tells them. He accepts the gift, kisses the three women on their cheeks and unwraps the package in front of everyone. Toni Abela smiles and so does James Piscopo.
Joseph Muscat takes out what is clearly a book – the gift is a Malta 360° publication.
Joseph Muscat, amused and now breaking out in a telling smile, looks at the women. "Thank you so much! This is such a really nice gift."
Muscat clutches the Malta 360° tightly and looks at a dumbfounded Jason Micallef, smiles and winks at him.
---
Any comments?
If you wish your comments to be published in our Letters pages please click button below.
Please write a contact number and a postal address where you may be contacted.