| | |
| --- | --- |
| Monique Chambers | Sunday, 28 February 2010 | |
My verdict? Don't go till summer | Rating 5/10 | Style Has a great location… | Service 5/10 Don't quite have the balance right but they try | Selection 5/10 Just visit the antipasto cart | Steal-ability Pumpkin in honey antipasto
If it had been a summer's evening, the walk to Allegro Andante in Spinola would be delightful. The boats scattered on the hard would be awaiting launch to catch fish, take tourists out for romantic sojourns and not just hanging around to remind me of an embarrassing episode or two in my fast-forwarding life. The route down from the LOVE statue gives you the opportunity to look out at the other diners on the tables that spill out onto the waterside, and at the promenaders enjoying the picture postcard surroundings.
Unfortunately, this time of year makes it a little more precarious, and the restaurants that enjoy one of the best locations in Malta cannot rest on their laurels to remain profitable. Unless they chose to close for the period when the sun is in hiding, they really need to maintain standards and entice local clientele in the absence of a winter season mass tourist army. Being by the sea just isn't enough.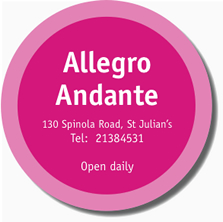 The downside to this time of the year from a punter's point of view is that often, you are rarely in a crowded restaurant in such locations. January sees a dip due to diets, budgets and the blues in general and once the romantic flurry of Valentine's Day has wilted, another dip on the restaurant rollercoaster ride is felt generally until the temperature rises and Easter eggs and figolla are on the shelves. For the restaurateur, this lull is the perfect time to revamp concepts, menus and indeed properties, and one often finds oneself in a half-baked venue that looks a bit like it is rundown rather than ramping up to something fresh with a new lease of life. It can be quite depressing.
Allegro Andante is currently in this phase, though on the evening I went, it enjoyed an almost full floor, and apart from it being unusually busy, what was more unusual was the age group of the diners. There was a couple and two 'ladies' about our age, and then three tables of groups of teenagers. It was early in the week and I have to say, this impressed me. I wouldn't call the restaurant trendy, unless someone wants to brave the waves – you aren't going to be seen in there, and the menu is pretty traditional; but they are obviously engaging to this set somehow. They didn't seem to know any of the staff, but perhaps I was engrossed in my own conversation and didn't notice.
One thing you can't miss on arrival is the antipasti cart. A colourful variety of plates with fish, meat, cured meats and vegetables are appealing. We were talked through the selections as they aren't labelled with individual descriptions – in hindsight, I wish I had paid more attention. From memory and what landed on my plate were three types of ratatouille, bresaola, griddled aubergine and zucchini, egg fritters – which were intriguing and really tasty, and pumpkin in honey, which was absolutely divine.
As my main, I chose the risotto al funghi; a mountain arrived and it was a bit too much of the same taste. To be honest, I had expected a selection of wild mushrooms but only noticed one variety, and was disappointed not to be offered parmesan or pepper to give it the kick it needed. It would have made a difference, but regardless, I would have still left a significant amount, as the portion was just too big.
My French friend ordered a steak with pepper sauce. She is an exacting review buddy and makes me smile. I like my meat pretty close to still beating... surprisingly, being from the land of food, she opts for well done. The steak was cooked perfectly to her taste, but the pepper sauce looked congealed and unappetising, we agreed on that for sure. Luckily she ordered vegetables and (French) fries, which she always orders by the un-bracketed portion of the name (ah, tickles me).
There was a small selection of desserts, but once I had heard the word parfait I was sold. It was a strawberry variety, and more like a frozen mousse – tasted freshly made anyways – and I fearlessly polished mine off. French friend wasn't quite so convinced. Defeated again!
I did speak to the owner about a few elements, and he said they were replacing shutters but didn't mention anything about sprucing up the restaurant, a lick of paint, proper tablecloths instead of the waxed paper versions in use and changing the black iron chandeliers that look like they are supposed to be rustic – but so many kind of make it look like a dungeon, really need to be changed. Little things like these would make such a difference. The colours are mixed – inside is dark red and outside is made up of blue and yellow – of course, in warmer months people sit outside and so decor may not seem quite as important, but you still have to come inside, indeed walk right through the property to visit the WCs and from the loveliness of Spinola Bay on a nice day, going inside would be a bit disappointing.
Apparently the upstairs is being revamped and turned into a lounge bar for the post-work and post-dinner crowd – making use of the terrace that looks out across the water. I hope this is the catalyst to upgrade downstairs and a new lease of life is give to this property that deserves a bit of attention.
Restaurateurs have to realise that every single patron that walks into their place is a critic, the days of just word of mouth are gone. With the proliferation of social media and travel sites at holiday bookers and bored office workers fingertips, a good or bad experience can be posted and digested by people before you have had chance to make the impression you want to on prospective punters. Allegro!
---
Any comments?
If you wish your comments to be published in our Letters pages please click button below.
Please write a contact number and a postal address where you may be contacted.
---
Offhand reaction to prison death
---
INTERVIEW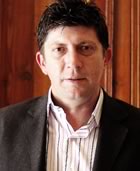 Reform now, or never
Nationalist backbencher and family doctor STEPHEN SPITERI hedges his bets on the upcoming primary health reform as the only way the public health system can rid itself of its current problems.
>>