| | |
| --- | --- |
| Food | Sunday, 14 February 2010 | |
My verdict? 8/10 Go for a romantic evening | Rating 8/10 | Style 7/10 I think I preferred it before | Service 7/10 Courteous and not OTT | Selection 7/10 Good solid classics | Steal-ability The lamb ravioli (amuse bouche)
When I used to visit Malta for holidays, walking past a packed Lulu's on our way into Paceville was something that happened often. I think this was in pre-Portomaso days, and we used to park in the back streets and wander up the alley, planning the bars and clubs we were going to hit, wondering if when we were old, you know, about 30, we would be sitting tête-a-tête with a beau we were besotted with, somewhere as sophisticated as Lulu's.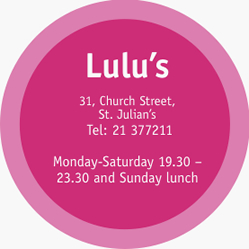 30 came and went and so did a few beaus. But I never got to Lulu's... that is, not until last week. So, rapidly approaching 40 but with the other boxes ticked, we parked almost outside the door and took a table next to the window – I guess hoping to look out of the window and into a time machine at dreamy teenagers.
The decor has changed somewhat; oversized orange and brown panels, mirrored sections and amber coloured chunky glass tea light holders hold firm the richly coloured table runners. Wall mounted sculptures are repeated up to the rafters. A large mirrored window is inset at first floor level, looks like the two-way varieties you see in dramatic movies when a particularly intense interview is taking place, and the prime witness is hidden on the other side. I couldn't work out why it was designed like this – no one could look in – unless climbing, spiderman-like, up the walls of the secret garden restaurant opposite. But hey, design and taste are not explicable. The mirrored wall is the edge of the upper floor which can host around 40 revellers, and has a large spiral staircase, and a lift to get you up and down; downstairs has well spread tables which can easily be pushed together to cater for larger parties, and there is a wheelchair ramp at the main entrance too.
We ordered a bottle of Laurenti – a wine I haven't had for a while either, so I decided to give it another go, and it turned out to be a good choice. It suited my mood. The supersize menus made it a bit difficult to chat over the top of, but they were full of classics with creative sauces. The orangey palette was followed through and on the menu covers in a Mondrian style pattern. I found myself reminiscing about a frock I had with the pattern on – in the original colours of course – which I would wear dancing to the tunes in clubs that were playing in Lulu's that night. I could have been the younger me, looking in on the older me. Back to the future!
In the present, an amuse bouche of lamb ravioli with a delicate taste of capers arrived and I wished there was more than one, and this was my starter. Normally, these are just pretty and tantalising – but this was delicious. I didn't regret my choice of starter though; a mushroom filo pastry tartlet (€8.50) which remained as crispy to the last bite as it was at the first, though the really rich creamy sauce should have, by rights, have made a mush of the base.
John had the duck 'bresaola' with crushed minted peas and a rich ginger foam (€9.50). (I really should have asked Santa for an immersion blender instead of a Wii Fit. Oh well, Agatha enjoys it at least). I was excited about his minted peas – there are things a girl just misses about England – and proper mushy peas are one of those things for me. The bresaola was very good, but I give the decoration more attention.
For my main, I chose the duck leg on a confit of red onion marmalade and a redcurrant jus (€18.00). Towered on top were the most finely cut onion rings I have ever witnessed. They resembled chiffon and slid easily between the prongs of ones fork, they were lightly coated and crispy on the outside and hot and soft, marshmallowy, with the addictive, sweet taste of onion waiting inside. I ate these on their own but should have saved just a few to taste with my meat. The red onion marmalade was divine too. One of those things that is so simple to make but you just never get around to doing so. Chefs go through a lot of trouble to build these dishes for people like me to dismantle them and not experience their work as it was designed to be tasted. Sorry chefs.
John had the veal fillet with a carrot and mango puree, with muscavado cherry tomatoes and dried pancetta (€20). There was a good stack of meat and between us, I think we almost dug to Australia getting every last morsel of the puree off the plate. I was at least generous enough to use the potatoes rather than demolish his dish too. And I wondered where those 3 kg came from (which goodness knows how I can only find one of now).
I did try to replace them with dessert; a date pudding served with a warm and licky fingers sticky toffee sauce... and if that wasn't enough, smothered with chopped nuts. Oh, and cream. I forgot the cream. I have a theory that the whole calorie thing is a myth and that 100% believe that tea melts these mythical calories, and so opted for a green minty variety. These healthy teas dissolve them at twice the speed, don't you know. Please don't quote me, but it works in my world – along with my own branded theory of spending/saving which I will make me millions when I pen the book – watch out for it at a bookstore near you... Moniqueonomics will change the way you think about shopping... Let's hope that dream comes true too.
---
Any comments?
If you wish your comments to be published in our Letters pages please click button below.
Please write a contact number and a postal address where you may be contacted.