| | |
| --- | --- |
| Monique Chambers | Sunday, 29 November 2009 | |
The last time I was at the Hard Rock Café was for a hen night and I can't regale you with the stories of that escapade – as there is family involved. I do remember people thinking we were really, really drunk when we left but actually, I have an irrational fear of those glass panels scattered (without people like me in mind) all over the BayStreet complex. I went, in honour of Thanksgiving, this time and, while I was definitely stone cold sober, I imagine I still looked liquored up. My friend just let me free to navigate the obstacles alone, while she walked behind me in shame. I'll get her back.
We were greeted by a bouncy waitress who showed us to a table near the window so we could look down on the late night shoppers (the location is a bonus if you need to buy yourself or your companion a treat – you can buy it and have it wrapped en route). Before we could open our menus, we had an explanation of the cocktails and I had ordered a Blue Hawaiian. In a flash, it arrived, and not long after, was finished. It was onto water after that – though the wine list was reasonable – I just thought better of it.
The menu took a while to go through – I didn't know you could make burgers in so many ways: Cheesy, Malteasy, hickory, bacony, veggie… it put Tommy's Whoppers – the burger joint we used to frequent whilst studying in the UK (where you got a free sticker every time you ordered one with various slogans that would probably be edited out) – to shame.
The choice of steaks and grills would satisfy any Atkins fanatic: you can grill, mill, marinate, sear, rub, roll or skewer your meat and the things they do to potatoes would be at home in the Inquisitor's Palace. Smash, mash, skin, boil and fry, wedge and then dip into sauces like BBQ, Cajun, sour cream, lemon mayo, ketchup, salsa... the list goes on.
Having read Phil Gibb's piece in the September edition of Gourmet Today, and having fantasised about the ranch beans ever since, I had to have some. We shared a plate of nachos (€9.90) and nestled in under cheesy/creamy/guacamole/chilli toppings, there were the beans. They were worth ploughing through for, as were the nachos that went a bit soggy because my girlfriend and I were catching up (read: gossiping) as we hadn't spoken for, like, two days.
She opted for the Rib Eye with mash and pepper sauce on the side (€14.95) with salad, which looked crispy and fresh. The steak was cooked just how she likes it. The mash resembled an albino volcano – with the pepper sauce as the lava. The burgers, though not pizza-sized like Tommy's, were about the height of the Portomaso tower, so they were out. Just for reference – you can order combinations of things as everything is made fresh – even the onion rings, I was assured – and this made me feel better about having them. I ordered the salmon with garlicky mash and the Merlot butter (€13.00) to feel healthy, though there were plenty of options: from salads to grilled chicken breasts. A word of advice: have the butter on the side, or do the volcano thing with it and the mash.
The portion was double what you would expect and in fact, I managed just half. I did eat all my vegetables though and creamed off the creamy mash. I don't remember having bread, but really, I didn't need any padding out! We just could not manage any of the sundae, shake or sorbet desserts, and 'so English' girl me opted for a cup of tea.
The waitress bounced up and checked in on us frequently, and answered all my questions with a huge great smile. I have to say, no matter that it's not 'fancy food' – it's good, fresh, well cooked food and many a venue – food and otherwise – could do with dishing out customer service like this. Friendly and standardised – passionate, bordering on the indoctrinated, but the staff seemed to be having as much fun as we were and Esmeralda, our server, was really proud to be a 'Rocker'. The collection of badges she wore struck up a conversation that made my jaw drop. Do you know Hard Rock has a pin club – essentially a swap shop (old fashioned eBay) of badge hunters? Apparently, there are limited editions of badges and each country has designs specific to it – so you can imagine (even with three outlets – Bay Street, Valletta Waterfront and the airport) how rare the Malta ones are. Staff badges are gained by staff only, though they are allowed to exchange them; and get this: there is an event every year in a different country where people travel to swap pins. "There's even a series shaped like a guitar" I was told. Hmm, wonder if I can swap my early confused mod/punk pins for another of those Blue Hawaiian cocktails?
And while on the subject of music, apparently that's how it all began. Eric Clapton wanted to reserve a particular table and gave the owner his guitar to do so. And then The Who did the same and well, now the walls of all the units (all around the world) are filled with memorabilia with pieces from Michael Jackson, Cher and Madonna adorning the walls at the BayStreet property. It was actually pretty cool to be able to stand near a Madonna dress – cool because I figured before I took on the mash mound I could have fitted into it. The dress was from her pre-obsessive fitness and pre-married days, but hey, give me a break.
Speaking of pre-married, there are around nine hen or stag parties every Friday night and in the mad season, even Wednesdays get booked out. There is constant music playing in the form of recorded concerts and music videos and the tables turn into the dance floor as one group parades their gifts of well, you know what shaped items, and lingerie to the other 200 revellers.
It's not the place I'd chose for a romantic night out – but for a klikka, or a work do, it's perfect. It buzzes even when it's not jam packed – it's a really fun, lively atmosphere. Good to go as well before or after a movie. The kitchen opens at noon and closes around 11pm.
On Sundays, there is entertainment for the kids from 1pm till just after 2 – and determined to be a wholesome family joint, a child with two adults eats for free. So DINKY's and those prone to a hangover on a Sunday morning, don't say I didn't warn you. The rest of the week is for us – a rotating drinks specials list and platters to graze on are on offer while we stay mouthing the words to Ozzy Osbourne. Let's not talk about my taste in music.
A dad was walking his knee high son round showing him the guitars on the wall, and I don't know which of them was the most fascinated. I was waiting for him to break out into an air guitar performance but had to make do with Sting instead.
---
Any comments?
If you wish your comments to be published in our Letters pages please click button below.
Please write a contact number and a postal address where you may be contacted.
---


All the interviews from Reporter on MaltaToday's YouTube channel.
---
EDITORIAL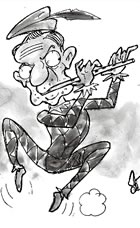 Brussels, the exit-strategy
---