| | |
| --- | --- |
| Editorial | Sunday, 29 November 2009 | |
The questions pervading the Maltese political scene in the last few months have been finally answered, with the nomination of John Dalli to the post of EU Commissioner.
Until last week, speculation was rife on whether Joe Borg, the technocratic minister who negotiated Malta's accession to the European Union, would be allowed to stay on in Brussels. His five years in the Berlaymont building may have perhaps been quite unremarkable, save for his uncomfortable position sandwiched between fishing magnates and environmentalists at loggerheads with each other. But otherwise, Borg carried out his duties with the traditional inconspicuousness of the eurocrat.
The other candidate was Richard Cachia Caruana, Malta's permanent representative to the EU. Cachia Caruana represented, and still does, the government's fundamental link to the workings of the Union. His move from his Brussels embassy just across the road from the Commission headquarters would have been yet another fitting gesture of gratitude by the Maltese government for his work.
But as it turned out, this was not what Prime Minister Lawrence Gonzi had in mind. Neither Borg, nor Cachia Caruana represented any of the problems that John Dalli, the prime minister's former leadership rival, could have presented to his authority in the Nationalist party. As this newspaper shows today, the veteran minister and authoritative politician had become the reference point of "disgruntled" elements within the government backbench. Surely, Dalli's admission that he was a "father-confessor" to these politicians did not go down too well with the Prime Minister's men.
While Gonzi was facing an unprecedented show of dissent inside his party, Dalli had once again emerged as a possible anti-hero to this particular section of the PN. And unlike Borg and Cachia Caruana, Dalli had an electoral base – one that nearly got him elected on the tenth district in the last elections.
In the end, Gonzi proved once again that he cannot be underestimated. As his finance minister Tonio Fenech faced allegations on the use of his ministerial influence, Gonzi remained steadfastly by his side. He stuck his neck out to defend Fenech on his breach of ethics when he accepted freebies from major businessmen, and again chose to sideline all questions from the press on more recent allegations made against Fenech.
And as this political drama unfolded and Gonzi soldiered on, Dalli appears to have taken the momentous decision to take an exit strategy – one already offered to him five years back – that will now see him in Brussels for the next five years. It could be the end of this long chapter in the troubled and embittered relationship between Gonzi and Dalli.
Significantly, John Dalli has been awarded an important portfolio – that of health and consumer affairs. He is well versed in the subject, having been social policy minister for the past year and a half. But there is no doubt that Dalli will find himself harangued by the European Parliament's hawkish members when he is up for his Commissioner's hearing in January 2010. Like any politician who hails from a Catholic Mediterranean country, Dalli may well be questioned on important sexual health matters and reproductive health rights, evoking the bitter grilling of Italian politician Rocco Buttiglione.
Elsewhere in Malta, the disgruntled Nationalist members who may have seen Dalli as a potential reference point find themselves without the ear of a strong member of the Cabinet.
But Dalli's acceptance of the Commissioner's post sheds light on the real predicament of these politicians. Gonzi's strategy so far has been to use political appointments to be able to build bridges and cross impossible divides. He displayed this mastery when appointing George Abela, the former Labour deputy leader, to the post of President of the Republic. In the process, he has attempted to placate two MPs – Franco Debono and Jean-Pierre Farrugia – with chairmanships on two newly created parliamentary committees. Whether Gonzi will keep on using this tactic with other MPs is unsure: Robert Arrigo has already expressed his disappointment at not having been able to cash in his electoral heavyweight status into a ministerial post.
What's sure is that Dalli has chosen to make way and take up the prime minister's offer. Whether the thirst of the dissenting MPs can be whetted by Gonzi's wielding of chairmanships and lucrative posts, will be crucial to the prime minster's hold on his party.
---
Any comments?
If you wish your comments to be published in our Letters pages please click button below.
Please write a contact number and a postal address where you may be contacted.
---


All the interviews from Reporter on MaltaToday's YouTube channel.
---
EDITORIAL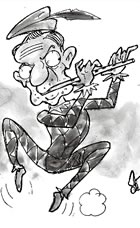 Brussels, the exit-strategy
---