| | |
| --- | --- |
| Film Review | Sunday, 29 November 2009 | |
The films of Pedro Almodovar could easily end up as soap operas, if they are to be remade years later by a cack-handed amateurs. The brash Spanish director has no qualms about this: his stock characters usually involve women and/or transvestites undergoing varying levels of despair and angst, having emerged from some tragedy or another to achieve, in the end, a beatific wisdom. From the 80s until now, the auteur has given himself time to perfect a heady blend of farce and high drama, something he has become internationally renowned for, particularly as his oeuvre made its entry into the noughties, starting with 1999s 'Todo sobre mi madre' ('All about my mother') – which tells the story of a woman who goes in search for her dead son's father – all the way up to 2006s 'Volver' ('Return'), the Penelope Cruz-starring love letter to La Mancha (Almodovar's native region), depicting, almost as if it were a fairy tale, the familial struggles of a group of women, as they occur over three generations. By the time 'Volver' was released, Almodovar's tropes had become so ingrained that it seemed as if he had no choice but to revert to self-pastiche. And he did, weaving a dark fairytale that somehow managed to hide the fact that he'd become caught in a loop of recurring themes: the heady dynamics of family, the central female heroine, ragtag groups of 'fringe' characters, and a cinematic palette culled from both classic Hollywood and European stalwarts. There seemed to be nowhere else to go after 'Volver' – the airtight community of La Mancha and the unbreakable bonds of its female characters made for an almost sickly-sweet culmination of the director's obsessions, solidifying them into what can only be considered as mythologisation. So where to go from there?
Almodovar's latest, 'Los abrazos rotos' ('Broken Embraces'), doesn't feel the need to apologise for its predecessors, nor does it seem intent on making any particular effort to break new ground. The 'if it ain't broke, don't fix it' dictum seems to do just fine for the auteur, and I'm sure that many will begin to feel irritated by it. But there's a lot to enjoy in his latest effort, chief of which is his enduring love for the art of cinema.
A man writes, lives and loves in darkness. Fourteen years earlier, he was in a brutal car crash on the island of Lanzarote. In the accident, he not only lost his sight, he also lost Lena, the love of his life.
This man uses two names: Harry Caine (Lluís Homar), a playful pseudonym with which he signs his literary works, stories and scripts, and Mateo Blanco, his real name, with which he lives and signs the film he directs. After the accident, Mateo Blanco reduces himself to his pseudonym, Harry Caine. If he can't direct films he can only survive with the idea that Mateo Blanco died on Lanzarote with his beloved Lena (Penelope Cruz). In the present day, Harry Caine lives thanks to the scripts he writes and to the help he gets rom his faithful former production manager, Judit García (Blanca Portillo), and from Diego (Tamar Novas), her son, his secretary, typist and guide. Since he decided to live and tell stories, Harry is an active, attractive blind man who has developed all his other senses in order to enjoy life, on a basis of irony and self‐induced amnesia. He has erased from his biography any trace of his first identity, Mateo Blanco. One night Diego has an accident and Harry takes care of him (his mother, Judit, is out of Madrid and they decide not to tell her anything so as not to alarm her). During the first nights of his convalescence, Diego asks him about the time when he answered to the name of Mateo Blanco, after a moment of astonishment Harry can't refuse and he tells Diego hat happened fourteen years before with the idea of entertaining him, just as a father tells his little child a story to lull him to sleep.
Apart from everything else, Almodovar is an expert trader in melodrama: he has the power to manipulate it unlike anyone else. His expert hand manages to cut away any excess tackiness while squeezing the genre dry for all the emotional stakes that it can provide. 'Broken Embraces' is a bit of a change of pace for him, in that the vertiginous plot hems the melodrama in somewhat. This is by no means a bad thing: his clear grasp of cinematography (the film is sumptuous despite the general lack of any obvious picturesque settings and costumes) and narrative confidence make the film easy enough to watch, even if it's structured like a puzzle, and the subdued detective, noir pastiche elements help to keep us interested. The only real complaint one can make is that it goes on for far too long, climaxing far too early and relegating the latter quarter of the film to very obvious 'tying up of loose ends' category.
---
Any comments?
If you wish your comments to be published in our Letters pages please click button below.
Please write a contact number and a postal address where you may be contacted.
---


All the interviews from Reporter on MaltaToday's YouTube channel.
---
EDITORIAL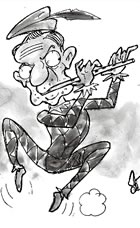 Brussels, the exit-strategy
---