| | |
| --- | --- |
| Foreign | Sunday, 22 November 2009 | |
"In two days' time, I won't have any bread to sell," Abed the baker tells me grimly as he hands over my dozen pitta breads. "There is no gas at all."
Like other bakeries before it in the last few days, Al Hasouna Bakery will have to close down if cooking gas remains out of reach in the besieged Gaza Strip.
Restaurants, hospitals and families are already feeling the shortage, most of them having run out of reserves just as the weather got colder. Many fear that while food will be available, families will not be able to cook it for the Muslim holy feast of Eid Al Adha at the end of the month.
The problem started about a month ago, when Israeli authorities decided to change the crossing through which they transfer gas and fuel into Gaza.
While the Nahal Oz fuel terminal is tailor-made for gas and fuel transfer, taking 30 minutes to send fuel from one truck to the other side, the Kerem Shalom crossing takes up to three hours to get the same amount transferred.
The latter is situated in the middle of the desert, an hour away from Gaza's gas depots as opposed to the 20-minute drive to reach Nahal Oz, and has no storage facilities. This means that while fuel in Nahal Oz can be transferred into the six existing containers holding 60,000 litres each, in Kerem Shalom the transfer has to go directly into Palestinian trucks in tricky manoeuvres requiring timely coordination. Israeli authorities justify the use of Kerem Shalom on security grounds.
"Kerem Shalom is not equipped to transfer the amount of gas needed daily in the Gaza Strip," the head of the Gaza union of gas station owners, Mahmoud Al Shawwa, said. Last Monday, 30 gas stations were closed after only 49 tons of cooking gas entered Gaza, that is 2% of the weekly need.
Over the last two months, gas entering Gaza fell down from 2,500 tons in September to 1,600 in October and a meagre 400 tons until mid-November. According to Al Shawwa, the 1.5 million population of Gaza needs 4,500 tons of gas per month in summer, and 6,000 tons in winter.
The situation is similar to November and December last year, when a serious shortage of cooking gas caused bakeries to shut down in the run up to the Israeli assault on Gaza.
Now, the little gas that makes it through is being kept for bakeries and hospitals, although Abed's bakery still didn't get its share last week and hospitals anticipate running out of gas in the next few days. A falafel shop owner using his last gas canister says he will soon have to resort to diesel, which is pumped inside canisters to produce vapour like in old times.
"Diesel is terrible, it turns my kitchen black, but what can we do?" said Abu Bashir. "We are left with no other option." The solution however is not available to bakers, whose equipment is made to run on gas.
Some families who have the luxury of a garden or backyard have already shifted to the archaic practice of cooking on firewood. Problem is, everything in Gaza is like 'in the old times', thanks to the Israeli blockade. Instead of gas-guzzling vans, people in Gaza use donkeys; in the absence of concrete, people are building with mud.
At my flat I keep a kerosene lamp in the living room, not as a rustic decoration, but because I have to light it almost every night during power cuts.

---
Any comments?
If you wish your comments to be published in our Letters pages please click button below.
Please write a contact number and a postal address where you may be contacted.
---


All the interviews from Reporter on MaltaToday's YouTube channel.
---
EDITORIAL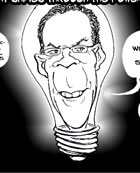 Power to the people
---
Restaurant review by Moniqie Chambers