| | |
| --- | --- |
| Film Review | Sunday, 22 November 2009 | |
Zombies are on the rise. This isn't just an insufferable pun, folks. From remakes of Romero classics (see: 'Dawn of the Dead' 2004) to soon-to-be-genre pioneering 'rom-zom-com' 'Shaun of the Dead', the walking, brain-chomping undead seem to have found a natural home in the millennial pop-culture zeitgeist.


They have even infected the canon of English literature, as the cult phenomenon surrounding 'Pride and Prejudice and Zombies' has confirmed. The literary 'mashup', in which Seth Grahame-Smith invades Jane Austen's comedy of manners and populates it with zombies, seems to have struck a chord, as sequels and spinoffs have also been planned (namely, 'Pride and Prejudice and Zombies: Dawn of the Dreadfuls' and the indirectly related 'Sense and Sensibility and Sea-Monsters').
Whatever the reason behind the current surge of popularity for the genre may be, one thing is for certain: these are not the zombies of George Romero's ilk. While they are certainly made by people who have been well nourished on the familiar tropes of the entire '…Of the Dead' saga, the fact is that they are far from 'straight' re-hashings of the genre and concentrate more on the characters, the comedy and their own gleeful self-referentiality. Debut director Ruben Fleischer's 'Zombieland' is precisely that. In fact, its only fault would be that it seems to fit too neatly with the current fashion in auteur's adventures in zombiedom (however amusing it may be), as if, in offering up an all-American response to Shaun of the Dead (brash where the former was – ahem – deadpan, employing Western iconography as opposed to suburban comedy), it somehow merely offers up what we've probably had coming for a long time. But this doesn't make it any less of a rollicking, surprisingly endearing ride.
A cowardly shut-in named Columbus (Jesse Eisenberg) is forced to join up with a seasoned zombie-slayer named Tallahassee (Woody Harrelson) in order to survive the zombie apocalypse. As Tallahassee sets out on a mission to find the last Twinkie on Earth, the duo meets up with Wichita (Emma Stone) and Little Rock (Abigail Breslin), two young girls who have resorted to some rather unorthodox methods to survive amidst the chaos. Reluctant partners in the battle against the undead, all four soon begin to wonder if it might be better to simply take their chances alone.
What most people will doubtlessly talk about well after the film has faded away from theatres (as it has, inexplicably, from our own) is the Celebrity Cameo, a move so zany that to spoil it would require having a heart as ruthless and ultimately useless as that of a zombie; something which this reviewer (to the detriment of his professional duties, I'm sure) does not have. However, suffice it to say that the scene encapsulates the film's entire ethos: offbeat, unapologetically geeky and wonderfully amoral throughout, too. The in-yer-face gore of the intro (complete with musical accompaniment from Metallica's superior back catalogue) belies what follows, but in sense, it also sets the scene perfectly: the violence is as persistent and uncompromising as the violence of a Looney Tunes cartoon. The only difference is that, over here, the blood actually squirts out. In buckets.
The film would collapse if the cast weren't having fun, since this is essentially a road movie with a zombie sprinkling, and the banter needs to flow heavy and fast. Luckily, the unlikely mix of Harrelson and Eisenberg ticks all the right boxes, as the duo exist on entirely opposing planes of masculinity, though the impression, at least, of spontaneity and ad-libbing keeps things fresh. Like the heroes of Pulp Fiction, these are people you want to hang out with, and they make a film one to return to. Stone and Breslin wring their tongues in cheek with equally successful results. Stone seems to have mastered a toughened, sultry deadpan that doesn't seem at all incongruous with her gushing to Celebrity Cameo, and Breslin is a lot of fun to watch in zombie-killing mode, after a far-too-long stint as 'edgy Dakota Fanning'.
---
Any comments?
If you wish your comments to be published in our Letters pages please click button below.
Please write a contact number and a postal address where you may be contacted.
---


All the interviews from Reporter on MaltaToday's YouTube channel.
---
EDITORIAL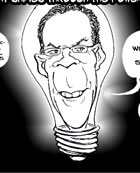 Power to the people
---
Restaurant review by Moniqie Chambers