| | |
| --- | --- |
| News | Sunday, 20 September 2009 | |
David Darmanin
The feast of Eid, celebrated yesterday, brought to an end this year's Ramadan, a month in which Muslims all around the world are brought closer to God by abstaining from eating, drinking and sex.
Sawm – just like the Maltese word for fasting – is one of Islam's five pillars, the duties of every faithful Muslim. But to the followers of the Islamic faith, Ramadan represents much more than abstinence. Abdul Harb, chef-patron of Ali Baba Restaurant in Gzira, says the Ramadan is not simply an act of starvation, but also a time to refrain from arguments, indecency, losing one's temper or having lustful thoughts.
"If you see the body of a naked woman, you must turn your head during the month of Ramadan," he said. "And even if she's not naked – forget looking at her thighs."
In the kitchen of his Gzira restaurant, Abdul was busy preparing the sweet baklava (which he could not taste until the end of Ramadan) for the Al Magrib, the time allowed for the evening meal to break the day's fast.
"I don't accept bookings from Maltese patrons during Ramadan, because I'm always full of Muslims and I simply cannot take it – I get too tired," he said. "It takes a lot of work to prepare food for Ramadan, so I wake up early – sometimes at 5am. Maltese patrons will sometimes want to keep drinking, and stay on till midnight or later. I would be knackered."
Observers of the Ramadan follow strict schedules according to a timetable issued by the community mosque to indicate the times, day by day, when it is appropriate to eat, abstain or pray.
"The timetable is laid out according to the rhythm of the moon, sunset and sunrise," Harb explains.
Because the solar and lunar rhythms change daily, the Ramadan time schedule is set out accordingly. "In the first day of Ramadan for instance, abstinence starts at 4:43am. And from that time onwards, nothing enters your mouth anymore – no more food, water, cigarettes or coffee. You may not sleep through the fast either, on the contrary, you must work harder. There are then different stages of prayer, until Al Magrib – sundown – which is when you can eat. After about 90 minutes, Alisha follows, and this is the prayer time after dinner."
In the spirit of sharing and sacrifice that comes with the Ramadan, Abdul offers all his Islamic patrons and friends a free dinner every Friday throughout the Ramadan. "This is my sacrifice to Allah, and I've been doing it for the past 23 years," he proudly said.
Similarly to the Catholic faith, laws and regulations in Islam often become mere cultural convention, distancing themselves from the original spiritual intentions.
"Not everyone fasts," Abdul said. "The Libyans fast a lot though. They respect the Ramadan. It is very much ingrained in their culture. If you're a Libyan and you don't follow the Ramadan, you risk losing face in the community – you may even be spat at.
"The way I see it is different though. If you want to respect Ramadan, you do it for yourself, not for others."
Abdul explains how Islam emphasises not only on its followers to live life with a pure soul, but also with a healthy body and a rested mind. "Whatever is healthy for man is found in the Quran," he said. "The Quran says that we must fast for 30 days so that our stomachs and minds rest. It makes sense when you think about it. How can a man who eats half a lamb a day, sleep well and feel healthy? Allah gave us all the senses to feel and know what life all around us is all about. And it's true, when you respect the Ramadan, you feel more in touch with the world around you – apart from the sense of rest and refreshment."
The Lebanese chef has his interpretations on how the culinary customs of Ramadan also have a nutritional purpose. This is apparently why so many sweets are eaten during the Al Magrib.
"Sweets contain vitamins, and are important to keep you going when you aren't eating regularly," he said. "Besides, after not having eaten all day, you cannot just start with lamb. Many of us start with a few dates and a glass of milk, to get the stomach working and not give your system a shock."
All in all, a sweet ending to a day of rigorous self-denial.
---
Any comments?
If you wish your comments to be published in our Letters pages please click button below.
Please write a contact number and a postal address where you may be contacted.
---


All the interviews from Reporter on MaltaToday's YouTube channel.
---
EDITORIAL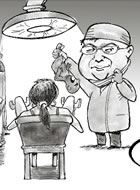 A tight space for the economy
INTERVIEW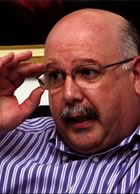 'This government is its own worst enemy'
---