| | |
| --- | --- |
| Saviour Balzan | Sunday, 20 September 2009 | |
Godwin Grima shuffles through the agenda. His secretary knocks at the door. She is angry.
- "Sur Grima, Edgar would like to talk to you now... hattafni ta! He said it is important... before Cabinet."
"Thank you, tell him I will see him soon."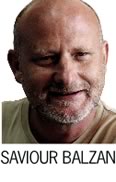 He looks at his file and doesn't for a second doubt what it is all about. Most probably Edgar wants one of the items on the agenda moved or postponed. He walks to Edgar's office. Before he enters, he notices Charmaine Gerada and the way she is dressed. He cannot understand how the PM could have chosen such a person for his secretariat.
"Bongu Edgar, how was your weekend?"
"It is always good until I wake up on Monday and see the Sunday newspapers. You know...I think I know who is telling Saviour Balzan all about us. I'm sure it's her."
Grima, the Prime Minister's top civil servant, avoids asking him who and why. "What did you want to discuss Ed?"
"Well, you know what a difficult time the PM is having. He's so worried he's not really sleeping at night. We need to keep some positive things on the agenda. We can't just discuss the Budget. Tonio (Fenech) has been leaving everything to the last minute. I am afraid he depends too much on civil servants. We are facing a real serious crisis."
"So what do you want me do?"
"Simple: try and discuss some good news in the Cabinet and do not give the impression that everything is doom and gloom. Tonio Borg is away in Brussels, so expect some questions from the same ministers."
"Leave it to me Ed," Grima says, as he leaves and asks himself why he has to put up with this all the time. The Cabinet room has a strong smell of mahogany polish. Edgar and the Prime Minister are the first to arrive, followed by Godwin Grima in his stormy grey jacket. John Dalli and Austin Gatt arrive soon after. Both of them are well known for being sticklers for time.
Outside the Cabinet room, Dolores Cristina chats with Carmelo Mifsud Bonnici. Carmelo looks as demure as his father, with the same proportions and with pretty much a very similar approach to politics – say a lot and do absolutely nothing.
"Carm, those bottle shops in Paceville… when are we going to do something about them?" Cristina asks him.
"We might see something happen now. It seems that Kevin Decesare has done a Pawlu ta' Tarsu and is now firmly against them. The whole of Paceville is against the bottle shops, ghax ma tafx, you know, they want all the youngsters to drink at their bars. As if it makes any difference if they get drunk on the streets or inside the bars. Alla jbierek, Kevin took the PM around Paceville, and we seem to have seen the light at last."
"Ma nafx, the Prime Minister listens to Kevin but not to his ministers."
"Tiftahx kotba Carm!"
"Best we enter, ghax Edgar will think we are talking about him…"
"Veru, Dol, taf kif sar dak!"
Austin looks over his spectacles and wonders why everyone is always late. Dalli fiddles with his mobile. The PM tries to look busy, giving the impression he has read all the Cabinet notes. Edgar moves over and whispers something into his ear.
"Is Tonio prepared for today's meeting?" he asks.
"I hope so," Gonzi whispers, then raises his voice. "Yes, yes," he smiles, giving the impression the conversation is of hardly any particular significance.
Tonio Fenech rushes in, Giovanna by his side. "U le Giovan. I cannot. I cannot intervene... Hekk jonqos, after this VAT scandal, I have the Lord to thank that Joseph Muscat is a pastizz and did not point all his panzers on me. That is all I need. Giovanna, solve this yourself."
Giovanna was asking him to look several cases where Gozitans had defaulted on VAT payments. The Gozitans continue to believe that paying VAT to government does not violate any of their Catholic obligations.
Tonio hobbles in, carrying red folders. Austin Gatt barks: "Where is Tonio Borg?"
Godwin explains that he is away in Brussels.
"Kemm iz-z*** se ndumu nehlu hin fi Brussel??" (How much longer are we going to waste our time in Brussels?) "What about Richard?"
"In Brussels too," Godwin points out.
"Tajjeb ukoll, hard life eh!"
Dalli sniggers, but keeps his eyes down and fixed on his mobile. The PM continues to look busy. Edgar clears his throat to gather some attention. "Godwin, tell Pawlu Borg Olivier to come in. Hbieb, we need Pawlu here because we need to see how we are going to tackle the backlash of the Budget from the political point of view."
"Heqq, him," Austin quips, clearly making fun of the suggestion that Borg Olivier could contribute anything to the discussion. Dalli sniggers.
Borg Olivier walks in, looking busy, holding an attaché case.
"What have you got inside the case, Pawl… xi baguette?" Austin asks.
Pawlu laughs but says nothing. As he is about to close the door, George Pullicino barges in. "Skuzawni for being so late."
"What's new?" Dolores murmurs.
"Full house at last, so I believe we can start," Edgar says, nodding to Godwin. Godwin explains that the discussion will be dedicated to the Budget, but he announces that he would like to give an update of the Piano project and of the potential bidders for the alternative energy project.
"Don't you think it is more appropriate to hear what Tonio has to say instead of spending time on Piano?" Dalli asks.
Tonio says nothing. Pullicino is still panting, his chest heaving slowly, up and down, over his rotund waist. He says he thinks they could discuss Piano briefly at the end. Dalli looks on. Tonio looks at his papers.
"Hbieb, we have some bad signs."
Austin barks and then grins: "What's new?"
"Well we really have a problem with revenues and we could be facing a worse situation."
Borg Olivier interjects: "We have to have a plan against the backlash."
"Mur obsor," Dolores says, as everyone bursts out laughing.
Pawlu turns red in the face and then takes advantage of the sudden silence in the room. "First of all I think that we should not put the Prime Minister at the forefront in the coming weeks, we cannot afford to have all the flak on him. Tonio should do the talking and the other ministers should be present at all the kazini."
Dolores scribbles out a small note: 'GonziPN Quo Vadis?' She passes it on to Carmelo. Carmelo sort of smiles, Dalli notices the writing on the note and just looks into Dolores's eyes and says nothing. His eyes say: 'I told you so'.
Austin takes off his spectacles and puts on his Rottweiler look. "Are you serious Pawl? Mela m'ghandekx x'taghmel? Can we first hear what Tonio has to say and then what you have to say? We know we will take the flak and not the Prime Minister. That is what we did in the last election and that is what we will do today. Now Tonio, can you please tell us how big the z*** is? And can you also stop blaming the international situation."
Tonio flares up: "Do not start Austin, it is you who f***** us up with your utility bills, u gejt taqa u tqum."
Pullicino nods. As if that was all Austin needed to hear… the rest is just impossible to recount.
.
***
Saviour Balzan was writing this imaginary Cabinet meeting from France, where espresso is down to €1, where a salad with fresh tuna is €7.50 and where parking is free on weekends. Furthermore, waiters smile and say 'bonjour' and 'bonsoir'. And VAT in restaurants is down to 5.5%, where a crêpe chocolat is €2.50. Balzan, as big headed as usual, is also thinking of the next bumper edition of Gourmet Today, an exciting news portal, the 10th anniversary of MaltaToday, the third anniversary of Illum, and a new publication to send shockwaves to his favourite competitors.
---
Any comments?
If you wish your comments to be published in our Letters pages please click button below.
Please write a contact number and a postal address where you may be contacted.
---


All the interviews from Reporter on MaltaToday's YouTube channel.
---
EDITORIAL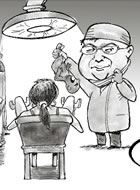 A tight space for the economy
INTERVIEW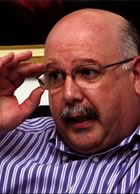 'This government is its own worst enemy'
---