| | |
| --- | --- |
| Mona's Meals | Sunday, 20 September 2009 | |
If I ever had to draw up a list of 'frequently made comments' - please note the difference between this and 'frequently asked questions' - about my restaurant reviewing, "But they recognise you now! You must get special service!! You must get special food!!!", with exclamation marks increasing as we go along, would be right up there at the top, jostling with the star on the restaurant reviewing Christmas tree.
"They don't," I reply.
"Assss iffff!" they counteract. And so it goes. I have gone to extremes in my, by now bored, replies, and told people: even if they hang a huge picture of me in the kitchen, nobody on the floor, except, maybe, for the manager, would give a flying fart. Of course, there are a couple of restaurants where TW and I have been going for years, favourites (even though they may only have 3 or 4 stars), where the staff knows us. Nonetheless, we are known as regular patrons, rather than as the critic and her long-suffering hubby. The rest don't.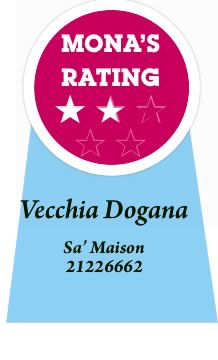 The reason staff don't care is simple: they do not care about anything, let alone the critic, or whether she will trash the place to pieces. They don't care because they are untrained, unenthusiastic and most of all, underpaid: all the reasons which keep them from becoming good waiters to begin with. In fact, they never even wanted to be waiting tables, let alone dothe job for life. The restaurant critic in the house changes nothing.
"But you must get huge portions!" is the second protestation, albeit less heard these days as people have finally cottoned on that overflowing dishes do not get me. In fact, they absolutely put me off. This one says more about the sayer than it says about me.
Nobody knows how to reply to my one question, which is: When I turn up, does the restaurant have any time to change its menu? That's because it does not. I always book under a fake name so, no matter how much a restaurant goes overboard with its schmoozing towards me, when it does (ah yes, they mostly ignore TW, thinking it will win them points: it does not), the quality of the list and the end result remain the same.
I never had a chance to test this recognition quotient as much as I did last week at Vecchia Dogana. I found the experience unnerving.
Mona's Meals has been, for the past nine years, usually first with the reviews of the hottest new places. Nonetheless, this time, I kept postponing the visit to this outlet because not a single person I spoke to, or who wrote to me on www.planetmona.com, had a good thing to say about it. People complained about the wait, about the management, about the service, about the food 'not being anything special'. The comments were usually "It's a nice conversion, but…" And lord almighty, with 90 per cent of you having 20 per cent of my standards, this sounded awful.
I also do not believe that it is fair to review a restaurant in its first couple of weeks of service, when the management and staff have not had time to settle. When I do, I actually point out that the restaurant is on soft opening. It's only just.
So months later, when I thought the fairness had overflowed its own cup, we eventually trotted along. You can't say I don't make huge sacrifices on your behalf. The waiters assigned to our table were haphazard, disjointed. They avoided our waves and cries of 'hello!' as they dashed by, busy, busy, busy. The wine we ordered took ten minutes to arrive. The napkins are these pretend thick disposable. They are so light they kept flying off my lap; that's because those napkins are created to wipe mouths and be crushed not sit on laps as you eat, in a restaurant. I eventually gave up and stole the real napkin from around the wine bottle, which seemed to be getting better treatment than us. The ashtray had to be asked for. I got my forks and knives but TW didn't. Yet the starters turned up pronto; in fact, within less than ten minutes after ordering.
"Well, they would," TW said. "The San Daniele is what I usually pick up from Wembley's stores in the morning before I go to work, and the gorgonzola [a little mound on some frisee lettuce, no less] is, hmmmm, gorgonzola. All that this, and your dish, needed was just plating."
'My dish' was aljotta. It was listed as 'zuppa di pesce', translated as 'fish soup' on the menu, but the staff kept calling it 'aljotta'. Fish soup denotes bits and bobs of the sea world. Aljotta is fish stock and loads of garlic, according to the doyennes of Maltese cookery Anne and Helen Caruana Galizia. This one was cloudy (which fish stock does if cooked for more than 20 minutes), bland, homely and strangely pleasant except for when one came across the bits of fish at the bottom of the little lake and encountered more than their fair share of fish bones. Whereupon it turned horrible.
Not as bad, of course, as the 'pre-starter' of flabby, previously toasted, now wet and cold, Maltese bread slices, topped with, is that a bird, is it a plane, or is it something white and disgusting like a tasteless crushed broad bean? Who knows? Who cares? We did not eat it and it stayed there until the main course arrived, whereupon we had to ask for them to be taken away.
But.
Big but.
This is where things changed.
An acquaintance of TW's, who knows what I do for a non-living, arrived for dinner. The acquaintance knew the owner well. "Are you writing?" he said. "No," I replied.
Two seconds later, our little world changed. We were assigned a good waiter previously doing the rounds in another area. "I know you" I said. "Where were you before here?" "I know you too" he replied with a wicked gleam. "That's why I've been assigned to your table."
The manager became effusive. Suddenly, pouring our wine became important. The owner, beaming, came over to say hello. The skies opened and angels rained down on us. Dolphins swam in the sea next to us. Doves cruised by in the starry skies, not shitting once. Now guess which bits of this paragraph are true.
Bloody hell. We've been in situations where people suck up to us, but this was the Utopia of being recognised. I was expecting a foot massage to suddenly materialise under the table.
So, the mains, lost as we were in this heaven of ass-licking, were decent. TW's veal t-bone was good; although you cannot really mess up a good piece of meat, some people have tried. The roast potatoes were freshly roasted, rightly black on top, fluffy on the inside and technically perfect. The side vegetables, marrow and carrots, were, for once, large cut and savoury. The sauce of my saltimbocca alla Romana was punchy with sage, the sauce well reduced, yet the rind on the veal had not been trimmed so I spent most of my dinner fishing stuff out of my mouth: first the fish bones, now the rind. Not pretty.
If the desserts were a bloody disaster, they would have at least been exciting. Yet they were soulless, lacking ideas, tasting of hardly anything at all. We left more than half of my ricotta and pear torte there (flabby pastry, bland filling) and TW hardly touched the parody of a tiramisu` beyond a first taste. They took it off the bill. Of course, we know why they took it off the bill. I could not guarantee that yours would be although it may be. They should definitely take the damn thing off the menu until they discover a decent recipe for it.
So now you know. Being fussed over when the food is less than fabulous is useless. Being fussed over because I am a critic is not just useless: it's actually counterproductive. If that were not bad enough, at the end of it all, not only do I have to pay for the experience - as, I suppose, do you - but I actually have to relive it by writing about it.
You don't have to be mad, or obvious, to work here, but it helps.
---
Any comments?
If you wish your comments to be published in our Letters pages please click button below.
Please write a contact number and a postal address where you may be contacted.