| | |
| --- | --- |
| Foreign | Sunday, 20 September 2009 | |
Karl Schembri has entered the Gaza Strip with an international humanitarian delegation called Code Pink. In his first report from the besieged strip, he writes about the long trip from Egypt and his first impressions of the land under the control of Hamas
I did it. I'm in Gaza, and I still can hardly believe it.
We left Cairo Thursday morning and crossed the Sinai desert to the seaside village of El Arish just outside Rafah, where the Egyptian border with Gaza lies.
I was here last July (and previously in January during the war) in an attempt to travel to Gaza via its border with Egypt, but as the Egyptian border remained indefinitely closed, I was soon left with no choice but to return to Ramallah. This time around, however, it seems the chances of getting into Gaza from Egypt are better since I will be doing it with an American organisation called Code Pink, which has sent members to Gaza in the past.
A multitude of checkpoints along the way manned by the so-called 'tourist police' slowed down our pace. Even though we warned our driver to tell the police we were tourists on a trip to the El Arish seaside resort, he did at one point let slip that we were heading to Rafah, which meant we were held for a long time while the armed police made phone calls, checked our passports, asked us to write down what our jobs were and lots of other questions.
The police here do not like it when you tell them you're heading to Gaza, and there is no other reason to travel to Rafah but to enter Gaza. In many ways, the Egyptians are doing the dirty work for the Israelis by trying to dissuade visitors from reaching the strip, patrolling the vast area for any suspicious movements and clamping down heavily on the smuggling of essential goods through the Rafah-Gaza tunnels which have become the only lifeline for the besieged Gazans.
Luckily we convinced the police we were just tourists who "want to see the Mediterranean," as one American put it, but what should have been a four-hour trip ended up taking almost seven hours.
In El Arish we stopped at the Sinai Star Hotel situated in the midst of a shopping mall in a rundown street. We arrived shortly before Iftar, which happens exactly at sunset when everyone rushes home to break the Ramadan fast with their family. My friend Ahmed (not his real name), whom I had met in Rafah last January, was waiting for me at the hotel to take me to his house for dinner.
Ahmed comes from a very poor family. He has relatives in Gaza and feels very much a Palestinian – the border that divided Rafah into an Egyptian side and a Palestinian side ever since the peace agreement between Israel and Egypt could not eradicate the blood ties that bonded these people with their relatives caught in Gaza.
At 23, he is the oldest among his brothers and sisters so he feels responsible for all the family, which includes his wife and lovely 11-month-old daughter, half a dozen step-brothers and sisters, his father, and his mother who is now married to another man.
He spent two and a half years in Zambia working at a bakery and managing a supermarket owned by his uncle, where he made some money – enough to buy a pickup van and set aside some savings that came in useful very quickly when the landlord of his father's house on a farm kicked them out earlier this year.
Right now, his main source of income is transporting goods with his van, and the most lucrative business revolves around getting goods to the Rafah-Gaza tunnels. But even though he doesn't work inside the tunnels themselves, his job has become very dangerous as armed Egyptian soldiers are persecuting tunnel operators and whoever has anything to do with them.
"You know Tom and Jerry? It has become a game of cat and mouse," he tells me. "The police and the soldiers are arresting anyone whom they suspect is transporting goods to the tunnels, so we do not even go straight to deliver the goods but we zig-zag with our vans from one house to the next, while others stay in the street just to look out for any police who might be following us to alert us."
He tells me a big tunnel that was used to get cars into the Gaza strip was demolished by Egyptian forces, but there are still some 2,000 tunnels from which everything passes into the strip.
Ahmed himself passed through one of them a few weeks ago. Egyptians are strictly forbidden from entering the strip, but Ahmed wanted to visit a sick elderly woman who had taken care of him and his siblings after their mother left the house.
The underground walk took him about 30 minutes and he had to pay people $100 to show him the way along the intertwining tunnels that are much like a maze, leading to different tunnel openings.
"It's impossible to go down there on your own unless you know the underground network really well," he said about the dangerous descent. "You could easily take a wrong turn and return to Egypt, or you can just get lost and die because of lack of oxygen."
At some points he could feel the earth was unstable, which besides the direct bombing of tunnels by Israelis is the cause of many fatalities in tunnel collapses.
On Friday morning we set off towards the border crossing. Trucks, buses and people carrying heavy luggage were already waiting for their turn to be allowed into Gaza. We presented our passports together with signed papers in which we stated that we were aware of the risks of entering the Gaza strip and that no consular services would be available for us in cases of emergency. As time went by it became clear this would be a long wait at the border. We could see busloads of Palestinians, ambulances and trucks going in while we were kept waiting at the gates. Officials from the foreign ministry in Cairo were telling us we were allowed to go in, but the border guards kept insisting they had to clarify some details, delaying our entry for hours under the scorching sun.
Despite the reassurances from the group organisers, I was skeptical about making it through. Any reason, any excuse would do to stop me from entering – I have yet to meet a border guard you can reason things out with. I've waited here last January during the war together with hundreds of Palestinians and journalists trying to enter Gaza, in vain. I knew that handing over the passport meant nothing until the gate is opened for you to step inside, and even then it was yet another long wait full of repeat questions. I have also learned that when you are told to wait for five minutes it could mean five hours, which is precisely what happened to us.
Every now and then, an officer would return to us and ask us the same questions again: when did we arrive in Cairo, where did we stay, in which hotel did we stay in El Arish, what is our employment, why are we entering Gaza... by the end of it we knew each others' jobs and personal details by heart – some real, some fictitious. I was no longer a journalist but a student, which is also true. An American lawyer decided to become a judge, and a British Home Office anti-terrorist officer became a government secretary.
At one point we could see a truck full of African immigrants under the watch of armed soldiers being rushed out of the area. Thousands of them, mostly from Darfur, cross the desert in their bid to enter Israel. Even here, Egyptian border patrols do the policing for the Israelis, killing many of them on the way and arresting others who will never get a chance to seek refugee status even though they are potentially fleeing persecution.
When, at last, the senior border police officer told us to board the bus to get through the gate, I was still holding back any signs of jubilation despite my colleagues' euphoria. This was only the first step. I told myself and the others I would not believe I would get through until I heard and saw the last gate closing behind us.
Indeed, once ushered inside the terminal, we had to hand in our passports again to be stamped and processed, and unload our entire luggage from the bus, including boxes of tea for distribution (which, we were told, is in short supply right now), toys for children, pencils, drawing books, crayons, and children's clothes.
As we waited, we could see hundreds of Palestinians carrying all sorts of things that you would never expect to see being carried through passenger terminals: cookers, fridges, televisions, furniture, kitchen utensils, carpets and even marble slabs.
Finally we were handed back our passports and told we could proceed to another bus that would take us to the Palestinian side. Again, I would not believe we would make it through until we actually got there. Yet passing through the corridor that is no man's land and seeing a big 'Welcome to Gaza' in front of us made me finally relax. Just at that moment, my girlfriend sent me an SMS: "Tell me when to celebrate," she wrote.
"Now!" I replied.
Once again, we had to unload the luggage and present our passports to the Hamas border police, but at least the procedure this time round did not take very long.
Back on another bus to Gaza City escorted by Hamas, the view along the way was one of destruction and abject poverty. The devastation left after the war is still there. Every corner bears the scars of the Israeli aggression that has killed over 1,300 people who had nowhere to flee as one of the world's strongest armies was attacking defenceless civilians.
None of the reconstruction promised by foreign governments seems to have materialised so far as shelled houses and whole blocks razed to the ground greet you everywhere, and people are still living in tents. Windows with shattered glasses are covered everywhere in plastic sheets.
No amount of reporting will ever do justice to the sheer destruction, the sights, sounds and smells that overwhelm you since the gates of Rafah close behind you in what is the world's largest prison. As we sit watching, I realise it will take a long time for the full effect of the reality of Gaza to sink in.
---
Any comments?
If you wish your comments to be published in our Letters pages please click button below.
Please write a contact number and a postal address where you may be contacted.
---


All the interviews from Reporter on MaltaToday's YouTube channel.
---
EDITORIAL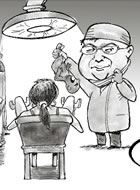 A tight space for the economy
INTERVIEW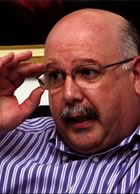 'This government is its own worst enemy'
---