| | |
| --- | --- |
| News | Sunday, 02 August 2009 | |
Karl Stagno-Navarra
Fourteen migrants rescued by an Italian trawler last Wednesday were forcefully repatriated to Libya following yet another dispute between Malta and Italy, over whose responsibility it was to take the migrants.
While the Maltese government refused to send a patrol boat to the area, given that the rescue was effected 30 miles off Lampedusa and 90 miles from Malta, the Italian government refused to accept the migrants on Lampedusa, insisting that the island was not to be considered as the "closet, safest port."
The incident yet again sparked the ire of the United Nations High Commission for Refugees (UNHCR), who through its spokesperson Laura Boldrini insisted that both Malta and Italy should assume their international responsibilities and be humanitarian.
The UNHCR spokesperson implored both states not to forcefully repatriate the migrants to Libya.
However the stand-off between the two countries came to an end after almost eight hours, when an Italian patrol boat was eventually deployed to the area, picked up the migrants and handed them over to a Libyan navy vessel that took them aboard and sailed with them back to Tripoli.
Informed sources confirmed that the Armed Forces of Malta coordinated the rescue by diverting a Sicilian fishing vessel to the area, and whose captain provided the migrants with food and water.
They were originally sighted by a Malta-based Frontex sponsored aircraft, while the Armed Forces' control room in Luqa coordinated the rescue by keeping the Italian trawler in check via radio about the condition of the migrants.
Fisherman Nicolò Russo from Mazara del Vallo who steered the trawler expressed his dismay at the intransigence shown by both Malta and Italy towards the migrants who were reportedly terrified of the prospect of being repatriated to Libya.
The migrants were of Egyptian, Algerian and Tunisian nationality.
---
Any comments?
If you wish your comments to be published in our Letters pages please click button below.
Please write a contact number and a postal address where you may be contacted.
---


All the interviews from Reporter on MaltaToday's YouTube channel.
---
EDITORIAL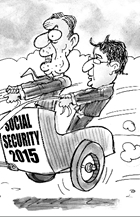 No more platitudes on social security
---