| | |
| --- | --- |
| News | Sunday, 02 August 2009 | |
David Darmanin
Data from the leading internet ranking website alexa.com shows Maltese internet users among the most avid porn browsers among all 27 EU member states.
Rankings this week put the online pornography video site Pornhub.com as the 21st most visited website in Malta, three positions higher than the Bank of Valletta website, four up from the University of Malta website, seven places higher than news portal di-ve.com, and 16 places higher than the HSBC website.
It seems clear that internet porn is even more popular than online bank transactions.
However, it transpires that Malta's internet porn usage is amongst the highest of all European Union member states.
Drawing comparisons of alexa.com listings for each EU state, the top 50 websites visited by Maltese browsers include porn sites livejasmin.com (31st), youporn.com (35th), redtube.com (41st), tube8.com (47th) and xhamster.com in fiftieth position – a total of six porn websites in the 50 most visited.
All porn websites featured in the top 50 lists of European countries are accessed free of charge and do not require users to fill in details on their age or identity.
Spain's most visited 50 sites also include six porn sites, but the most popular – Petardas.com – comes in at 41. This is followed by Pornhub in 43rd place, tuporno.tv, xvideos.com, rdtube.com, and livejasmin.com.
Italy and Cyprus also rank high in porn usage, with youporn.com listed as the 14th most visited site for both nations. Cyprus has just two other porn entries in its 50 most visited sites, while Italy has four.
Hungarians appear to be the least interested in online pornography: no porn website features in the country's top 50 websites.
Alexa.com classifies youporn.com as the world's 48th most visited website, predominantly by men aged 18 to 34 who have no children, university graduates, and is generally accessed from home computers.
Websites such as Redtube, YouPorn and Pornhub gained extensive popularity followng the success of the YouTube model, by allowing users to upload amateur videos for public viewing. They feature uploads from other amateur porn companies such as Brazzers and Naughty America, which advertise their own sites by offering free sample video clips.
YouPorn boasts of a collection of over 45,000 free videos, while Pornhub hosts more than 30,000 free video clips and Redtube over 12,700.
---
Any comments?
If you wish your comments to be published in our Letters pages please click button below.
Please write a contact number and a postal address where you may be contacted.
---


All the interviews from Reporter on MaltaToday's YouTube channel.
---
EDITORIAL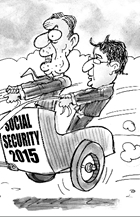 No more platitudes on social security
---