| | |
| --- | --- |
| News | Sunday, 14 June 2009 | |
Matthew Vella
The number of criminal reports filed with the police have experienced a major fall since 2004. According to the latest parliamentary statistics, a climb-down of over 24% in criminal reports has taken place over the last four years.
Statistics show criminal reports falling from 18,259 in 2004, down to 13,383 in 2008 across the entire Maltese islands.
But they also show four particular localities experiencing a rise in reports. The neighbouring towns of Fgura, Paola and Tarxien collectively saw criminal reports rising from 695 in 2004 to 934 last year – an increase of 34%. Fgura alone experienced a 60% increase in criminal reports.
The three towns stick out from the rest of the islands, which registered a decrease in criminal reports everywhere. Only Isla and Kalkara registered a marginal increase, although their neighbouring towns in the Cottonera area, Bormla and Birgu, saw a 3% decrease in reports.
Gozo itself registered a 16% decrease in criminal reports, down to just 579 reports.
And even the four towns with the largest number of annual criminal reports have also experienced major falls in criminal reports.
St Julian's went down from 2,277 to 1,650 in the last four years, a 27% decrease. Sliema went down from 1,339 to 957 filed reports, a 29% decrease. Valletta saw reports falling from 1,294 to 836 (35%) and criminal reports in St Paul's Bay fell from 1,285 to 1,048 (18%).
Although criminal reports have fallen in major towns, Sliema and St Paul's Bay still have the highest number of burglaries in homes. Sliema had the most burglaries in 2008, increasing from 40 in 2004 to 72 in 2008.
Following reports from residents, Sliema mayor Marina Arrigo has already drawn the attention of the Commissioner of Police to this growing problem. Sliema's Alternattiva Demokratika councillor Michael Briguglio – himself a victim of a burglary last year – attributed most of the burglaries to the increase in construction sites, which enable potential thieves to have easy access to residences next door, while also getting easy views of residences and their back gardens.
Crime's 'dark figure'
Despite the evident fall in criminal reports, it is also true that there are many other crimes that do not get reported to the police.
According to criminologist Saviour Formosa, throughout Western societies more than 50% of offences are never reported, a phenomenon called 'the dark figure of crime'.
Crimes tend to go unreported usually because victims see them as too trivial, even if the crime is actually serious; a questionable police response, especially if there is a relationship between the victim and the offender; and the feeling that the police would not deal with the offence.
According to Formosa's study on the dark figure, persons from different localities tend to report different crimes more than those in other parts of the islands, whilst some victims from particular towns tend to seek retribution rather than report to the police.
---
Any comments?
If you wish your comments to be published in our Letters pages please click button below.
Please write a contact number and a postal address where you may be contacted.
---


All the interviews from Reporter on MaltaToday's YouTube channel.
---
EDITORIAL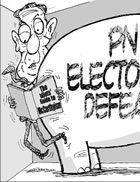 The ghost of McCarthy
---
---