| | |
| --- | --- |
| Editorial | Sunday, 14 June 2009 | |
It's not often that the government of Malta appears in such palpable disarray. In fact, the last time a comparable atmosphere pervaded the country was in 1998... when Labour MP Dom Mintoff voted against the Cottonera Waterfront project, to which Prime Minister Alfred Sant had (unwisely, with hindsight) tied a vote of confidence in his own government.
There are differences between the two scenarios – not least, the fact that Lawrence Gonzi has so far avoided the same mistake Sant made 11 years ago, as is not as yet compelled to take to the country to early elections. Things may not have deteriorated quite as badly as 1998, but few would deny the Nationalist administration is currently in a state of siege... as much from within as from without.
These attacks will no doubt intensify after the result of last week's local council elections are known at some point this afternoon. This time round it is difficult to predict the exact outcome. The dynamics are after all different between a local and a European election, but still: projections indicate a second landslide victory for the party in Opposition, at a time when government clings to power by a single seat in the House of Representatives, having garnered less than 50% of the popular vote last year.
These are uncomfortable times for Lawrence Gonzi, and it shows – not least, in the way the traditionally arcane Nationalist party has allowed its internal bickering to spill over into the public domain of late.
This is a state of affairs we more commonly associate with the Labour Party, with memories such as former minister Evarist Bartolo urging Karmenu Mifsud Bonnici not to wash the party linen in public after the 2003 EU turnaround. Such public displays of dissonance are not what one expects from the traditionally more disciplined Nationalist Party; but then again, there can be no mistaking the symptoms of civil war brewing in the corridors of the Dar Centrali Nazzjonalista in Pieta'.
In a week of recriminations – including an explosive meeting of the PN parliamentary group on Tuesday – backbenchers have taken to airing their grievances loud enough for echoes to reach the general public's ears. So loud, in fact, that certain well-placed PN apologists have actually warned these "traitors" to toe the line, and to remember that their allegiance is to the prime minister, and not the other way round.
Incredibly, it seems that the Nationalist Party is so lost in a tailspin of accusations and counter accusations, that it has forgotten to analyse the root causes of the European election result that brought about all this bickering in the first place.
In a throwback to 1950s America, the Nationalist party appears to be going through its own version of McCarthyism: though while Senator Joseph McCarthy dedicated his life to identifying and demonising "Communists" engaged in "Anti-American activities", the PN's internal machinery is now absorbed with the task of identifying the "traitors" and (if possible) browbeating them back into submission.
Even external agents, ensconced in the independent media, have taken it upon themselves to harry and even threaten these wayward backbenchers with exposure if they continue embarrassing their government in this way. Nor is the siege mentality limited to a handful of rebel MPs (each of whom, incidentally, has the power to collapse his government exactly as Mintoff did in 1998).
In the build-up to a widely predicted defeat, some PN candidates went as far as to suggest that government did not deliver on its promises because of "high-ranking Labour officials" in the public service – an echo of former PN secretary general Joe Saliba's "network of Laburisti" comment in 2003.
It seems therefore that the Nationalist Party is now pointing fingers of blame in all possible directions... except its own. Rather than acknowledge that the party in government is itself to blame for Saturday's result – for its lacklustre and unmemorable campaign, for putting forward such uninspiring candidates, for banking too heavily on the popularity of Simon Busuttil, and above all, for failing to deliver at government level since the general elections – the Nationalist Party now is engaged in a witch-hunt for a satisfactory scapegoat.
If this is how Lawrence Gonzi intends overcoming his own and his party's problems, we can only expect more political explosions in the weeks and months to come.
---
Any comments?
If you wish your comments to be published in our Letters pages please click button below.
Please write a contact number and a postal address where you may be contacted.
---


All the interviews from Reporter on MaltaToday's YouTube channel.
---
EDITORIAL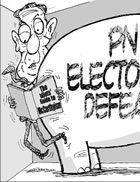 The ghost of McCarthy
---
---