| | |
| --- | --- |
| Interview | Sunday, 14 June 2009 | |
The outspoken GEORG SAPIANO says the PN has to face its own truth, and tell the truth to the people, even at the cost of votes.
A PN candidate in the last general elections, Georg Sapiano now presents himself as a party ideologue. It was his sober reflection on the day of the European Parliament elections that astounded Net TV viewers, with his deconstruction of the Nationalist campaign turning into the party's very own inconvenient truth. Indeed, he did not take his party's defeat lightly.
But like a stoic philosopher in the face of adversity, he insists the PN shouldn't abandon its higher calling "to pursue the truth", even if that could come at the cost of votes.
"I hope the PN and all those who form part of it will respond by doing the right thing and not simply anything that will get us the votes."
Although irrational fears on illegal immigration dominated the MEP elections, Sapiano hopes his party will not succumb to the temptation of abandoning everything just to gain political points: "Some of the people who cross deserts and seas are entitled to recognition as asylum seekers and should be assisted. We should not turn our face away from that reality simply to score points with voters who cannot distinguish between illegal migrants and refugees. We should really work to seek out the truth of things, and if sometimes that comes at the cost of losing votes, so be it."
Sapiano says the plight of migrants from war-torn Africa is scarcely different from the Jews' in the thirties and forties. "Those who would take humans in this situation and abandon them on the high seas have the same sort of sentiment as those who sent the Jews on trains to the East."
He expresses surprise at the lack of knowledge about refugees and their rights when I ask him whether immigration was a determining factor in these elections.
"I am always surprised when I speak to good, ordinary people on immigration and realise that frequently we fail to make the distinction between people who ought to be given refugee status and others, illegal immigrants, who are riding on the back of a criminal organisation to move from their own domicile to another, bypassing the law.
"We should be determined and tough with people in the second category, but how can we refuse to help refugees?"
Sapiano is convinced that government was right to insist (with Italy) that the Pinar immigrants should be taken to the nearest port of call, despite having been saved in our search and rescue area. But he urges the government to explain to people the advantages of having a search and rescue area which is out of all proportion to the size of our country:
"The size of our search and rescue area, which once stretched south of Libya to Chad, creates problems of course. Why else would our armed forces go out so far from our shores to assist people? Every time a commercial plane enters the huge area of our SAR however, money is paid into our coffers. So, when we begin to weigh the costs of running rescue services and keeping people in detention, we should also tell the Maltese public the advantages. Mineral rights within the search and rescue area could give Malta claims over exploration in that area, and money flows in all the time from commercial aviation. This is also part of the whole immigration reality, but it is never raised."
But Sapiano also thinks that some of the present government's actions manifestly contradict self-evident truths. He cites the proximity of a particular fireworks factory to three schools as an example of a reality being ignored by the present government "because frequently, inaction is so much easier… Is it not obvious that we should not have a fireworks factory in the immediate vicinity of 2,000 teachers and students attending three colleges in Naxxar?"
Sapiano acknowledges that the colleges were built after the fireworks factory: "It is no fault of St Michael Fireworks in Lija, which was established on its present site in the 1920s. But it is certainly not the fault of the teachers and students who have to go there. Is it not clear that we are courting yet another disaster? Either we put our hands in our pockets to build a state-of-the-art fireworks factory somewhere else as compensation for moving St Michael's away, or we find a solution to protect the lives of 2000 students and teachers.
"By looking at this situation and not doing anything about it, we are just waiting to wake up to another tragedy of which we had five in the past two years. These are realities which cannot continue to be ignored."
In his last speech Labour leader Joseph Muscat made a clear distinction between Church and State and reiterated his stance in favour of divorce and gay rights. He still won by a huge margin. Has moral conservatism become an electoral liability for the PN?
Despite his liberal views on these issues, Sapiano does not expect his party to change its views simply to win more votes. "If the people leading the party today honestly feel that it is in the interest of society not to have the laws and institutions that Labour is advocating, then their conservatism is justified. Lawrence Gonzi cannot say 'We detest divorce but we will introduce it as it will get us votes'.
"On the other hand we first promised to give rights to people who co-habit more than ten years ago and we have still done nothing about it."
So as he raises the importance of the pursuit of truth in politics, has the lawyer and former journalist now transfigured himself into a philosopher or party ideologue?
"I do not think that I have changed very much... as a journalist I don't think I ever concealed anything to make the ministers in my party appear better than they should have. Anyway, it's pompous to go on about how people should say the truth, so let's just call it 'doing the decent thing'."
Yet, as a candidate he refused to say an untruth regarding his campaign spending last year. "One option was to first spend more than the Lm600 limit, which is ridiculously low, and then take a false oath… that was not the decent thing to do."
When quizzed by the Sunday Times most candidates contesting the MEP elections were evasive on their campaign spending. Georg Sapiano points out that the law clearly includes donations or assistance provided by 'friends': "I think (Nationalist candidate) Edward Demicoli was very frank when he called a spade a spade and declared his expense had exceeded the limit."
He then singles out a number of Labour candidates for their style of campaigning: "Is it possible that John Attard-Montalto, who was reported as putting photos of himself in kitchen utensils distributed as gifts during an event, remained within the limit set by law? Does he deny doing this or that he wrapped bank notes around carnations he gave out in the 2004 election campaign? Do Louis Grech and Sharon Ellul Bonici deny that they receive an EU salary, which is why they could afford the kind of campaign they had?"
He also expresses his disappointment at the way the Electoral Commission is washing its hands on this issue. "This is an issue on which many seem happy to look the other way, but increasingly people want those who emerge from private to public life to represent a higher standard of behaviour… of course, I may be wrong… I'm told that many don't care."
Speaking on Net TV on Sunday, Sapiano spoke in sharp contrast to other commentators and refused to minimise the scale of Labour's victory and called on fellow party supporters to call a defeat a defeat and stop the spin: 'Wake up, smell the coffee,' he told a startled Charlot Bonnici, the Nationalist MP.
But still, he doesn't see the EP result as a threat to the legitimacy of Lawrence Gonzi's government, despite Labour winning by a margin of 33,000 votes only a year after the PN won a general election by just 1,500 votes. "The right and obligation of the government to serve a full mandate was established by the March 2008 general election and this result was accepted in the most democratic of ways by Alfred Sant despite the fact that the PN lacked an absolute majority."
In Nationalist circles, Alfred Sant was considered as the PN's best asset. But has this changed with Muscat, who may well have become his own party's best asset? One major advantage of Muscat over Sant is that he is a family man, Sapiano says.
"He is the first Labour leader in ages to be a traditional family man… One can see him taking a stroll on a promenade in the company of his wife and two children."
Isn't this an unfair disadvantage against aspirant leaders who are single, divorced, separated or gay?
"In any society and not just Malta, electorates warm to politicians who are married and have children. One has to remember that numbers play a great part in the political game. Since most people are, or aspire to get, married and have children, persons who are single, separated or who cohabit start at a disadvantage."
He also considers that some aspects of Alfred Sant's character like his behaviour, body language and some of the things he used to say were liabilities to his party and therefore an advantage for the PN. "There is no doubt that if the Labour leadership was once the PN's best asset this is no longer the case," Sapiano says.
But there are still elements in the party leadership which could put off voters who might well have voted Labour in an EP election but would have second thoughts about doing the same in a general election.
"This was not an election in which the electorate decided to hand the reins of running the country in Muscat's hands," Sapiano says.
Sapiano has no problem recognising that there were Nationalists who voted for Labour, but he doubts whether these voters will trust the country in the hands of a party whose leadership includes Anglu Farrugia and Jason Micallef.
"Probably they will say Joseph Muscat does not look as bad as Alfred Sant, and that it's no longer socially unacceptable to vote for Labour. But Anglu Farrugia worries them because of the rhetoric he uses and because of his behaviour after the last general election when he questioned the validity of the electoral result."
Still Sapiano makes a distinction between Farrugia and the other deputy leader Toni Abela. "While Toni Abela and Joseph Muscat will behave according to the rules if voted into power, in the mind of those who are not Labour fanatics, people like Jason Micallef and Anglu Farrugia still have to prove themselves."
Sapiano also considers these elections as a major test for Muscat's leadership. "Muscat saw these elections as an opportunity to affirm himself in his new role," he says, speculating that as MEP Muscat might well have preferred a more meritocratic selection process to find six good men and women.
"But as the leader of a fractured party he saw this election as a golden opportunity, a penalty kick he could not fail to take. And so realpolitik came in play, and as a result, his campaign was divisive and bruising. The PM on the other hand, appeared removed. It is not easy managing the country at a time of global economic disaster. His efforts to save jobs were entirely unappreciated by the electorate."
While arguably Sant was the Labour's party liability and by default a PN asset, Lawrence Gonzi was certainly the PN's best asset in the general election campaign to the extent that Gonzi loaned his own name to the party's electoral leitmotif, GonziPN. But with the party losing heavily in its first electoral appointment after the general election, is it not inevitable that Gonzi will also lend his name to the party's defeat?
"It would be a mistake to interpret the result of this election as a definitive judgement on Lawrence Gonzi's work as Prime Minister," Sapiano says.
But isn't Gonzi the man who is governing the country?
"Yes, and that is exactly why it is not yet a verdict on the results of his work. That job is a five-year project. If it is halted after a year and a half, people will not be able to see any results."
Wasn't Alfred Sant stopped after two years and forced to face the people's judgement prematurely?
"Definitely. This is the most notorious case. On the other hand a leader of the Opposition, irrespective of whether he is Eddie Fenech Adami or Joseph Muscat, is like a sculptor working clay. While it takes just a month to present a statue made of clay, it takes a Prime Minister five full years to present a statue in marble."
So is any incumbent government destined to lose European elections which will always come a year after the national elections, a time when the metaphorical statue is incomplete?
"Not every government is unpopular in the first year. I suspect that a government which has been in Opposition for a long time retains its popularity for a long time after. That was clearly our experience in 1987. So if Labour is returned the next time round, the chances are that it will retain the loyalty of its voters even after the MEP elections.
"On the other hand, since we have been in government for a long time we have long lost the benefit of newness."
But he sees nothing out of the ordinary in having a party with a majority in parliament and another with a majority of elected MEPs. "That becomes part of the system of checks and balances that electorates all over the world have expressed a preference for. But our people in the European parliament represent just five of the 700 MEPs. They are not governing Europe and they are certainly not governing Malta. They are ambassadorial voices striving to bring across the needs of the country in a European forum."
---
Any comments?
If you wish your comments to be published in our Letters pages please click button below.
Please write a contact number and a postal address where you may be contacted.
---


All the interviews from Reporter on MaltaToday's YouTube channel.
---
EDITORIAL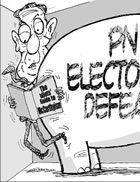 The ghost of McCarthy
---
---