| | |
| --- | --- |
| Film Review | Sunday, 14 June 2009 | |
Not all of us watch films for fun. Sometimes, that arty bone in your body activates a snobbishness towards everything in the multiplexes that leaves you bereft of any cinematic fixes. What does one do in situations like that?


Largely, one would have to seethe and suffer: there are no arthouse cinemas in Malta and when even a slightly left-field flick makes an appearance on the mainstream cinemas, by the time you've donned your turtleneck and beret and left chez-toi with eccentric pet in tow (lobster?) it will have disappeared. Hell, even the wonderfully dark kid-flick Coraline was pulled after a few weeks, so what chance does something truly challenging and unsettling have?
Hunger, the debut feature by Turner Prize-winning video artist Steve McQueen, won the Caméra d'Or at last year's Cannes Film Festival. It is possibly by virtue of this award (dealt exclusively to debuting filmmakers) that the film is finally making the rounds internationally. It might just last longer in the cinemas than your usual Almodovar simply because it has been a long time coming: if distributors still chase after it a full year after its release, there must be something to it, surely? Well, there is. What becomes apparent just a few minutes into the film - which deals with the 1981 Irish hunger strike - is that we should believe the hype.
Broadly speaking, the story spans over six weeks: the final six weeks of Bobby Sands, IRA member and leader of the '81 hunger strike, which was held to protest the IRA detainees' criminal (as opposed to political) status. As Thatcher refuses to cave under the prisoners' demands, we are made to witness the harsh conditions and the IRA members' deliberate physical deterioration in gruesome detail. The key player is Sands, but before McQueen and co. home in on him, we're brought into the film via Davey and Gerry, make us see what life in the cells was like and considering that they're not the 'heroes' we gain further sympathy for them: even if they don't engineer the cause (though they're still involved) they undergo an equal share of brutality nonetheless. It also helps Davey isn't outwardly strong nor overtly charismatic, so we know that what we're witnessing is the worst-case scenario. And what a wallop of worst it is: while I'm usually not one to look away from the screen, in this case I simply had to shut my eyes every now and then. McQueen has no qualms with showing a faeces-plastered cell for what it is, and he refuses to let you off easy: once you're in, you're in for the long haul. In a conventionally-structured film, this would run the danger of coming across as too much, tacky even. But given McQueen's video art background, and his insistence on applying it to a narrative, what we actually get is raw lyricism of the first order. With his unflinching eye, he morphs the political into the visceral without separating the two.
As expected, the approach does have pitfalls. The strict three-part structure feels somewhat contrived, given how the first part throws us into the chaos and brutality of the prison without offering much logical framing, nor time for us to adjust and slip into a comfort zone. The middle segment is a long dialogue - shot in a single take - between Sands and his Priest, in which the ethical dimensions of the hunger strike are discussed. At first, it is captivating: bravura acting is displayed from both sides of the opposing argument and the barrage of words feels like an oasis of language, arriving as it does straight after the uncompromisingly brutal first half. But there comes a point when the single take simply does not become sustainable anymore and the acting cracks, as does the pacing: you can sense that McQueen becomes self-conscious when the breaks the shot mid-way and drags the camera to a close-up of Bobby as he recalls a poignant childhood memory.
The final segment, detailing Bobby's disintegration isn't just visually impressive, it also makes perfect sense because it conforms with the film's overall ethos. McQueen zooms in on the body and what it undergoes and in doing so, defamiliarises the political story in a way that jolts us out of the stock, detached reaction we would doubtless have if the film were to be shot in a conventional way, as dramatised news bulletins. He eschews melodrama without skimping on the drama. In a way, it's similar to Passion of the Christ: we all know what Jesus went through, but we forget the details of how it all took place, which, you could argue, is largely the affective point. What fells lacking is any sense of real identification with Bobby as a person. In a sense, of course, this is a necessary evil: having no real dialogue or exposition happen beforehand, it's going be difficult for the filmmakers to wring any emotion out us for characters they had little time to give texture to. But you can read the history in the history books: this isn't a film about one man. This makes it somewhat of an uneven experience but, uneven or not, it is very difficult to deny that it is in fact an experience, in every sense of the word.
---
Any comments?
If you wish your comments to be published in our Letters pages please click button below.
Please write a contact number and a postal address where you may be contacted.
---


All the interviews from Reporter on MaltaToday's YouTube channel.
---
EDITORIAL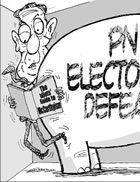 The ghost of McCarthy
---
---