Joseph Muscat has opened a Pandora's box, and look what popped out of it: Alex Sceberras Trigona, back in from the cold, cold winters of the 1980s
Hours after his party committed hara-kiri by electing Dom Mintoff's foreign minister as its international secretary, Labour leader Joseph Muscat really felt the need to underline his party's European credentials.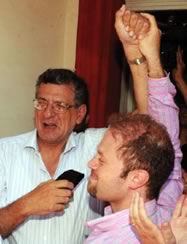 "As a pro-European party, the MLP wants to enhance the European political culture… we have to uphold Malta's national interest as an EU member by giving our best within EU structures."
The problem for Muscat is that he will be serving his new wine in an old bottle, with the Mintoffian label still visible on it.
Surely for Labour the return of Sceberras Trigona does represent a symbolic end to the diaspora brought about by Sant's poor handling of the Mintoff crisis in 1998.
Sceberras Trigona himself has never showed any repentance for refusing to support Alfred Sant in the Mintoff crisis. To him, Alfred Sant was "closer to Thatcher" and under his leadership the MLP was not a "real Labour Party". In an interview with MaltaToday in 2001 Sceberras Trigona went as far as describing Alfred Sant's government as a "PN2".
Joseph Muscat, himself a product of the "new Labour" school promoted by Alfred Sant between 1992 and 1996, now has to contend with an "old Labour" exponent in charge of his party's international relations.
Sceberras Trigona's return amplifies Muscat's major contradiction: that of opening the party's doors to Mintoffians while firmly underlining the benefits of EU membership and favouring liberalisations and privatisations.
Surely politics is an art of compromise and unlike Sant, Muscat has put inclusion at the top of his agenda. Every European Socialist party includes a more traditional wing. Even Blair's new Labour had 'Red' Ken Livingstone running the Greater London council.
Wherever this wing was dumped, as happened in the German SPD with Oskar Lafontaine founding his own party, the left lost its majority.
However, it is putting Sceberras Trigona back to the very same position he held 31 years ago, back in another geopolitical era when Mintoff was busy flirting with the anti-western camp to blackmail the West into pumping more money in the Maltese economy, that now spells trouble for Muscat's Labour.
Had Sceberras Trigona been appointed to a post not associated with foreign affairs, the damage to Labour would have been minimal. For under Muscat, his party is firmly anchored in the European Socialist family in a completely different scenario where Labour is now an "enthusiastic supporter" of EU membership.
Labour is simply asking too much to expect from middle of the road voters to trust Sceberras Trigona to implement Muscat's vision.
People are more prone to remember Sceberras Trigona's term as foreign minister between 1981 and 1987 for his government's dealings with murderous regimes like the Stalinist monarchy in North Korea, and Ceausescu's Romania than for signing the financial protocol with Italy – the price paid by the western alliance to keep Malta from drifting further towards the Warsaw Pact.
And unlike George Abela, who converted to EU membership after his break-up with Sant while remaining on good terms with Dom Mintoff, Sceberras Trigona continued to associate himself with Karmenu Mifsud Bonnici's anti-EU Campaign for National Independence, distinguishing himself for making rambling constitutional arguments and pouring doubts on whether Malta is any richer with EU funding.
Even until just a few months ago he was a regular guest on the CNI's slot on Smash TV. Maybe he never came across as a rabid anti-European, but his comments betrayed a deep euroscepticism, harking back to his active participation in the No campaign against UK entry in the common market when the Rhodes scholar was at Oxford.
Probably Sceberras Trigona will toe Muscat's pro-European line. But his presence in the MLP's administration will be a constant source of ammunition for the PN propaganda machine.
For at a time when Labour could have closed the European chapter once and for all, it committed hara-kiri by appointing a eurosceptic as international secretary.
From devil to angel to devil again
Sceberras Trigona has proved to be a man of all seasons for the PN's propaganda machine. In 1998 he even found himself on a PN electoral billboard, flanked by Lino Spiteri and George Abela – all three of them having fallen out with Alfred Sant – to convey the message that "You can't work with Alfred Sant".
Now that Sceberras Trigona is back in the Labour fold, the Nationalist media is reminding us of his eurosceptic views and the secret treaty signed with North Korea when he was foreign minister.
And 20 years ago, as dockyard workers led by former Labour minister Lorry Sant hijacked the tanker Copper Mountain to block the ports' entrance to the HMS Ark Royal, the Nationalist propaganda machine filled every nook and cranny with posters depicting Sceberras Trigona in 1985 giving the salute wearing the HMS Brazen's sailor's hat – his little tribute to the visit of the first British warship since 1979: "For us, and we are sure, for Britain too, this occasion marks the beginning of a new and more rewarding phase in Anglo-Maltese co-operation," he had said back then.
Ironically the poster captured a rare instance of reconciliation between old Labour and the former colonial masters, when Malta had opened its ports for a British military ship for the first time since 1979.
In the past few years Sceberras Trigona has found himself transformed by Nationalist propaganda from communist devil incarnate plotting with North Korea, to imperialist lackey on the HMS Brazen, only to be briefly welcomed in the holy pantheon of Alfred Sant's victims before the 1998 election.
Now after a decade in obscurity, Sceberras Trigona is back in the PN's line of fire. Presumably until he falls out with Muscat.