Gonzi says he's a good journalist, Saliba once had a brawl with him, and a good half dozen ministers hate his guts. One News journalist Charlon Gouder speaks about his career as Labour's media commando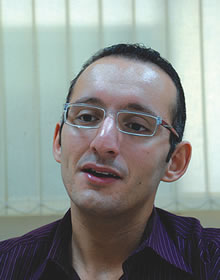 You have to hand it to him: Charlon Gouder's got balls. The Labour Party's 25-year-old media guerrilla has carved his own niche on the national landscape as an icon forged on the persistent and relentless hounding of Nationalist figures, debunker of the establishment's fanfare and of the pompous pretensions of his party's adversaries.
Come rain or shine – literally – Gouder has chased one minister after the other in hostile territory over the last years, exposing not only their dirty linen but also their hopeless reactions to his impertinent questions, shot at them like bullets from an unrelenting submachine gun.
His latest target was the former missionary of St Paul and now PN treasurer, Peter Darmanin, who found Gouder waiting for him with his microphone, asking him whether he knew the reasons behind John Dalli's resignation.
Once again, Gouder went back to the One TV newsroom with metres of film showing Darmanin making a fool of himself, telling the journalist that he would make a great PN official and that for him Dalli was "a champion", while evading the questions themselves.
All the other PN councillors were oblivious to the reasons behind Dalli's resignation, giving Gouder even more ammunition and determination to keep asking the same question.
"Ħarab milli jwieġeb" ("he evaded the question") is his favourite phrase, used in virtually every daily broadcast – making Cabinet ministers and PN functionaries look like a bunch of fugitives from every question that holds them accountable for anything.
Communications Minister Censu Galea once even turned around and stopped to wave for Gouder's camera like a disoriented Teletubby, immortalising the moment.
"Don't ever think it is my pleasure going through those kinds of farces: real, veritable farces (frejjeġ)", Gouder tells me, as we meet in one of the rooms at Labour headquarters… although something tells me he enjoys the limelight these "frejjeġ" bring with them.
"Like the farce in which both Tony Abela and I ended up drenched in the rain," he says, referring to his classic chase of the junior minister in a thunderstorm outside Parliament last year, as he solicited his answers about his connections to convicted drug dealer and smuggler, Indrì Zammit.
As he tried giving Gouder the slip in Republic Street, the image of a drenched Abela remains a classic gem of ridicule in the collective memory.
"If he keeps running away from my microphone I will keep running after him," Gouder says determinedly. "I won't give up."
And yet, his start in journalism began, as he puts it, "by coincidence (b'ċikka)".
A former trombonist with the Msida band club and the National Orchestra, Gouder aspired to study music and follow in the footsteps of his grandfathers and uncles.
"It was never my intention to end up in journalism, especially political journalism. I always saw myself working in music. My family is a family of musicians, all my uncles are musicians, so music was always an important part of my life."
Now here's a revelation: we owe Gouder's omnipresence on One TV to an incompetent Junior College music lecturer, who incredibly taught his class the wrong syllabus.
Gouder and his classmates only realised about the blunder two weeks before the A-level exam, so they had to cram a two-year course into two weeks. Gouder still passed, but inevitably the grade was nowhere near what he wanted.
"That destroyed me completely," he says. "I was totally demoralised. You can imagine the panic and chaos we went through, with lectures until the eve of the exam going on till late night at Junior College.
Incidentally, this lecturer is still employed by the Junior College and also lectures at University.
Gouder admits the incident "put him off music". Meanwhile, he and his colleagues had set up a students' rights association – Difensuri tad-Drittijiet ta' l-Istudenti – which eventually became the Junior College's branch of Pulse – the social democratic students' organisation.
The success of Gouder's new organisation, which explains his foray into politics, cannot be underestimated. From no representation, the Christian Democrat students' counterparts had their own representatives on the student council with a staggering 60 per cent majority of votes, eventually reflected also at university as Labour and left-wing students started getting organised.
"It dispelled the myth that university is the exclusive ground of the Christian Democrats," Gouder says about Pulse's popularity. "There is also this widespread fear of showing that you are a leftist, some sort of fear that something will happen to you, that you would be victimised or something.
After starting part-time with One News during his university years, Gouder became a full-timer in 2003 after graduating, and has also become a member of the MLP's national executive.
His ascent on the party media has made him the darling of Labour's leadership, following the tradition of the celebrity front liners before him, including Simone Cini, Glenn Bedingfield and Julia Farrugia, sent out to corner the PN with their ammunition.
Now, he is the only journalist in the One newsroom not to work on an alternate day basis, to work exclusively on political stories, besides working on his programme Vici Versa for the last two years.
His mission to get Labour elected into power includes going directly into the lion's den, upon invitation from the PN itself, among thousands of Nationalists gathered on the Granaries for Independence Day celebrations, confronting Lawrence Gonzi with his questions.
"I describe my two interviews with Lawrence Gonzi at the Floriana Granaries not as if I was playing away, but as if I was playing in a ground where you can't take your supporters with you, but where there are only supporters of your opponents.
"I think the PN this year tried its best to control the audience better, not that it succeeded mind you. Last year they put me on stage some 15 minutes before Gonzi arrived, so I was seated on this chair, facing the crowd that was all staring at me, while I could do nothing.
"To make things worse, at that time I was a bit chubby, and the chair I was sitting on just broke. Now I was really conditioned by my being chubby and conscious of it. So I was furious and told the PN organisers that if they were going to play these dirty tricks it was totally unfair. This chair was actually held in place by a piece of iron wire. They denied it was some dirty trick but the last time I went on the Granaries I made the condition that I would have a strong, sturdy chair."
But even this year, some "tricks" remained.
"I thought they would have learnt something but in fact they didn't. For example, this time round they kept switching off my microphone as soon as I finished a question. This really irked me. Any politician can dodge a journalist's question and, as you know, it is the journalist's job to keep persisting with asking the unanswered questions and follow-up questions. I couldn't do that with a switched off microphone. In the meantime Gonzi would start his answers deviating completely from the issue, then attacking Alfred Sant or the MLP in some way, and then after a whole sermon he might get to the question I had asked.
"What kind of style is that? I think the best article written about this was by (PN MP) Mario Galea, who said that the politician who has nothing to hide from answers every journalist's questions. I think the PN would do well to heed Mario Galea's words, as the party's highest exponents have been dodging questions for years."
But the incident that hurt him most was when Joe Saliba inexplicably manhandled him in the San Gwann PN club, to the astonishment of the prime minister himself who was politely answering his questions.
"It was frightening, really frightening," he says about the incident. "I had just started focusing solely on political stories. At that time there was the Tony Abela story, about his partnership with drug dealer Indrì Zammit and his breach of ethics as junior minister. I was following the story closely back then. There was this meeting with party members and after the meeting was over I asked the PN officials to ask some questions to the Prime Minister. Gordon Pisani had told me it would take long until Gonzi would be free to answer me, as he was still discussing with people inside. I said I was in no hurry and would wait outside. I waited for about an hour. Gordon Pisani then came and told me the Prime Minister had accepted to be interviewed.
"As I went in I saw he was still talking to some PN members, so I waited with the cameras switched off until he was free. When I started asking questions and showing evidence that Tony Abela was still practising as a notary despite his post as junior minister – in a clear breach of ethics – Joe Saliba just butted in and told me the interview was over.
"The Prime Minister was still answering my questions but Saliba just shut him up. I couldn't believe it. How could he shut up the Prime Minister when Gonzi was still answering my questions? Even worse, Saliba ordered the PN employees to switch off our camera and my microphone, violently, and in total disrespect towards the Prime Minister.
"The PM was dumbstruck. It was clear Saliba had lost it. He expected me to just go out. He physically grabbed the camera from my cameraman. At one point I was interviewing the Prime Minister and in a second I ended up in this brawl with Saliba, straight out of a Bud Spencer film. The PN mob surrounded me, lots of shouting and chaos, and all I know is that I ended up thrown on a sofa with Joe Saliba above me. It was crazy, pure madness."
To add insult to physical assault, Gouder ended up as the target of PN spin on that night's Net News.
"Of course, aware that Saliba had screwed up badly on that day, the PN came out with a story saying that I assaulted Saliba. It was outrageous. I sued him for libel. It is so unfair to treat journalists in this way. You can disagree with everything I say but you have no right to treat me in that way, as if I was a politician. Journalists are essential in a democracy. Now if Saliba does not believe that journalists should exist, he should just say so."
Tony Abela is another case, he says, describing him as a "politiku tas-sold u nofs" (a half-baked politician).
"I have invited him on my programme countless times, on his own. Could I be fairer than that? He never answers my questions. He just passes by whenever he sees me, and he has this unbelievable rage against me, which I don't understand. The way the PN handles the media is disastrous."
Disastrous, also, was the way Joe Saliba reacted to Gouder upon his arrival on the luxury cruiser Princess Charlene, owned and captained by the magnate of the construction industry and generous PN (and MLP) benefactor, Zaren Vassallo.
Saliba's body language as he was confronted by Gouder spoke volumes.
"He was furious on that day. He kept trying to escape from our cameras… of course, being the pain in the neck that I am, I kept waiting for him and tracking his every movement."
The PN spin tried to somehow downplay the story, with Saliba saying this was his normal annual retreat in the Mediterranean with the wealthy gentleman, but Gouder did rush in where the party media feared to tread. In exposing Saliba's rompings with big businessmen, he lifted the lid on the debate of party financing and corruption.
"I didn't know of Saliba's previous trips with Zaren, but it is clear Saliba embarrassed his party. Even as a journalist, I'm aware that whatever I do in my private life can be interpreted within a wider context, let alone when you're in politics.
"I would never, for example, go to Paceville and start dancing on a bar. There's nothing wrong with that; I'm a young man and lots of people do it. But it's not done, because I know that even when I'm not working, I am representing my television station, and my actions are going to be interpreted by the people out there. You have to respect your own position, your party and your members.
"The irony about these stories is that they don't come out from Labour, but from disgruntled, angry Nationalists who have given up on their party."
Disgruntled Nationalists aside, Gouder believes his work will pay off in getting elected Labour into government, of which result he is "definitely sure".
"When we uncover corruption, for example, it's not just the corruption that is the story but the squandering of public funds. I'm sure all those cases of corruption will not help the PN.
"The real problem is that the Prime Minister has defended whoever has besmirched his administration, with the exception of John Dalli. Add to that all the incompetence, missed deadlines, and empty promises. According to Joe Saliba, Dock No. 1 is ready. Ta' Qali crafts village is ready. The Rahal Gdid ground is ready. Who does he think he's fooling?"
About Sant's disastrous performance in Birzebbuga, Gouder is somehow apologetic although he admits, as Sant did, that the prolonged Goooonzi theatrics were "a failed joke".
"They like to attack Sant for being cold and not able to joke. He tried to make a joke and he didn't succeed. But what is really unacceptable is to have Austin Gatt comparing him to a drug addict and an alcoholic. You can think whatever you want about Sant's delivery – I personally think that the content was good – but to stoop so low as Austin Gatt and have Gonzi and Saliba applauding him, that is the ultimate.
"This is the same as when Tony Abela told me to emigrate. First they applaud him and then they say he was wrong. On one hand they agree with Robert Musumeci, that politics should not get personal and dirty, on the other they applaud Austin Gatt who compares Sant to drug addicts and alcoholics and Joe Saliba refers to facelifts just after Sant underwent surgery."
I tell him my editor has also been threatened, by one of the highest Labour officials, because of a survey that was about to come out showing the MLP falling down in popularity in the aftermath of Sant's Birzebbuga howler.
The editor of The Malta Independent on Sunday, Noel Grima, was also threatened by another Labour official who knew beforehand due to some mysterious leak that Daphne Caruana Galizia was about to get published one of her vitriolic articles about Sant's wig.
"You understand I'm employed by One News and I can't answer for the party," Gouder replies, leaving a long moment of silences as he skirts on this issue.
"As a journalist … look, I'm not responsible for the party, although at the end of the day I don't think these are serious issues. Yesterday, for example, on Net they said Jason Micallef threatened a Net News journalist. All he did was ask her to repeat her claim that he worked with PBS because of corruption, so that he could sue her for libel. Is that a threat? A threat is when Joe Saliba manhandles me in a PN club, or Tony Abela tells me to emigrate."
I tell him that if Labour wins, he will become the party hero, yet if it loses, he is so linked to the leadership and Jason Micallef that he is likely to be wiped out in the aftermath. This is more or less what happened to Emmanuel Cuschieri in 2003 in recompense for his absolute loyalty to Sant, who had crushed his party into Opposition yet again.
"My main aim is the general election, and I would do anything, anything to help the party win it," Gouder says. "I believe in what I do and I absolutely believe we will win the election. I'm not that concerned about happens afterwards. I definitely wish to get married and settle down, and continue studying, and I probably won't remain in journalism, definitely not in the way I am right now. I have to put my house in order."
Now that's a declaration that might make Joe Saliba think again about his promise to retire as secretary general after the next election.