| | |
| --- | --- |
| Film Review | Sunday, 09 May 2010 | |
Spring has arrived, and with it a general watering down at the multiplexes. Award season is over, summer blockbusters are still in the backburner, and winter, the most viable season for snuggling up in a darkened theatre, lies a long way ahead. Which makes these months somewhat of a hit-and-miss for all film goers, as some studios decide to back away for the season while others release their big guns for a final parting shot before tucking themselves away and resuming work on their next money-maker.
Iron Man 2, part of the decreasing trickle of superhero films following the as-yet-insurmountable Dark Knight, and arriving right after Kick-Ass, which deflated and ridiculed most superhero tropes to near-insignificance, faces not just the obstacles of a challenging film-going season. It is also burdened by expectation. The 2008 original came as a breath of fresh air after the superb but sombre Dark Knight – its breezy, boyish abandon making for an infectiously old-school concoction, bolstered (nay, made possible) by Robert Downey Jr, who infused… well, himself fully into the self-centred but likeable billionaire Tony Stark, who gains a conscience about his weapons manufacturing practices after he is captured in Afghanistan. Managing to break out thanks to his genetic gifts at science and gadgets (as well as, lest we forget, the token Western-educated Afghan who is stuck with him), he creates the alter-ego Iron Man, vowing to change his blinkered, hedonistic ways and do good.
Fast forward to six months later, as his alter-ego is no longer a secret (in a characteristically impulsivene act, Tony reveals that he and Iron Man are in fact the same person at a press conference right before the Black Sabbath-soundtracked end credits slam over the sceen, in the first instalment) – and things are far less breezy. While maintaining his usual cavalier attitude on the surface, we (and nobody else) discover that Tony's artificial heart – which saved his life in the first film and led to the creation of the Iron Man suit – is now slowly killing him. Meanwhile, the US government, under the instigation of Senator Stern (Garry Shandling) and Tony's business rival Justin Hammer (Sam Rockwell), are pressuring our hero into handing the Iron Man suit over on the basis that its technology could spawn dangerous weapons in the wrong hands and should be kept under lock and key. And while Tony manages to convince them otherwise, it proves to be a short-lived victory, as Ivan 'Whiplash' Vanko (Mickey Rourke), an embittered Russian physicist with ominous ties to the Stark family emerges from obscurity to wreak his vengeance.
Director Jon Favreau – who upgrades his cameo role as Tony's bodyguard Happy Hogan in the original into a fully fledged supporting role – takes it easy with the pacing this time around. The first film was tight, snappy and just a bit rude… this one is more of the same, but transposed onto a slower-burning engine. Perhaps the team were spoilt away from editing by the success of the first film, but this approach does have its advantages. As a result of a more relaxed narrative that allows plenty of cracks between action sequences, the strained relationship between Tony and his secretary Pepper Potts (Gwyneth Paltrow) – who also serves as a 'will they or won't they' love interest – is allowed to come to the fore, and proves to be surprisingly genuine: both Potts and James 'Rhodey' Rhodes (Don Cheadle, replacing Terrence Howard from the first film) are struggling to keep Tony from self-destructing, and consistently fail because they're not aware of the true source of his worry. And because the ethos of the Iron Man films thus far has been one that embraces attitude and abandon (namely, Downey Jr's), this does not appear as a heavy-handed piece of 'character development' or a 'message', but a genuine by-product of the story. The measured pacing also allows for the 'team up' element of the film – executed so disastrously in previous Marvel outings X-Men 3 and X-Men Origins: Wolverine – to be done in a satisfying way that doesn't distract from the overall story. Scarlett Johansson's Natasha Romanoff (aka Russian secret agent Black Widow), initially an unassuming new secretary in Tony's company, is broken into superhero mode gradually. Apart from being utterly enchanting for obvious reasons (even when not wearing her catsuit costume), Johansson's character is first made likeable and relatable before she's allowed to crack open the proverbial can of whoopass. Likewise, Rhodey's turn as Iron Man's sidekick (but don't call him that) War Machine, though long-awaited, is not milked excessively. A tussle between the two heroes midway through is crowd-pleasing enough, but he only really gets to shine in the climax, where the two are forced to battle an army of Vanko's droid-warriors.
What made the first Iron Man stand out was personality. It didn't have that much going for it: the hero isn't as instantly recognisable a property as some of his other Marvel Comics colleagues, and the film itself had intimidating precedents upon release. But Downey Jr pulled it up from the cliché-ridden ground and gave the whole project an entertaining jolt of himself… something that has since propelled him to superstardom (he essentially plays the same character in Sherlock Holmes). Here he is paired up with the equally inimitable Rockwell and Rourke, and while the plot and pacing are somewhat slack, the foundations for a third finale are solid, if the ethos is kept up.
Either way, it's a nice exception to rule, when it comes to boring spring cinema.

---
Any comments?
If you wish your comments to be published in our Letters pages please click button below.
Please write a contact number and a postal address where you may be contacted.
---

---


Download the MaltaToday newspaper advertising rates in PDF format
---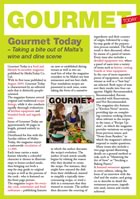 Download the Gourmet Today advertising rates in PDF format
---