| | |
| --- | --- |
| Monique Chambers | Sunday, 25 April 2010 | |
If I were a restaurant, I'd be Hugo's Tapas. Stylish, lively, eclectic and of course, varied and interesting. Those that know me may disagree with this modest depiction of myself, but anyone who goes to Hugo's will surely agree that this is a fitting description for the tapas bar.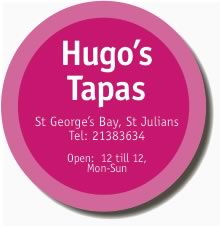 A dark wood interior is contrasted by a modern wall of bottles and various items of decor. Not all to everyone's taste but all together it kind of works. Humongous crystal chandeliers drop from the ceiling which takes your eye to the mezzanine area that is a tad more secluded than the be seen to be seen downstairs section. Tall tables and suedette stools are filled with a slightly older than the rest of Paceville crowd who want to dine in style as the slogan says. And not only: the new menu has kept my old favourites on and topped it with some surprisingly artistic and luxurious dishes. Browsing through it we were distracted by a simple yet beautiful wind chime that started chinking in the breeze; made from cutlery, you could have closed your eyes and been on a boat in a marina – that hypnotic sound that relaxes you and wakes you from a cockpit snooze. I don't know if it was made by the staff in a quiet moment or bought – but we have the perfect spot for a two or three of strands of it at home...
I digress. The new menu has also been redesigned and for the better. There is an art to menu design and psychology is involved: where you place items, the order and grouping, the alignment and font styling are all to be considered. In this case, the new larger size, brighter and lighter colours, clearer font and enticing images are a sure improvement. In hindsight, the old menu used to be a bit daunting – it was dark brown if I recall, with lots of words and fine fonts, very similar descriptions. So even more difficult to choose. On the new version we found ourselves looking to see what the description was after eyeing the photos, and from experience, we were sure not to over-order. The portions are at least double of traditional tapas. The desserts are dainty because they have to be. Don't say I didn't warn you.
Ordering tapas can be tricky at the best of times. There is much to choose from and a bit like being in Rebelli, as soon as you move your eyes you see something else you want. After listing my choices to the electronic hand-held order pad wielding waiter, I cajoled the blonde (sorry Mr Gill) into choosing a couple of dishes I wanted to try and then turned the page and spotted a half spiny lobster (€19.95) which was described (accurately) as having scooped out flesh, mixed with prawns, crab meat and shallots and served with a toasted bavette. It was an amazing centrepiece to our table. It was not only impressive to look at but tasted really rather good. A hot cheese topping protecting the soft, fine flesh. It was moist, and all the flavours came through. I have to confess that I did that embarrassing 'take a photo of your food with your phone' thing – but I resisted posting it on Facebook, so hope I am (semi-)redeemed?
Flanking the lobster were a pipperada (€6.95) – basically, the picture drew me to it, whereas the description alone wouldn't – essentially a posh ratatouille with pimentos, onions, aubergines, lashings of tomatoes and an egg which I imagine is self-poached in the heat of the vegetables and served in a mini-skillet. So cute! The pipperada itself was delicious. This and hunks of bread would be perfect as a lunch or bar snack.
Being in a tapas bar, it was a toss-up between the patatas bravas – which Hugo's has more than one version of – or we had to order a tortilla España (€7.25) which we went for. It seems a bit costly but a really generous portion arrived and unlike the slop that you actually get served in Spanish touristy places, it was melded with parmesan and mozzarella and delivered in towers on toast to give it a crunchy base like a cheesecake; almost unidentifiable from its origins on appearance alone. It needed salt, but was otherwise good.
There was just room on the table and in our tummies for the pavé of fresh salmon (€12.95) which had a crust of pine nuts and capers and was nesting on a pillow of mashed potato, which was crispy on the outside and soft on the inside. In turn, this was placed in a sweet thick prawn veloute. It looked a bit like a giant sushi, which I believe Hugo was the first to introduce to the island and is still renowned for. I have, on more than one occasion mixed up my Hugo's and been in one while friends are waiting in another.
We didn't leave much on the oversized rectangular plates, and only had a couple of glasses of easy-to-quaff Gavi but were satisfied enough to continue on with our entertainment, somehow resisting dessert and the cocktails. But it won't be the last time I go to Hugo's. Not only because I like it and always have good food and good service, nor because I am now the proud owner of a loyalty card (novel for such an establishment) but to kidnap the bottle decorated with chillies to put in my kitchen or to 'accidentally' knock over the ghastly orange statue in the ladies'… she just doesn't fit in.
---
Any comments?
If you wish your comments to be published in our Letters pages please click button below.
Please write a contact number and a postal address where you may be contacted.