| | |
| --- | --- |
| Monique Chambers | Sunday, 18 April 2010 | |
My verdict? GO whenever you like! | Rating 7/10 | Style 5/10 But not their fault either | Service 7/10 | Selection 7/10 but available 24 hours a day | Steal-ability The imaqret and honey ice cream
I don't know why, but it never occurs to me to eat at a hotel restaurant unless I am actually staying there or a business meeting forces me to. There is no conscious reason for this; in fact it is the lack of hotel restaurants in my consciousness that means I literally don't consider them.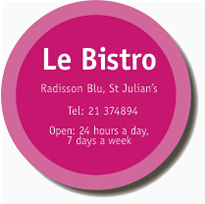 They don't often advertise anywhere or get reviewed... neither are they at the top of anyone's let's go to list. You don't drive by them, and my extended family generally prefer to entertain at home, where the menu consists of everyone's favourites and has armchairs to relax in after we overfill ourselves. Of course there are one or two that spring to mind as they offer exceptional Eastern cuisine, but seeing as I always seem to be hungry, knowing about a place that serves proper food 24 hours a day is a must. Le Bistro at Radisson Blu St Julian's is one such place. I have been to a couple of very late lunches there; and if you don't fancy fried food post-11pm but have the munchies, a full menu is on offer. This week's visit was driven by an allergic-to-cats friend staying there; we met up for lunch last Sunday, a glorious but slightly too windy to eat alfresco day, where we managed to bag a table near the window to give the poor Londoner full view of the sea and the brave guests in their bikinis willing the sun to tan their skin – being protected from the swelling sea by the outer wall.
Having tried the Ibericos from Torres (you know, the people that normally give you the collectable little plastic bulls on the Sangre de Torres bottles) rioja the night before, she convinced us it was worth a go. According to the label, a new variety that verifying her tasting notes, will make me look higher up the wine shelf next time I'm stocking the cellar; full of berries and a nice smooth finish meant our second bottle was soon called upon.
I ordered a roasted vegetable and goat cheese tart to start, which came doused in balsamic vinegar and smattered with toasted pine nuts and served with rucola. The pastry was golden and crisp and I wondered how come mine never does that while I tried to balance a bit of everything on my fork, including (and failing miserably at) aforementioned pine nuts. I chomped through without sharing – not on purpose – the concentration took over and it just happened that way. John took the boullibase, which was swimming with seafood and chunks of fish, I had a forkful rather than a spoonful and it was delicious, a meal in itself, chunky enough indeed not to need bread. The allergic one ordered the fried halloumi which was served cold on a bed of rucola and mint, the flavour intensified by cooking, had the same effect as a really dry wine; sort of astringent but then makes your mouth tingle and whoosh with multiple injections of saliva.
We discussed the Papal visit, politics and the pepper pot – the latter giving us the biggest laugh. It was weeny! Normally you have pepper pot envy in restaurants with two foot long versions being ground by waiters with the same girth but this was like a normal table top size, in a dolls house. Unless we were on the set of Alice in Wonderland, which would also explain the psychedelic carpet. Does hard wearing have to mean hard on the eyes? The pattern is random swooshes of colour with a capital C. All the primaries are in there, and a few more and is reminiscent of a 1970's Biba patterned fabric. It must be a bit frustrating for hoteliers when such design (for want of a better word) is bestowed upon them, though everything comes back in fashion, eventually. Even though such things bother me, it didn't distract us to far away from the task in hand: lunch.
For my main I zoned in on the peppered duck in a port jus with roast potatoes and seasonal vegetables. It promised red cabbage and pickle, which I discovered under the generous, rose pink sliced meat. I had one slice and filled up on the side dishes; it felt like the summer would soon be here and roast potatoes would be banished for months in favour of light leaves for the endless bikini season. I know I'm cutting it a bit fine, but I figure I can always sport a sarong.
John ordered chicken wrapped in pancetta which he thought was a bit dry – but that's what you get for being anti-gravy. There is another way round drying out meat which I learned on my sabbatical in France 10 years ago: simply put the meat on a roasting rack and add a knob of butter and a glass or two of water per serving to the baking tray (making sure the meat isn't in the water) and voila – you have moist meat. You can top up the water if it evaporates too quickly, but this may be a sign that you have the oven on too high. Lesson over.
Our friend ordered a Greek salad (she has a bikini body all year round) and said it was really rather good. I'm sorry, but I just can't get excited about salad. I usually eat the cheese or whatever it is built around and leave the leaves and demolish the basket of bread. But then that's why she can wear a bikini before May and I may be able to wear a bikini before July, in Greece this year, ironically.
I did abstain from dessert even though the waiting staff were constantly tempting us by walking by with their trays laden with sweet ricotta and chocolate delights. I have to tell you I have dreamt about some since, the huge shiny cholocate bomb for one. They are big enough to share – so those two decided on canoli and imqaret with honey ice cream. The canoli were lined with chocolate and stuffed full of sweet ricotta which the expert thought were a tad creamy so decided to assist with the imqaret and leave the canol tout seul. At this point, I thought I should try one too and they were magnificent. Just a bit bigger than bite-size and they hardly resemble the ones you get in town. These are dry, full, hot and steamy and best of all, served with honey ice cream. Could have had more than one dollop but that's just me being greedy and not a complaint.
I nursed my tea till tea time then off we went for an afternoon nap. I guess we could have stayed there, really but...
---
Any comments?
If you wish your comments to be published in our Letters pages please click button below.
Please write a contact number and a postal address where you may be contacted.