| | |
| --- | --- |
| Monique Chambers | Sunday, 11 April 2010 | |
My verdict Loved it – no bad food experiences | Rating 8/10 | Style Plenty in the back streets | Steal-ability Cheese shops (and a houseboat!)
Not much of the stereotyping about Amsterdam is true. There are impossibly long limbed, hipless blonde people cycling around the chocolate box city, there are multi coloured tulips everywhere, but the only clogs are there for the tourists and the coffee shops, along with the red light district, are successfully confined to a few streets in the centre, for the types that enjoy that level of tourism… a bit like Bugibba, which doesn't have the same 'attractions'.
Amsterdam is rich in history and the number of museums, galleries and antique shops are testament to its position as a major trader in days gone by. From the days of colonisation there are many Indonesian restaurants to choose from – and you can find food from almost every corner of the globe. We asked around and had two recommendations, Tashi Deleg on Utrechtstraat is a sweet place that serves Tibetan and Indonesian dishes and The Blue Pepper, which is reputedly the best Indonesian in Holland.
Entering Tashi Deleg, you feel as if you have walked into a spice rack; the walls are coloured like turmeric, paprika and ground cinnamon with a contrasting cobalt section with rather interesting wire and copper sulphate-like lights. Wood panelling and dried chillis, peppers and antique warrior helmets hang from the ceiling and adorn the walls. The place was packed but we were welcomed and given a table within a couple of minutes of arriving. The Tibetan and Indonesian menus are separate – so ask for both. We opted for a house special on the Indonesian side, which would allow us to sample a few things at once; tastes ranging from pickled; which I'm not sure is original – perhaps like other ethnic foods has been tampered with to suit local tastes, fiery with a chilli that creeps up on you, with a super sweet forkful to counteract it. The egg in spicy sauce was yummy and of course, the satay was right on the mark. We liked it, but didn't quite polish off the 10 dishes… however, we did manage a fried banana and crystallised ginger dessert. The banana was a bit over-battered for my liking so it felt overwhelmed, but the ginger was lovely and cleared any chilli tastes that was lingering. This meal, with a bottle of South African Chardonnay, was €66.
On day two, we did the museums around Vondelpark and stumbled on The House of Bols. You know, the multi coloured liqueurs that we all have at the back of our drinks cabinet? Well, have a go in here and you'll soon have them back at the front. The 'experience' tells you of the history of the company and walks you through various rooms – a feast for the senses with smell and taste tests, a Rembrandt which was used as payment against the artist's consumption, video walls on finally to the biggest Bols bar you will ever see. There is a touch-screen menu and the two chirpiest cocktail waiters ready to help you choose. And if you think you can rival them – have a go yourself – you have the chance to be in a video doing a Tom Cruise with (thankfully) empty plastic bottles. By the way, you think when you are in the recording room that nothing is happening; believe me, you are entertaining the punters in the bar and here's another tip – buy extra tokens with your entrance ticket and relax a while in here. Not only to 'improve' your performance, but just around the corner is the shopping street where Chanel, DSquared, D&G, Gucci etc., have their boutiques. And it's not good to shop on an empty stomach!
A few bags later, a pit stop was required and we found a chic cafe/brasserie called Patou on Hoofstraat. We took a platter of salamis, sausages, cheeses and bittenballen – breaded and deep fried varieties of the aforementioned and as the cocktails had gone slightly to his head, John decided on a burger to soak up the poison. This snack with a bottle of water came to €50. It was lucky that he did the shops beforehand.
The weather let up on day three and we headed up to Haarlemerstraat to meet Maarten Van Caulil, a chap who I had been in contact with about picnic hampers. While it was sunny enough, sitting on the grass for any length of time was not going to happen, but we figured a picnic box on our centrally heated houseboat could work very well. These can be ordered online and delivered but I had to go see for myself. The deli, Caulil's, was to me like heaven. Floor to ceiling cheeses, ceiling to floor salamis, every connotation of crackers and jar upon jar of pickles (which I have been banned from purchasing till the two top shelves of the fridge plus the stash in the pantry are used up). Himself a food lover seducing you with samples and us unable to resist temptation, we walked away with a bag full and I mean full of goodies. This meant we would have to head home straight away (could have paid €10 for delivery), and while on our way to the tram stop, we passed a number of specialist shops, a Spanish deli with painted plates and bowls, Mediterranean versions of the same and a shop which was the equivalent of the red light area for some; an olive oil shop. Vat upon vat of different ages, regions and pressings of oils with a variety of bottles and cans to decant your choices into. Around the corner were the vinegars and nut oils which can be hard to find here (or are ridiculously over priced) and tapenades. And the implements? Well, let me leave those to your imagination.
We had worked up a bit of an appetite by this point, and having popped into Dimitri's to get some breads, decided to stay and have lunch there. Salads, sandwiches, soups, platters and cakes are available and all beautifully presented. We shared a platter for €15 and topped up our fluid levels with fresh juices before leaving with breads and a jar of white chocolate sauce. Well, we figured it would be rude not to.
We dragged ourselves away and decided to walk the canal route home which enables us to see even more of the boutique-ful waterway and relish in the village atmosphere that is just two streets away from the seedy, druggy, hen party packed area of Amsterdam which, unfortunately, is the stereotypical image of the place. Quaint gift shops and eateries, antique shops and diamond dens are scattered around and there is not a chain store in sight. Truly scrumptious.
A couple of streets up from our 'house' on Prinsengracht was a lovely-looking bistro which promised creative cooking. We had time to drop off our goodies (the load grew slightly on the way down) have an hour or so of down time before getting dressed and ready for our walk back up to Wenders for our evening feast. I started with a goat cheese and honey tart and John took the melt in the mouth scallops with a (largely unnecessary) béarnaise sauce. For my main, I chose the duck in port wine sauce and like a peasant, I mopped up the sauce with my bread having demolished the mashed potato mountain. John opted for the steak with gorgonzola which came with big fat chips and we washed it all down with a divine bottle of Lafarge Cote Sud. This treat, as a whole, cost under €90.
We had passed a Peruvian restaurant on our bike-riding adventure and decided to try and find it on day four. On foot. An hour later (it turned out to be first turning on the left from the house boat on Utrechtsestraat) we felt as if we had trekked up to Machu Pichu itself. Worth the effort though. Lively atmosphere, great music and interesting food. We shared a platter of traditional starters and then I had a goat curry – while John had something fishy and unpronounceable – with Chilean wine and ice cream for afters; €75.
Overall, service in Amsterdam is friendly and the staff are bubbly – we had a couple of instances of surliness – but to be fair, these were in places in which we, like the hoards of others, had ran into when a downpour or hailstorm happened. Not particularly places you would choose to go into normally, they were just en route. We did manage to make it to the Blue Pepper on the last night and while the food was very good, the service was a bit random. Good when you got it, but you were left for a long time between some courses and hurried though others. We chose two of the tasting menus: Wild Orchid and Blue Marilyn and dipped and dunked into the two, while (heathens!) we drank a bottle of Malbec.
The starters should have given us a sign of what we had embarked upon. These were the size of a main – an open duck, shrimp and chicken spring roll bursting with vegetables and a chicken latticed variety which was almost too beautiful to cut open. A clear beef and horseradish soup and a spicy chicken soup with glass noodles arrived and we sipped and slurped each other's, almost forgetting we had another four dishes to come. Monkfish in a Javanese – read 'freaking hot' – sauce was next, and a satayed beef skewer. The next dishes were exceptional: baby hen in coconut, cumin and coriander and a prawn with 'jackfruit' which I had never had before: basically ugly, mud coloured giant beans… but delicious. These mains were served with a variety of accompaniments, including aubergine fritters, vegetables with grated coconut and a disappointing sweet potato and coconut concoction. Overall, delicious… marginally better food than Tashi Deleg but worse decor, ambience and service. And three times the price. The Blue Pepper is a short taxi ride away (€10), so you miss out on the walk home too.
Home. That's how Amsterdam felt. If, by any strange twist of fate we had to live there, it wouldn't be a problem. In fact I have been mildly obsessed with owning a houseboat there since our return. If you would all rent it from me for a long weekend, I may be able to convince John it's not such a bad idea? Please?
---
Any comments?
If you wish your comments to be published in our Letters pages please click button below.
Please write a contact number and a postal address where you may be contacted.
---

---


Download the MaltaToday newspaper advertising rates in PDF format
---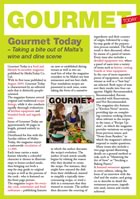 Download the Gourmet Today advertising rates in PDF format
---
EDITORIAL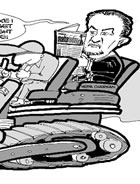 Better late than never
---