| | |
| --- | --- |
| Film | Sunday, 11 April 2010 | |
The prolific, genre-hopping writer GK Chesterton once said that 'fairy tales are more than true; not because they tell us that dragons exist, but because they tell us that dragons can be beaten,' a witticism that takes two things for granted: a) that dragons are impossible beings and b) that they are irredeemably evil. And, being impossible, they can't really speak for themselves. So we shamelessly portray them as villains all throughout history: practically every hero from mythology employs some form of dragon slaying as a rite of passage, and 'Dragon' is directly equated with 'Satan' in the Revelations. (And to make matters worse, the Roman scholar Pliny the Elder endows dragons with a peculiar freakishness: they prey on elephants, coiling around them until they suffocate, for their 'cool blood' in summer.)


Really, it took Sean Connery to break the mould. 'Dragonheart' (1996), a story featuring a benevolent dragon, as voiced by the velvety Scottish tones of the original James Bond, inverted the cliché in quite a heart-warming manner (my young self was converted, in any case). Surprisingly though, with the exception of spoofs and against-type cartoon sidekicks, the idea of nice dragons hasn't really caught on. Until now. 'How to Train Your Dragon' is a sterling attempt from Dreamworks in the wake of the complete, cynical commercialisation of the 'Shrek' films, and the dangling promise of a sequel is actually a promise, not a threat, for once.
Set in a mythical world of burly Vikings and wild dragons, and based on the book by Cressida Cowell, the film tells the story of Hiccup (Jay Baruchel), a teenage Viking and son of his tribe's leader, Stoick (Gerard Butler)… though the apple does indeed fall far from the tree: Hiccup is scrawny and about as battle-savvy as a sedated bunny, much to his chagrin. His world is turned upside down when he encounters a dragon, supposedly belonging to the mysterious race of 'Night Furies'. He nicknames the creature 'Toothless', and gradually discovers that there's more to dragons than meets the eye, which puts him in an uncomfortable position with his father and the rest of the tribe.
The usual visual pizzazz are present, and enhanced to perfection for 3D viewing. But now that 3D animation is no longer a novelty, particularly post-'Avatar', a story needs to hold things together and deliver the goods. Luckily, 'Dragon's script, while familiar at every turn, is crafted carefully and lovingly. The blazing introductory sequence, with narration from Hiccup, is a delightful feat of action-comedy (the tone is sustained throughout): dragons are assailing the Viking island, and Hiccup only makes a bigger mess of things. The discovery and eventual befriending of Toothless makes for an endearing set of sequences: unashamedly cutesy but never corny. But for its heart-warming core, and its message of tolerance, 'Dragon' packs a genuine wallop in the action and creature design stakes. The variety of draconian sub-species provides both wonder and humour, as packs of mini-dragons are dragged into the training sessions organised for Hiccup and his friends by the Viking higher-ups. And the 'boss' dragon, fully unleashed at the climax, is a formidable enemy: more dinosaur than dragon, it could give the Kraken from the 'Clash of the Titans' remake (in cinemas next week) a run for its money.
So really, everyone's happy: the bad dragons do get slain, the good ones eventually get ridden to battle. I'd be hard-pressed to find a more joyful compromise.
---
Any comments?
If you wish your comments to be published in our Letters pages please click button below.
Please write a contact number and a postal address where you may be contacted.
---

---


Download the MaltaToday newspaper advertising rates in PDF format
---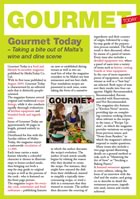 Download the Gourmet Today advertising rates in PDF format
---
EDITORIAL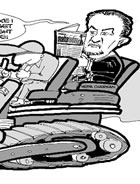 Better late than never
---