| | |
| --- | --- |
| Monique Chambers | Sunday, 04 April 2010 | |
My verdict? Don't go for atmosphere | Rating 5/10 | Style 4/10 I actually didn't see any. But it is clean | Service 5/10 | Steal-ability Melon and port risotto recipe
The life of a restaurant reviewer isn't always fun. Sometimes you just don't feel like eating out or, indeed, writing 1200-1500 words about the 'pleasure', especially when it hasn't been one. And sometimes, when you are out normally, not in work-mode, your senses firing up on overtime while you still jot notes and memorise lines in your head, going down a mental checklist of things to cover and observations to make.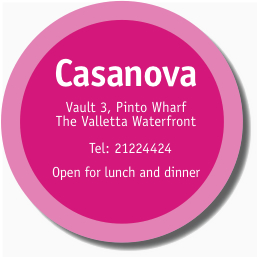 On a real review, I surreptitiously scribble as things and comments come to mind (I usually perch on my notebook and whip it out at the opportune moment). This can take me out of the conversation at a critical point and, I'm sure, be rather irritating for my guest. All in all, it certainly isn't as relaxing as pre-life-as-a-reviewer to go out for eats.
Granted, I have been blessed with mostly good experiences, which have provided me with a lot fun evenings. A good review will keep me awake with head chatter and ideas, so I have taken to sneaking into the bathroom in the middle of the night: I make a desk of my vanity unit and my loo (lid down of course) as my seat, if I just can't wait to write them up. Once I have the theme or the first line in my head, that's it… and don't distract me till I'm done. Unless it is to bring me a cup of perfectly made tea. Yes, I am fussy, even at home. And even more vocal. Even in the middle of the night.
A not-so-good-review also keeps me awake, but with a different feeling. Normally an uncomfortable stomach as a physical symptom and a heavy-heart feeling; not unlike a leg wax appointment or tax return, for those of you that can't imagine the pain of the former. A good review takes about an hour and a half to pen, re-read, jiggle about with and eventually file. As for a bad one... well, I can still be faffing about minutes before the deadline, days later. I'm not good at being unhappy. So writing about unhappy makes me feel… yes, you guessed it, unhappy.
This week I had the pleasure of meeting one of my favourite people for lunch and, it being such a glorious day, we decided to head for somewhere outside and with a view, and before anyone else thought of it. I realised I had not visited the Valletta Waterfront since I moved from Birgu (I used to catch the water taxis across whenever we had visitors and show off the view of my village, when a cruise liner wasn't in) and certainly hadn't written about anywhere there, so I parked up, eventually, and headed in to see where our fancy would take us.
There were only a handful of places that were open and inhabited (and a couple of those were written off on sight), and then another on menu. An Italian place, Casanova, looked sweet, had a couple of busy tables, and there was a table in direct sunlight, right by the water's edge. We took our places and were soon given the menu and offered drinks. Unfortunately, having been ill for most of the previous week, there was no alcohol for me; we each ordered fresh orange juice and a bottle of still water. The juice was fresh out of a box. This really annoys me. Why say it's fresh? Then you expect me to believe that the pasta is fresh?
The starters were mostly fish-based and there was one vegetarian option, melanzane, which I ordered and found to be very good. Vegetarian Friend had ordered penne norma – and rather than double up, as there were no other options, missed out on a starter. It was full-length slices of aubergine with generous amounts of cheese and tasty passata. We had to giggle when the bread was brought out: there were about six slices of French bread standing on their crusts spaced out like Stonehenge… in order to make the basket look full, perhaps? Bizarre. I left the standing stones as they were.
Our mains arrived. My friend's penne were perfect, but you can't really go wrong with penne, can you? I was looking forward to mine – a risotto with melon and port wine. Sounded too interesting to miss. It came with a lilacy, pinky mound of moist risotto with a fan of melon as decoration on the top. It was steamy hot and pretty good. My appetite had been dampened by bout of illness so I didn't get far into it… but fear not, I will try to recreate this for a girly supper sometime soon, to really be able to taste it. It may need another try, though, a shame as the place isn't one to revisit. There's nothing really wrong with it per se, though you'd expect somebody to have time to put toilet paper in the toilets… there's a soulless feeling at The Valletta Waterfront by day.
I hope that on high days and holidays and regular evenings, it has some of the draw it did when it opened. OK, the view is marred by ugly big boats and cranes, but the renovation of Pinto Wharf is well done. But shouldn't the place be packed? I thought that all these 'hedgies' and international firms would pack these places out for lunch – or have they brought their 'eat at your desk' ethic with them? The more people that eat out there, the better it gets for all. Places like those at The Valletta Waterfront have its mass market in the tourist trade that is here for 12 hours only and may be seen as punters that don't really matter – but now there are 93,000 less, perhaps more locals and workers should frequent these places and give them the atmosphere injection that is so badly needed.
---
Any comments?
If you wish your comments to be published in our Letters pages please click button below.
Please write a contact number and a postal address where you may be contacted.
---

---


Download the MaltaToday newspaper advertising rates in PDF format
---