| | |
| --- | --- |
| Monique Chambers | Sunday, 28 March 2010 | |
My verdict? GO with a group, colleagues or post-theatre | Rating 8/10 | Style 7/10 | Service 10/10 Not cringeworthy, but damn good | Selection 7/10 You won't go hungry unless you are a vegetarian | Steal-ability The team and the slow cooker
Sooner or later, it's going to happen. I will have to pen my experience at a restaurant I know well. In this case however, I know the restaurateur, but I had the pleasure of finally dining at one of his many tables this past week. The Chef (confusingly, the name of the restaurant) is just opposite Hastings Gardens in Valletta. Take my advice and keep going to the end of the street – to park. Although the place looks quaint from the outside, it is Tardis-like on the inside: one of those fabulous buildings where, like Attard, you can easily get lost. There seem to be stairs and rooms and cubby-holes and private dining rooms at every point of the compass, with the smell of food permeating and teasing you further in until you find the table that is right for you. Like the Grand Old Duke of York's men, we went up diddy up, up and down, diddy down, down and ended up almost where we started in the ground floor dining area, with about six other tables. The place takes 150 covers in total.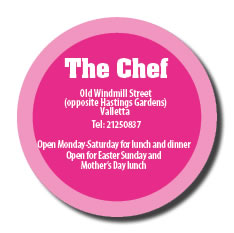 Somehow, people wander in off the streets – some of my Maltese friends wouldn't know where Hastings Gardens were – but lucky for these tourists, they found it. The decor is rustic... and I'll say no more. Racks, bottles, barrels and wine paraphernalia are everywhere and demand closer inspection. Divvied up by country, we were tempted to try a brightly coloured Spanish variety but thought we'd see if within this vast collection there was a Primativo. And would you believe it? There were three. The sommelier, Will, sold us on a Conti Zecca (€31), decanted it for us at the perfect speed, aerating the wine into its new receptacle, and then, distracting us from sipping too soon, he talked to us about wine… passion evident and so young to know so much. This is not just a job for Will. This is a vocation. And looking around at the chef's plaques, medals, certificates, awards and dedications on the walls, he's in good company.
And then came our waitress, Jade, with the biggest eyes and the best memory in Malta. This tiny creature reeled off a list of starters and mains that almost left the printed menu redundant and John and I with our jaws drop. She was amazing, unfaltering but seemingly unrehearsed. I like to listen to radio plays and book readings: the actor/reader's voice giving life to words which otherwise remain flat on a page… why am I telling you this? Well, you could close your not-as-big-as-Jade's-eyes and feel the menu. Some dishes were conveyed like the splatter of the first rain, others, like rolling waves engulfing you and making you want to throw your hands up to get attention. She would animate to your reactions and skim dishes that your face didn't respond to, detailing those that sparked interest to the point of salivation.
For starters John had the fish soup and I, the pea and coconut version (€4.00 each). Both good – the freshness of the peas topped with a floating coconut concoction was so pretty. Light, felt healthy, and very tasty.
It was St Patrick's Day so as a mark of respect, John took the Irish prime steak with mushroom sauce on the side (€25). It arrived – though somehow tiny Jade managed to carry the Flintsones intro-sized steak. It was the size of Ireland. Or an island. Anyway, it was huge. And though he tried really, really hard, John was defeated.
I had opted for the beef ribs (€20) without actually thinking how big a cow's ribs would be. Foolish mistake. It could have been from the same animal as John's Eire-saurus. I managed but one of the two servings and felt terrible. The meat in both cases was slow cooked and I could cut – actually, I gently nudged the meat off the bone with my butter knife, it was so tender. Thankfully, the hours of attention they receive in the digital oven (which gadget-boy couldn't resist going to see) didn't mean we had to wait that long, but a suitable time for me to gush about this week's big idea and of course to tuck into our well deserved and well decanted Primativo. So because Martin knows me, I hoped he wouldn't be offended that I didn't finish my meal. It was absolutely no reflection on the quality of the food; I'm not trying to be cryptic with this week's title; but, however many of you are planning to go – take at least another two – there will be enough food to go round even if they don't order a bean.
And another reason to take another two? The unbelievable value of the slow cooked legs of lamb and pork. Less than €50 – not each, but for the four of you. Those of you that think eating in Malta is expensive – come and fill your boots, you'll need thigh length ones. That price includes potatoes and vegetables. Sorry if this is sounding like a sales pitch – but hey, that's a bargain, and if it tastes anywhere near how our meals did, you'd be in for a treat.
We, out of pure good manners you understand, decided to try the home-matured cheeses but definitely didn't have room for dessert even though they were there, turning, teasing and testing our mettle. We asked for small portions of Brie, St Agur and a lovely ripened Stilton which were delivered on a slate plate with a piquant jelly (€10), Maltese bread and galletti. This would finish off any wimpy gout sufferer, but we marched on and relished in the almost rancid richness of the maturing cheeses, sponging up any crumbles with the soft, holey bread. We were not going to give in, damn it.
The cheeses come (as do cold cuts and frutti di mare) as platters to feed theatre goers post-production (the kitchen takes last ordered at 11pm) and with a wine list marginally smaller than my shoe collection, The Chef is worth knowing about if you forgot to book a seat at the usual post-theatre places or if you fancy hiding during of the over busy carnival/Notte Bianca type events.
I think it would be the perfect place for a long, lazy lunch, apparently popular with those lunching visitors and clients during the week. In warmer climes, the gardens play host to a number of tables and events, so don't think it's only inside and just a Winter wonderland. There is a black mark though. The Chef does not normally open on Sundays – though they are open on Easter Sunday and Mother's Day – I do whinge and bitch about this every time I see the big guy, so if you try too, maybe he'll give in.

---
Any comments?
If you wish your comments to be published in our Letters pages please click button below.
Please write a contact number and a postal address where you may be contacted.
---
EDITORIAL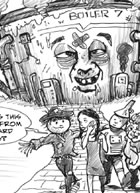 Justifying incompetence