| | |
| --- | --- |
| Monique Chambers | Sunday, 14 March 2010 | |
My verdict? GO | Rating 7/10 | Style 8/10 A real oasis | Service 6/10 Call me shallow, but I like a uniform | Selection 7/10 Varied and interesting | Steal-ability The tortilla towers
I got a bit lost in Gozo the other day, but I didn't mind. We were in no hurry to be anywhere; so Thelma and Louise-like – we swanned around, shades on, top off (the car), looking for somewhere to lunch. Life is tough. I had hoped we'd discover a little place in an alleyway and it would be our (and of course my readers') little secret. At a point in time our tummies started to rumble over the vroom of the engine and we decided to head for Marsalforn.
It was a bit depressing, I have to say. Holiday towns often are in the pre-season. Many places are closed – and the ones open cater primarily for the mid-term school trips: grey market and already shoe-string strapped tourists hoping to get a tan, egg and chips. Just as I lost hope of finding somewhere worth travelling for, we turned around near the slipway (had a bit of déjà-vu here) and a French friend saw a mirage in the deserted plastic chaired properties: a chicly decorated place, set back with no spillage onto the hard, no plastic chairs, no caravan awning type waterproof extension; and no punters. So we decided the place (no name was above the door) deserved some attention.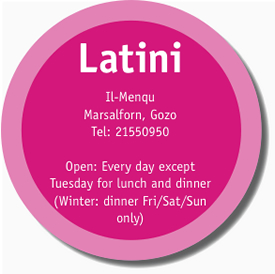 It got better as we got closer. The decor is so unusual – eclectic and done well. An arty corrugated ironclad ceiling, a bamboo wall to the left and a corky stone effect wall to the right housed about 20 square tables, all adorned with fresh crocuses, and carefully folded origami peach paper napkins (the colour mildly offensive but went with the flowers). Our eyes were drawn to the ceiling-to-floor wine collection behind the 'desk' and next to this was a beautifully done door in white which led to the WCs. A wave pattern had been overlaid onto the base door and it looked really good, copy-able in fact. The interior was dimly lit, so we took a table close to the wide-open entrance to make the most of the daylight and the people-watching vantage point.
The sea wall needs a bit of Banksy or local artist treatment – a bit grey and oppressive – but watching intrepid walkers was entertaining, especially when the waves crashed up and soaked them. I laughed out loud when a poor chap got caught unawares... mean of me I know, but I just couldn't help myself.
A 'waitress' came to offer us menus and drinks, and sorry to use inverted commas there but the place was so smart, it was a shame she wasn't in some sort of uniform, or clothing that maintained decorum with the brand. We noticed that the name on the menus was Latini – the same name as one of the plastic places adjacent to it. We pesky foreigners had thought Latini, which was clearly marked on the place next door, meant it was going to be Latino food and had decided against it. We opened the menus and discovered that we were wrong about the name. Indeed, it's a type of boat, or rather a type of sail, but we were pleased with ourselves when we saw the choices on offer.
We would have opted for a red but our first choice was not available, so we took a Barbera d'Alba (€13.40) instead. A bit sharp to start with, but we managed to finish it off OK.
Starters were a difficult enough decision before the specials were announced. French friend took the seafood and tortilla towers (€6.90) which were layered with seafood in a coral-coloured sauce and crispy tortilla with parmesan. She thought these arrived too quickly, but I'm guessing as they are so stunning and so delicious that these are a popular choice and the tortilla are prepared in advance, the seafood and sauce knocked up and assembled on order, seafood taking just minutes to warm through, so no black mark there.
I went for a main special as a starter; prawn pasta served with a bisque to keep it moist (€5.60). This was very tasty but I had hoped for bigger prawns, you know how it is ladies – when you expect something more substantial... oh well, I guess I am just spoiled.
So when the mains arrived, I was suitably silent. I ordered the quails coated and cooked in ginger and sweet sherry (€12.50). The bird was de-boned and delicious and served on a rectangular plate with artistic smudges and dehydrated bits (which looked good but tasted not so good), and it came with roast potatoes and ample vegetables. The quail was cooked to perfection and I ate every last morsel, had some greens and of course the potatoes. Nicely tinged edges and wonderfully hot.
French friend took the sea bass (€14.50) off the specials menu and a fleshy fillet arrived looking like a humble cumulus humilis cloud floating on a spring day: soft, fluffy, light and curvaceous where the bone had been deftly removed. A salad and fries were her choice of accompaniments; I did test the fries out this time but only because they were real, hand-cut, proper fries: hot, steamy and golden and exactly how chips should be. I bet even Heston Blumenthal would have coveted these.
We were enjoying the music – really chilled and inoffensive, – and only had desserts as it gave us the chance to stay there a bit longer. But we were good. We both went for strawberries – bulbous, firm, heart shaped fresh local strawberries; mine with a large dollop of fresh (not aerosol canned) cream. And then we had no more excuses to stay; we were offered a liqueur on the house, but decided this was unwise as we had to drive back down that afternoon. We remembered a couple of things that had to be done en route too – nice girlie Saturday afternoon chores – so we eventually left. But for sure, I will be back, and I'll probably have the same again, but this time, I'll go for the towers.
---
Any comments?
If you wish your comments to be published in our Letters pages please click button below.
Please write a contact number and a postal address where you may be contacted.