| | |
| --- | --- |
| Monique Chambers | Sunday, 07 March 2010 | |
My verdict? GO GO GO | Rating 9/10 | Style 9/10 Beautifully presented food | Service 8/10 Very knowledgeable and passionate | Selection 10/10 Take the chef's recommendations | Steal-ability The plates – count your stock Paolo!
A stone's throw from last week's review is Lo Spago, but on a culinary level, it's a million miles away. An Italian restaurant, but the menu is not the usual standard fare that gets a bit boring after a while. Not only are the choices varied, but the combinations of food, the treatments bestowed upon them, the pride in the presentation are all delivered with amor proprio. And none of it wouldn't be out of place in a 5-star, nay, Michelin starred venue.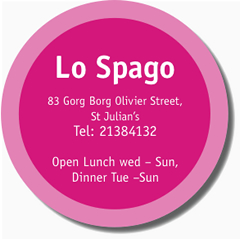 A restaurant making its own bread or pasta is not news. But a chef that makes his own butter, spends months curing his own meats, prepares his own sausages and whisks while you wait for your dessert is something to write home about. The chef at Lo Spago, Paolo Soldi, changes his menu (not just the specials board) daily, to make sure the customer gets the best of what he finds on a daily basis and to ensure his sanity is not tested making the same food over, and over, and over again. Regulars do request specific dishes which he will endeavour to recreate when given notice – a regular request is for his stunning speciality, beetroot gnocchi served with his own butter and cheese herbed sauce. Bunny bangers, his home made rabbit sausages, are another.
Lo Spago can feed up to 30 diners on the top floor which has a lovely view across Spinola Bay and another 20 downstairs – the tables are placed over a gigantic fish tank which is awaiting restocking – but I can imagine (even with my fear of floors of the glass variety) that it will be something quite spectacular.
We met our favourite foodie friends for Sunday lunch, took a table near the veranda window (still a little chilly to be al fresco for me) and dove into a good catch-up and a bottle or two of red.
Taking the chef's recommendations (and with no intentions to review the place at this stage as I had a half finished piece and a stack of work to do on Gourmet Today) we collectively opted for the antipasto misto and heeded the 'don't fill up on bread' warning. The first dish in the meat series arrived, a long leaf-shaped plate with a selection of affettati misti of mortadella di chianina, matured sirloin, silverside cured meat and salami cacciatorini and more.
The viande des grisons is home cured by Paolo. He marinades topside of beef in wine and herbs for 5-6 days, then the meat is left in rock salt for another 4-5 days, then back to the herbs and spice rack for a further two months. I tell you, it was worth the effort. It melted on the tongue with a subtle layering of flavours and the chatter stopped until the plate was cleared. There was prosciutto di cinta al coltello, from a pig which has a black coat with a white sash, "like a belt", served with warm toasted bread and butter made from pure cream mixed with vin santo (sweet wine).
The dishes kept coming: a dish of stuffed rabbit with a line of herbs and a sauce arrived… and then I failed at the bread test. I mopped up that sauce like a sponge. More salumi came and featured all the colours in the dress I had wanted to wear (can you believe I don't have shoes to match it? Honestly darling I don't...).
I could resist no more. I wanted my notebook. Instead, I defaced the day's printout menu.
More rabbit arrived, this time as filettini di coniglio in soar, which is a typical Venetian dish, but Paolo gives it a twist – the rabbit is deboned and then filleted and hammered to reduce them to thin steaks, which are then cooked using balsamic vinegar and walnuts (traditionally it's with pine nuts). A coscia di coniglio farcita arrived at the same time, deboned thighs stuffed with lardons di Tarese D.O.P, a typically matured bacon from Montevarchi, olives nocellara Etnea, capers and pistachios from Bronte. Normally, I pick out olives, but I was brave and heftily rewarded. The taste didn't take over nor leave any after-burn. It wasn't long till the next plate arrived: a traditional Piedmontese vitello 'tonnato', with magatello di chianina, cooked just pink and smothered in the fondo di cottura (sauce reduction) with hard boiled eggs, anchovies, and a mixture of carrots, onion and celery.
A shoal of fish antipasti came out: pagell fritters which are made by filleting fresh pagell (red bream) and mixing it with egg, bread, pesto, Parmesan cheese, herbs, white wine, shaped in quenelles. Then there was squid in a thick, rich Shiraz and ginger sauce – which resulted in a slightly ungracious episode as the waitress came to take the plate away and we wrestled with her to leave it – it was not going to need washing up by the time we finished with it. We cleansed our palettes with slivers of carpaccios and at this point and with reserve that was hidden deep within us, we asked for the starters to stop. We had ordered main courses, which good manners meant we would honour. All the plates so far cost just €20 a head.
John and I had the veal Milanese, sold on this as it looked to be the lightest option, though John's veal takes some beating. Our friends had chosen a stunning Scorpion fish and we had some time to rub our bellies and compare what's-been-happening notes while the dishes were scaled and tenderised, coated and cooked. The veal was good, but I do prefer John's – completely different style – so perhaps not a fair comment, he seemed to enjoy his. The portion was huge, and seriously, one would have done for the two of us. The fish looked beautiful: fleshy, moist and cooked to perfection. Both mains were served with roast potatoes, seasonal vegetables and salad. The potatoes were a massive hit. I can't resist them but I am English after all.
I was nudged into having dessert. OK, I confess, I nudged the others into having dessert. We don't generally cook on a Sunday night, after a long lazy lunch and then usually our own version of a wonderland tea party, the sofa and cheese and biscuits are pretty much all we can muster. This is, essentially, my excuse for overeating and the reason I ordered banoffee pie... need I say home made? And enjoyed every last morsel of it.
But the treat wasn't over – we'd ordered mint tisanes and even the presentation of these was spectacular. The saucers were main course plate size, with sections for sugars, spoon, biscuit /chocolate and last but not least, the cup.
I could gush some more, but will wrap up now and say bravo, Lo Spago!
---
Any comments?
If you wish your comments to be published in our Letters pages please click button below.
Please write a contact number and a postal address where you may be contacted.
---