| | |
| --- | --- |
| Raphael Vassallo | Sunday, 21 February 2010 | |
In case you missed it, a God almighty brouhaha erupted in cyberspace yesterday, when the online version of The Times revealed that – contrary to previous indications on the same site – the Commission for the Administration of Justice would NOT, after all, be investigating allegations about magistrate Consuelo Scerri Herrera... made on Daphne Caruana Galizia's blog over the past three weeks.
Well, this revelation appears to have deeply shocked a considerable number of people in this country, and allow me to vociferously declare (for fear of otherwise being blogged about) that I, too, consider this to be a grievous shortcoming on the part of the entire criminal justice system.
I mean, honestly. How on earth can we take the judiciary seriously, when the Commission tasked with its administration doesn't even bother investigating serious allegations that a practising magistrate has... um... an inappropriately large backside? And worse still, the unmitigated temerity to post photographs of this inappropriately large backside on a social networking site called 'Facebook' – where, as the name suggests, one should really post pictures of another part of one's anatomy? (Though, as Daphne herself can probably confirm, the difference isn't always very noticeable.)
This must be the last goddamn nail in the coffin of the judiciary's credibility. I mean, it's one thing to reduce a convicted drug trafficker's sentence in return for a bribe. But to have a bum which could conceivably be mistaken for one of the lesser satellites orbiting Jupiter... and then drawing attention to it on a site accessible even to little children... that qualifies a felony of the highest order, and if you don't believe me, you can look it up in the provisions of the Libidinal Code (Whores of Malta, Chapter 69, as amended by Legal Orifice 33/05).
The same article of law also specifies what precise vital statistics may be deemed acceptable for all appointees to public administration... naturally, with the proviso that such constraints are applicable only to supporters of the Labour Party. (An important qualification, as otherwise Daphne's blog might have to close down altogether).
So there you have it: yet another classic case of 'Arse and Them'. And that's just the beginning of the nefarious allegations that the Commission for the Administration of Justice will not, after all, be investigating.
If Daphne's blog is anything to go by – oh, and please note that this same blog defines me as a 'specialist' in the English language: and as there is plainly truth to that observation, one can safely assume that Daphne is right about everything else, too – the Commission should also be investigating Consuelo Scerri-Herrera for all the following crimes:
1. Being a (jaqq!) Laburista.
2. Belonging to a family of (jaqq!) Laburisti.
3. Enjoying the company of (jaqq!) Laburisti;
4. Inviting hamalli to her parties.
5. Dancing (a crime greatly aggravated by the offence it has caused to hippopotami, who understandably resent the cheap impersonation)
6. Being present in the same photograph as Charlon Gouder.
7. Being present at venues where other people are believed to overindulge in 'talcum powder'.
8. Leaving her husband for another man.
Let's take them one by one... starting with the first three. So there we all were, blissfully under the impression that the sole reason the Commission even exists is to ensure that all decisions taken by the Malta law courts are taken by Nationalists, for Nationalists... and obviously for the sole purpose on inconveniencing as many (jaqq!) Laburisti as possible.
(OK, I know what you're thinking. Surely, the real reason the Commission exists is the same reason the entire government exists – i.e., to see to it that Daphne Caruana Galizia's will is done, on earth as it is in Bidnija. But let's face it: that's just a different way of saying the same thing).
And now, after all these years, we suddenly find out that there's been a single, closet 'Laburista' (jaqq!) on the bench of magistrates all along... and guess what? Not a single member of the Commission of the Administration of Justice ever saw through her cunning disguise!
And these are the people we rely on for justice? Is this is the seriousness we expect from our country's authorities? And what is it going to be next? An undercover environmentalist as Chief Justice? A chief prosecuting officer who doesn't double up as legal adviser to government? The words 'Justice is equal For All', emblazoned across the facade the Law Courts? And where does it all stop?
I need hardly add that this sort of decadence is just not acceptable in a modern, forward-looking oligarchy like Malta under GonziPN. And besides: if there's one achievement the Nationalist Party is justifiably proud of in the 4,000 years it's been in power, it has to be the thoroughness with which it has cleansed all aspects of public life from persons who are not actually Nazzjonalisti.
For as its own former general-secretary Joe Saliba famously put it, the PN's true vocation is to exterminate from the public service the secret 'network' of hidden Laburisti... and replace them all with nice, blue-eyed boys and girls, all eager and ready to do Daphne's bidding without question.
This brings us to the partying bit, and... well, you don't exactly need little me to inform you that being caught dead at a venue where there is alcohol and dancing (not to mention Charlon Gouder) is something that no serious Nationalist magistrate would ever dream of doing. Not now, not ever.
In fact, there was a time in my dissipated youth... around three or four years ago, as I recall – when I would frequent a certain tavern in the Birkirkara area. I can't remember the name, but I used to go there at all times of the year – spring, summer, autumn, winter – and lo and behold: there, perched at the bar, there would invariably be two upright (and sometimes horizontal) members of Malta's fine judiciary... you know, just to keep an eye on things, and make sure everything was nice and 'legal'.
I need hardly add that neither magistrate ever touched a single drink the whole time they propped that bar up... sometimes until the early hours of the following morning. Nor did they ever dance on tables. And excessive alcohol never loosened their tongues, so that they would occasionally reveal bizarre indiscretions about individual cases (in the presence of an inquisitive journalist, no less).
These things never happened, for one reason, and one reason only. These were not your (jaqq!) common or garden Labour hamalli. No, indeed. They were Nationalist magistrates... which of course means that the sun permanently shone out of their (appropriately-sized) arses.
Right: I have written myself into a corner, leaving only the talcum powder and the marriage break-up to comment upon – and I have to say I'm so terribly glad Daphne was brave enough to resort to innuendo and euphemisms, to talk about other people's real or perceived bad habits.
But let's stop all this, and face the crude facts. Truth be told, we all owe a debt of gratitude to Daphne Caruana Galizia, for having finally broken that self-imposed boundary which previously (and unfairly) used to constrain journalism to only talking about matters in the public domain.
Well, now that the private domain is equally legitimate a target, I am quite convinced that all members of the judiciary and the political classes – especially the Nationalist variety – must be falling over themselves in their haste to make public every last detail of their own private lives.
For none of them has anything to hide. Oh, no. Not a single PN official of any shape or size has ever had a single affair outside marriage – that's just something that only nasty (jaqq!) Laburisti do. And the same can be said for their extended families. None of their children has ever been caught doing drugs, or shagging like a Bugs Bunny on Viagra, or getting pregnant, and then flying off to London to have an abortion on the quiet. None of their children or grandchildren can boast of involvement in criminal activities of description... which was afterwards hushed up thanks to 'daddy's contacts'. And there are none, of course, who have little talcum powder habits of their own.
No, indeed: so pure and virginal are they all, that I have no doubt they will not lift a finger to stop journalists from prying into their personal affairs, one by one. So much so, I expect them to eagerly invite us all on a guided tour of their own private closets, so that we can see with our own eyes that not a single unsightly skeleton lurks among their private collections of Papal Encyclicals and relics of Dun Gorg Preca.
Welcome to the future of Maltese journalism. Boy, I can't wait...
---
Any comments?
If you wish your comments to be published in our Letters pages please click button below.
Please write a contact number and a postal address where you may be contacted.
---
EDITORIAL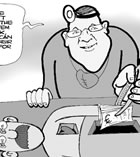 The great health conundrum