| | |
| --- | --- |
| Monique Chambers | Sunday, 21 February 2010 | |
I saw the Pope this weekend. And Darth Vader, a raft of Baroque European Aristocracy, Marco Polo (and a few clones), had a dance with Sgt Pepper and some farmyard animals after singing along with The Seven Dwarves. You guessed it, we were at the carnival in Venice and, yes, we were dressed like the other million tourists in market stall masks and capes which seemed perfectly normal to walk around in day and night. Many of the men indeed looked slightly too comfortable in their wigs and make up – but it added to our entertainment!
When people tell you Venice is expensive, generally, one street away from Piazza San Marco, it's not. On our first day, we had huge pizzas for a couple of euros less than we pay in Zebbug and a couple of plates of the local specialty (calf's liver with polenta) and a starter plate of pasta for around €45, which included a bottle of regional wine. We ate at one of the three Muro sites which are all modern, lively and loud with the after-shopping local crowd; Bistrot de Venise which is in Calle Fabbri, a street away from the hustle and bustle and the kitchen; and one of the few kitchens that remains open post-opera/concert – good to know if you are a culture vulture. Don't think that all the best places are towards the centre: Cannaregio boasts Osteria Giorgione, highly rated and reasonably priced and very tastefully decorated and when in Venice, one must sample some seafood – and Al Fontego Dei Pescatori at Calle Priuli is the place to try.
We had been urged to visit Harry's Bar by some friends who had just returned from Venice. Our city-break philosophy is wake up when you wake up, walk and talk until a church/exhibition/shop distracts you, and eat when you are hungry. Apart from planning dinner – usually from the Gambero Rosso when we are in Italy – we generally fall into wherever looks good at the appropriate time. So this is how we came upon Harry's last Saturday lunchtime, completely by accident. We stepped off the vaporetto and in to the art deco doors which have welcomed European aristocracy since opening for the first time in 1931, and entered the world famous bar where guests have included Guglielmo Marconi, Somerset Maugham, Noel Coward, Charlie Chaplin, Peggy Guggenheim, Orson Welles and the all-time girl's classic writer of Breakfast at Tiffany's, Truman Capote, to namedrop a few.
In Harry's Bar, which is just across the bridge from Piazza San Marco, be prepared to pay an awful lot more than you would almost anywhere in the world. The food is faultless, indeed, delicious, and the service is soave and sweet. But €18 for a ham and cheese sandwich?
On entering, a barman was pouring a bank of Bellinis, the establishments' signature cocktail, and so we figured 'when in Rome' and ordered one each. Caught up in the buzz and the people watching, we asked for a table and were shown up a beautiful wooden staircase to the first floor. Seated next to us were a group of American teenagers discussing their plastic surgery successes and wishes – sharing a salad and sipping their Bellinis. The tables, in plain white cloths with simple crockery and glasses look as if they have not been updated since the 30's – very plain but not offensive. The walls are the exact pink of a Bellini and sparse artworks adorn the walls. Coiffed, winter tanned skins in minks wander around like regulars at a band club, looking for their set to audibly air kiss: the mwah-mwah's echoed around the property. But we simply could not turn away.
The Bellinis come in at a cool €19 each but if you want to be extravagant, have a bottle of Krug for €600. A regular Champagne (Moet for example), will set you back just €125. There is a set lunch for €42 which allows you to sample soup, a pasta dish and sorbet/ice creams. We decided to go the whole hog and go à la carte; I had the pumpkin soup (€28) whilst John had the fish bisque (€28), both sumptuous and filling, and then onto the mains. Tagliatelle Amatricana (€39) for him and the most tender squid cooked with its ink served with sliced griddled just the right thickness polenta (€49) for me. The portions were generous and in fact, just one course would have sufficed. We washed the lunch down with a carafe of white local wine – but were so full afterwards that dessert was not an option until our pedometer had racked up a few thousand more steps. And the credit card recovered.
After lunch we wandered around a bit more (at slow speed because of the carnival traffic) and on to San Marco, where we ticked off another great gastronomical place, Café Florian. And no, you may never have a more expensive cup of tea (not even at Harry's) but you may also not have a more delicious cake in more bizarre surroundings. During carnival week, be prepared to feel like a pop star – tourists just stop in front of the windows and snap away as if you can't see them. They are looking to capture the be-frocked actors that resemble mannequins in the gilt ornate windows, eternally sipping hot chocolate and nibbling on delicate pastries. White jacketed smart, aftershave-advert handsome waiters, seemingly fly by balancing silver trays with silver tea sets on them, occasionally swooping low to rescue a fallen hat or glove from a customer's place. I almost forgot to pay attention to my own order and not the beauty of the square, the marauding masses or the costumed individuals who are so in character, they made me step back in time and in fact lose so much time that my €10 cup of tea went cold on me.
---
Any comments?
If you wish your comments to be published in our Letters pages please click button below.
Please write a contact number and a postal address where you may be contacted.
---
EDITORIAL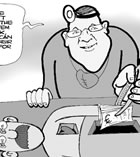 The great health conundrum