| | |
| --- | --- |
| Monique Chambers | Sunday, 07 February 2010 | |
My verdict? Go to your favourite | Rating 5/10 | Style Turn off the waterfall please | Service 7/10 So sweet I felt too bad to complain | Selection 5/10 Though it should be noted celiacs have a good selection | Steal-ability At a push, the fish tanks
My mum's macaroni, imqarrun, topless timpana – call it what you like – is the best in Malta. Now you may disagree with this statement and believe that your mum's is better and that is absolutely your right. So you can take my opinion with a pinch of salt or MSG, which is more likely with the case in point of this week's review of The Spoon at Portomaso.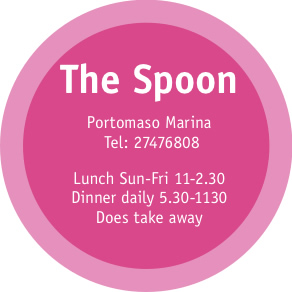 I'd chosen this restaurant as we're fast approaching Chinese New Year and as I'll be busy being serenaded on a gondola, I wanted to make sure, just in case you aren't the romantic type, that you don't miss out on a reason to celebrate. Just to elaborate, the date this year is 14 February and it's the year of the tiger (those born under the sign are said to be sensitive and sometimes suspicious, deep thinking types, capable of great sympathy and courage…) – Oh to be a tiger!
The evening didn't start well; I was meeting John there and with my amazing sense of non-direction, I thought it would take him longer to arrive than it did. Basically, I was caught red-dress-handed in Rebelli. He was not amused – he knows the clothes addiction is going to be hard to beat but this was not the issue. He was calling me to see where the venue was and I fibbed and told him I was parking. He was parked right next to me already. Oops.
So, this brings me on nicely to telling you a bit about the Chinese tradition. There are a number of elements to make for a perfect new year, some of which I may adopt myself: clean the entire home making sure to put away all brooms and brushes, pay all ones' debts and resolve differences with family, friends, neighbours, etc. Tradition also suggests you open every door and window in your home at midnight to let go of the old year and that you should have the house decked in bright red decorations. The colour signifies happiness and it augurs well if you wear something new (including shoes) in red! I promise I'm not making it up.
Anyway, we walked down the steps at Portomaso Marina and spotted The Spoon nestled amongst the cacophony of restaurants. Had we been brave enough to park in the car park, we would have been able to enter from the rear and also enjoy free parking courtesy of them. Whilst we were lucky enough not to land on double yellow lines outside Rebelli and therefore also enjoy free parking, the red dress was burning €200 in my pocket.
The Spoon is a sweet place, probably seats around 40, has nicely dressed, themed tables, greenery, incense, the ubiquitous fish tanks which were clean with happy looking, lively fish playing hide and seek with the oriental ornaments... and then there is a waterfall. It took it down a few notches for me. Apart from anything else, the presence of one of these means my meal is going to be interrupted by frequent visits to the ladies' (which, by the way, were immaculate).
The large and brightly coloured menus arrived and there were the usual suspects – which means you do pitch one Chinese restaurant against another, a bit like macaroni – and some dishes that had a bit of a twist. The menu featured a lot of lamb, which I found unusual, and plenty of seafood. A separate gluten-free section offered soup, noodles and a varied selection of mains, and they didn't penalise sufferers with a hefty price tag, which is refreshing.
The pastel-coloured prawn crackers arrived along with a chilled bottle of Gewurztraminer. The crackers were a tad oily for me and for once, they were still there by the time our food arrived.
We opted for Li's Mixed Platter (€8.50) which included a spring roll, seaweed, a chicken wing, a spare rib, hun tun, some meat sticks of sorts and sesame prawn toast. Chilli, satay and soy sauce were brought to liven them up. Again, too greasy for me so I only had a couple of nibbles. I then regretted not ordering the aromatic duck, as surely it would have been dry? Normally, after starters and a couple of duck pancakes, I'm stuffed and give my main mere lip service. So in the interests of my waistline, I decided to miss them out, though I'm not sure if in this case this was a mistake or not. My crispy beef with honey sauce (€9.50) was crispy for sure; as for being beef? I have no idea. The sticky honey and sesame combo was tasty, but not enough to have me reach for another helping. I did fill up on the egg-fried rice (€5.75) though. Not sure how you can charge that for rice with egg, but I guess rent must be quite high around there.
John ordered the stir-fried king prawns with chilli and cashew nuts (€16.50) and this was much better than my choice. The prawns were fanned but still had their tails on. Now, I'm pretty good with a set of chopsticks... not à la the famous fly-catching scene in The Karate Kid, but I won't exactly go hungry if there's isn't any 'normal' cutlery lying around. However, I tried a few times but I could not pick up the prawns by their end and de-house them from their tails in one go. Luckily, there were airline-esque paper packed moist towels for us to wipe our sticky fingers, as I did give in, in the end.
Even so, I hadn't had much to eat so I was still rather hungry. The only thing that sprung out at me on the dessert card were the banana fritters – I was expecting these to be oily too so we strategically ordered ice cream to counteract the effect. We were pleasantly surprised when they came. There was a generous portion and not a drop of oil in sight. Hot, steamy and satisfying after a generally disappointing meal.
At least leaving half-empty, I will still fit into that red number. Perhaps I should have bought it and slipped it on. Perhaps I would have had better luck.
---
Any comments?
If you wish your comments to be published in our Letters pages please click button below.
Please write a contact number and a postal address where you may be contacted.
---
EDITORIAL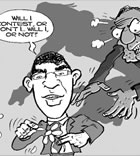 A can of worms