| | |
| --- | --- |
| Monique Chambers | Sunday, 24 January 2010 | |
My verdict? DON'T GO till summer | Rating 5/10 | Style 2/10 – the food is the show | Service 2/10 | Selection 10/10 Use it as a takeaway
I only have one previous experience of Mint and from that, I am almost shocked at myself for going back. Last summer, we stopped by to pick up some picnic food for an impromptu sail and while the food was delicious, the bill left a bad taste in our mouths. So much so that even stiff-upper-lip-Brit-me just had to say something. And yes, we could have walked away, but the food looked good and so did the sea, and we didn't feel like hassling at a supermarket.
A friend had suggested we meet there for brunch during the week and I figured that I could stop by the end-of-line warehouse a few doors up first, get a couple of things to fill the hangars emptied by my New Year wardrobe cull, being sure, of course to keep enough cash to cover the meal. I didn't account for the parking problem though, my plan to binge-shop was shattered and I was getting dizzy from the endless circling to find place to rest my weary wheels.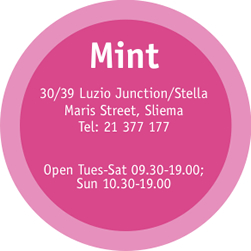 I eventually managed to park a few streets back from Tower Road and walked down, tapping the street name into my phone in case I got distracted by the warehouse sale... I walked in and found a table near the back of the room. The doors were wide open and it was freezing (OK, very cold) inside. I had assumed that the group of mummies, who had polished off what looked like yummy cakes and pots of tea, were wearing their jackets because they were about to leave. But no. There is no evident heating and I imagine they must have been as chilly as me, having been outside in the wind for the past 10 minutes. There's a big enough outdoor eating area should you wish to enjoy outdoor temperatures, so I'm not sure why they make those who choose to sit inside suffer so.
The server was still busy behind the counter doing something, so I checked my messages and then the pesky battery died on my iPhone. So I decided to get up and do as the sign on the table told me to, and order at the counter. A choice of fresh juices were chalked on the board and I went for the most appealing, the cleansing juice with apple: carrot and ginger (€2.90)... I think. I washed it down while waiting for my friend to arrive.
I had a chance to look around for a bit, and I can see what they are trying to achieve with the decor, but it kind of went wrong. It has a dark wooden interior – which means there's not enough light by day – and as it's not a late-night venue, I think it would do the food and the concept justice if it was brightened up. It just doesn't suit the chilled cabinets full of fresh food that are on display. There's a mish-mash of painted furniture and unrelated artworks. I'm guessing it is supposed to look eclectic, but it fails and just resembles a charity café; which if it was, I guess I'd be more gracious and say how creative they had been trying to achieve a Monica's-apartment-in-Friends-type look and not waste funds.
Still, it didn't seem to bother the regulars: i-gaming types who casually drop in to meet other casual drop-in i-gaming types for a 'hey, my company's so liberal we all just pop out for coffee' coffee, lined up like the wheels of a fruit machine in their colourful striped shirts on the tables outside (they must be from the Nordic region.) I thought it was interesting that not one Maltese person was in there for the whole time we were.
The food saves the place and it seems the prices have dropped to a reasonable level. Seriously, before you wouldn't have paid that much in a downtown Greenwich Village café. I imagine even sandwiches at The Ritz would have cost less. I doubt we were the only ones that had mentioned it but I'm glad the owners took notice. It would have been a shame to have eternally missed out on the fresh, unusual combinations of wraps, salads and delicious desserts.
Mint offers diabetic options, gluten free as well as probably the most interesting vegetarian options in Malta. They do various muffins which I urge you to try. They are big and fluffy and though supposed to be a course on their own, easily serve two as a side dish – just add a salad if you are having them at home. Their savoury varieties include pumpkin and feta, cheese, tomato and red onion and also a bacon and sundried tomato. The sweet ones, well, the classic blueberry is not for sharing, and I'm sure that would be the same for the others too. Listed are a raspberry and white chocolate, banana and lemon and an apple, cinnamon and raisin version which mean I may drop by again, as they seem to have no set menu plan. But the odds are that you will be pleased with whatever is in the cabinet that day.
The chocolate brownie is (a) a super-generous sized portion that easily serves two and is worth the price tag (€5.50) and (b) is also irresistible.
In the chiller cabinet was a platter of mushroom risotto cakes (€3.50) which tempted me. But in the end, I succumbed to their raft of wraps and individual portions of pies – a steak and ale I think, and a New Zealand lamb and mint pie (€3.50). It arrived hot, and was perfectly crusty with good quality meat inside. But it had green salad leaves (a strange combination.) I just left the leaves, but I would probably go back for some of these to have at home.
I wanted another of those cleansing juices – but mostly because I didn't want to leave the conversation and go back to the counter to order, I didn't bother. They deliver your food anyway – why not just take orders? I mean, there were about three tables of people but nothing the staff couldn't handle, even with the numerous deliveries that were taking place.
The café's motto is fresh, seasonal and home made – and on this you cannot fault the place. In fact, in last summer's famed picnic we had a delicious pasta salad made with orzo, which I thought would be oh- so-simple to recreate, but three boxes of orzo later, I gave in. Now the prices are palatable, I hope to see this dish once again.
---
Any comments?
If you wish your comments to be published in our Letters pages please click button below.
Please write a contact number and a postal address where you may be contacted.
---
EDITORIAL




Muzzling the messenger
---