| | |
| --- | --- |
| Monique Chambers | Sunday, 17 January 2010 | |
I can feel the heat rising within me when a conversation about Birgu/Vittoriosa ensues. You can see noses turning up, and almost feel the disdain wrongly associated with the place. If you haven't been for a while (and someone very close to me prior to us meeting hadn't ventured there since 1981) you are missing out. I am not alone in my love for my 'home' town; I am in the company, mostly of other 'foreigners', that see the beauty, want to feel the history, be close to the sea and live in Malta, not just a (mostly) sun drenched island that could, quite frankly, be anywhere. The mildly eccentric but truly dedicated mayor John Boxall is responsible and the pride of the villagers is evident. You are hard-pressed, by the time the morning coffee is brewed, to see any evidence of the frivolity of any of the events of the night before, where literally thousands of people attend.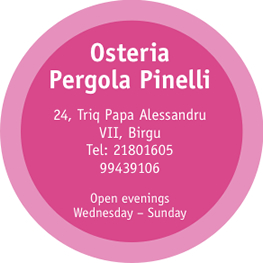 So when I see that a new establishment is opening, it gives me a real burst of satisfaction to see somebody else appreciating the potential, and willing enough to put their money where their mouth is.
The latest eatery to open, Osteria Pergola Pinelli, is as disguised as an old town house, laden with original features, stone walls and original-ish tiled floors. Situated just as you enter Birgu by Couvre Porte, take the first right up a slight incline, park and take the first side street on the left. A bottle-green sign hangs over the door and a dashing waiter awaits you. Wooden tables with nanna-style chairs are positioned with enough space to have a discreet conversation. Every nook and cranny has been used effectively, and you spy the ones that will be eternally reserved as they perch in a balcony or in a cosy corner of a stairwell.
The menu is quite short, will change monthly, and has enough to make you 'umm' and 'ahhh' a bit. We started with a selection of cheeses from Campagna, which arrived with homemade red pepper, mustard pickle, grape, wine compote and drunken figs on a slate plate, with scattered juicy berries. Class. We had an introduction to the cheeses and a moving story about one of the varieties; specifically about the cows that produce one of them, delivered by an animated Pinelli. The cows were apparently not very popular in the 1960s as they didn't produce much milk, and there were attempts to eradicate the breed, but some farmers – and this is so sweet – hid their herds and continued with their production. The platter had generous samples of Taleggio di Bufalo, Provolone del Monaco, Pecorino del Moliterno, Pecorino Erberinato, Cacio Cavallo all'agianico – all for two people for €20. Not bad for an after-work graze.
Telling of their Campania roots, the menu included cold cuts, veal, foie gras, as well as a dish that took my fancy: a Cannellini bean soup with rosemary scented oil, and crusty garlicky breads (€8.00). This is going to sound odd: it tasted muddy, but in a good way. After the indulgence of the past few weeks, this is just what I needed. Wholesome, healthy, not-messed-about-with food. The portion was just right and it was chunky enough not to have to resort to the bread basket to fill myself up.
John had the timbale di riso (€10.50), which I was a bit miffed about. I fancied having a try of the veal with foie gras butter, but it wasn't to be. His choice wasn't as good as mine – I promise I didn't cast a spell on it! It was nice and he cleared the dish, but it did need a bit of a kick... or at least some smelly cheese on top.
The presentation of the plates, the unusual but not whacky crockery and the delicate wooden spoons made Pergola Pinelli fit for the Gamberro Rosso, in my humble opinion. The tables were laid with hessian and jute contrasting table cloths and a similar texture napkins, all au naturel, with big shiny wine glasses for the Primitivo (€17.00) we ordered.
One of the paintings kept catching my eye. Glitter had been strategically applied, so the coastal scene looked alive, and I was only distracted by the chef who came to check if everything was OK and explained a bit about the venture. The duo are the ex-chef and maitre d' of Palazzo Parisio, and have been open since December, and chose Birgu because its target audience is the inquisitive, appreciative, professional and arty set that frequent the trendy town. In fact, it just wouldn't work in a place like Sliema or St Julian's. Thankfully.
They have a roof terrace with what I imagine must be a panoramic view of the village and the Grand Harbour (the view from my roof garden is not bad, in high heels on the table – but in my defence, I am quite a lot further down towards the water hidden by the auberges) which will be open once the weather picks up. In total, the Osteria seats 35, and I think it would be the perfect place for a close group of, say, 10 friends to take over a floor and just leave the food choices to the pair.
We finished off the meal with a trio of crème brûlée served in these miniature ceramic roasting dishes with those precious, precious spoons; we guessed wrong on two of the three varieties. There was pistachio, caramel and vanilla and had John been able to have it to himself, would have probably worked it out. But as I have said before, I have to taste things to be able to give a balanced view... I have one of those little torches at home but crème brûlée really is one of those dishes you just must eat out, don't you think?
Seeing that we had almost licked the dessert plates clean, the home-made limoncello and lemon cream liquor came out. They were so different from the manufactured varieties that I have one too many horror stories about, and have since turned my nose up at. These were like lemon meringue pie in a shot glass. Forget that I am a big fan of Birgu. You have to try this place, because it's going to be a while before they package what they make and sell it, and it is a real treat.
---
Any comments?
If you wish your comments to be published in our Letters pages please click button below.
Please write a contact number and a postal address where you may be contacted.
---
EDITORIAL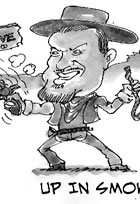 The ghost of permits past