| | |
| --- | --- |
| Food | Sunday, 13 December 2009 | |
My verdict? Drop by | Rating 6/10 | Style Needs some; looks unfinished rather than unfussy | Service Efficient with huge smiles | Selection The menu was varied and explained with pride and in great detail | Steal-ability Age dashi tofu. Try it. | Sentiment I'd drop by for the soup before/during/after a shopping spree
After a long weekend in the UK filling up on German Christmas market food, and in advance of the season of goodwill and good and plentiful food, I thought going for Japanese would be a light alternative to the gluttony I would be submitting my stomach to over the coming weeks.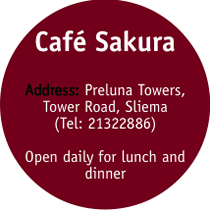 Not a gourmet when it comes to anything so far Eastern past sushi and sashimi, I arrived at Cafe Sakura at the Preluna Towers in Sliema, with an open mind and hoping to discover a new favourite.
The decor was a bit plainer than I thought it would be – no real evidence of any Japanese art or culture (which was a shame) but it was very busy for a mid-week evening and there were at least two tables of Japanese couples... and you know what they say about where the 'locals' eat.
We were shown to a table right in the far corner, away from the oversized glass outside doors (thankfully) and just within the line of sight of the chef who was lopping, chopping, stuffing and rolling a variety of coloured ingredients which would then appear as stylised plates of nori rolled to perfection and to be delivered by graceful staff to their destined table.
We ordered a bottle of fail-safe Isis and then perused the menus. Two huge plasticised cards were handed to us with the explanation that new ones were in the process of being made. We must have looked like tennis fans: heads going from side to side trying to adventure beyond our normal choices while comparing ingredients and spice ratings. I was now hungry again. A feeling I thought I couldn't possibly have so soon after landing.
My first choice of king prawn teppanyaki was not available, so I decided on the beef version (€16.00) and had the age dashi tofu (€4.50) to start. John had the tempura nigiri and sushi platter (€8.00) followed by the seafood yaki u don (€11.00). The platter arrived on two plates, so it felt like we had to have one in the middle of the table – everything looked and tasted fresh; peppers and pumpkin slices lightly battered with soy sauce waiting to be awoken, and a half dozen sushi that goodness knows how I resisted. John was given a warning about the wasabi. Pity he hadn't had that on a previous occasion, he now knows to steer clear, even though it looked so pretty, shaped like a flower, nestling on the corner of the plate near the intricately cut, there-for-decoration salad.
My age dashi tofu arrived and it didn't look like the packets you see in the supermarket. A clear dark broth with a generous slice of battered tofu floating with lily pad leaf like spring onions. I dove in. This was good. The tofu was smooth and warmed, infused with the flavours of the liquid. I parted with a measly slice as a teaser and then I asked how to prepare the soup, for want of a better term, and the waitress indulged me while I took mental notes. Dashi, mirin, and Japanese soy sauce essentially (still looking for the dashi, if anyone can help me out?) and of course tofu – lightly coated in corn flour and fried. I have a box or two of silken tofu tucked away with bean burger mix for those unexpected veggie guests so now hopefully, if I can source the missing ingredient, I can make an attempt to serve it in one of the other boasted 100 ways you can cook it. And then perhaps take on the other 98.
We were ready for our main course feeling as if we had sufficient taste and just the right sized portion in our entrées. The seafood yaki u don came with green lipped mussels, prawns and big fat noodles that looked doughy but weren't. Just the right amount of sauce coated them and that was the end of that. My beef teppanyaki came and it wasn't quite what I had expected. Having witnessed it in London with a friend who knew what she was ordering, having lived and worked in Japan for a number of years, the main reason I went for it was in fact the spectacle of the preparation. The hot griddle-like pan on the table so you can cook the meat (fish, vegetables etc.,) as you like them with a variety of sauces to dip and dunk your creations into. The steam-fest I looked forward to warm me up (those pesky doors) wasn't going to come, but a cooked steak arrived on a bed of peppers with onion and mustard sauces in cute three quarter spherical shaped dishes. The meat was a little dry on the edges and got better towards the middle, but I was happy to share for once. The sauces were flavoursome but I can't tell you which my favourite was. Not because I am being mysterious; I just couldn't decide!
Now I understood why (apart from Sumo wrestlers whose diet trick is apparently not to eat breakfast then to sleep immediately after consuming their large meal for at least four hours) the Japanese population is so slim. Even if I had finished my steak, I would not have been full. Satisfied, but not 'have to undo the button on your trousers/move a notch down on your belt'-type full. For once.
The waitress convinced to try some traditional desserts which were not on the menu – it had showed just fruit and ice cream – and we graciously gave in and opted for the sweet bean pastry, which I didn't catch the correct name of, and some green tea ice cream. The sweet bean pastry was interesting but very, very sweet. It needed a cup of tea for sure – but the green tea ice-cream was a good enough accompaniment, bitter but with that addictive quality that makes you keep the cutlery in your mouth a tad longer than is necessary. I felt saintly eating it, green tea marketed as being so good for you and all that. The pancake was left half-eaten. See how good I am?
The Japanese couple next to us cleared their plates and continued to talk their way, animatedly, through their sake. These sweet-looking, mildly eccentric twin dressers sipped away at it, and the memories of assisting said returning friend with an earthenware bottle of theirs and their new heating implement had obviously faded from the ugly night it turned out to be; coupled with good salesmanship, we ordered a couple of shots.
We should have shared one. In fact, we should have just sniffed the bottle; the paltry amount we tried. But millions of Japanese can't be wrong, or maybe they didn't make the same mistake I did back in 1997 and polish off a bottle in one sitting with a tray of six pieces of sushi between two. The sake left a bad taste in my mouth, and not just metaphorically speaking.
---
Any comments?
If you wish your comments to be published in our Letters pages please click button below.
Please write a contact number and a postal address where you may be contacted.
---


All the interviews from Reporter on MaltaToday's YouTube channel.
---
EDITORIAL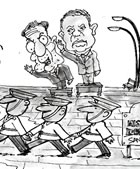 True reform inside PBS