| | |
| --- | --- |
| Film | Sunday, 13 December 2009 | |
Terry Gilliam has done it again. Yes, the former Python (as in Monty) responsible for the surreal kaleidoscopes of 'Brazil', 'Fear and Loathing in Las Vegas', 'Time Bandits' and many other cult classics returns to the big screen after a foray into the mainstream ('The Brothers Grimm'), which was then followed up – some would say remedied by – 2005's dark fairytale 'Tideland'.


With 'The Imaginarium of Dr Parnassus', he has regained some dubious financial benefit from the fact that the film was Heath Ledger's very last, as the young Australian actor tragically passed away at 28 while the film was halfway through production. It is a credit to Gilliam's ballsy inventiveness that he managed to salvage his gem of a film even after one of its key actors had gone. The fact that this was done seamlessly is what makes the film a beautiful tribute to Ledger himself, and it will automatically accord 'Parnassus' a seat in the cult hall of fame by virtue of the peculiar and touching story that makes up its production history, at the very least. In a way, the fact that it has suffered through so many trials and tribulations and emerged (relatively) unscathed makes it a truly Gilliamesque product. A work of energetic whimsy, it should, for all intents and purposes, not exist as part of its Hollywood mainstream. But it does, and it wields a wonderful tale, which is no way diminished by the extravagance of its journey to the screen.
The fantastical morality tale follows the traveling show of the mysterious Dr Parnassus (Christopher Plummer) – a man who once won a bet with the Devil himself, and who has the power to control the imagination of others. Many centuries ago, Dr Parnassus won immortality in a bet that found Mr Nick (Tom Waits) coming up short. While few would be bold enough to pit their fortunes against the prince of darkness a second time, Dr Parnassus did precisely that – this time trading his mortality for youth, on the agreement that his firstborn would become the property of Mr Nick when the child reaches his or her 16th birthday. Flash-forward to the present day, and Parnassus' daughter, Valentina (Lily Cole), is about to celebrate her sweet sixteen. Parnassus is desperate to save his little girl from her doomed fate, and when Mr Nick arrives to collect, the good doctor presents the Prince of Darkness with a wager too enticing to refuse: Dr Parnassus and Mr Nick will each compete to seduce five souls, with possession of Valentina going to whomever manages to complete the task first. As the competition begins to heat up, Dr Parnassus promises his daughter's hand in marriage to any man who can help him successfully navigate the surreal obstacle course that lies ahead and finally help him undue the many mistakes of his past. Embroiled in all this is the mysterious Tony (Heath Ledger/Johnny Depp/Jude Law/Colin Farrell), who, upon being discovered hanging from a bridge by Parnassus' troupe, turns out to be a lot more than they expected.
Ledger's performance is a wonderfully raw piece of work. It's hard not to think that it was all done in one take, but the fact that it's so vulnerable is what makes it all the more heartbreaking. But Ledger aside (I know, it's difficult to even say this), Gilliam's visual architectonics don't disappoint. The Imaginarium itself is an exercise in indulgence, that much has to be taken for granted. But Gilliam's dreams make for wonderful pictures, and it's nice to see that there are still filmmakers out there that aren't too cynical to let their imaginations loose. A genuine effort to teamwork is felt throughout too. The fact that Depp, Law and Farrell all chimed in to help out at short notice is already rather sweet (the film is credited as being a production by 'Heath Ledger and Friends'), and the camaraderie of the Parnassus crew (a surprisingly good Lily Cole, the bumbling Andrew Garfield as lovestruck Anton, and the inimitable Verne Troyer as the Doctors' trusty lifelong assistant) all combine to make the film a joy. It's patchy in parts, true, and its indulgence might get annoying for some, but its mistakes come from the heart, not from the cheque book.
---
Any comments?
If you wish your comments to be published in our Letters pages please click button below.
Please write a contact number and a postal address where you may be contacted.
---


All the interviews from Reporter on MaltaToday's YouTube channel.
---
EDITORIAL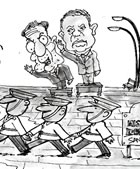 True reform inside PBS