| | |
| --- | --- |
| Monique Chambers | Sunday, 06 December 2009 | |
My verdict? GO with someone special | Rating 9/10 | Style 9/10 Simple perfection | Service 9/10 | Selection 8/10 A safe but good menu – apparently doesn't change much due to the restaurant's multiple guide book listings | Steal-ability The oriental sauce, and if I were a model-scout I would have stolen the Bardot-esque waitress
The stairs leading into Fusion4 are a bit precarious, and you have to double-take to make sure you are going into the right place. Hidden behind the government housing buildings opposite St John's Cavalier, (Embassy of the Knights of St John) and Hastings Gardens, I felt like I was heading into a speakeasy type joint for an illicit rendezvous, or creeping into an air raid shelter after curfew. Expecting a chequered table cloth-type establishment I was pleasantly surprised by the cleanest, chicest minimal interior with beautifully dressed tables. No fuss, no nonsense. Glass and chrome furnishings against the most perfect stone walls. The restaurant itself is housed in a tunnel – with a separate bar at the entrance roomy enough to hold a party with your truest friends, a terrace that isn't overlooked but overlooks the walkway to the City Gate of Valletta with the ditch separating you from the madding crowd and a mechanical social history exhibition tucked away on the opposite side.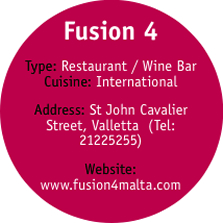 I met my friend in the bar area – nothing unusual there – and so stifling her plans for a cigarette, we were escorted to our table by Edgar, the owner, who I have to say looked remarkably like Santa without the beard... but maybe that's the time of year playing mind games with me.
We both ordered the pear, blue cheese and rocket salad (€7.50) and left it up to Santa, I mean, Edgar to suggest a wine. He dutifully brought a Torres Santa Digna, a Gewurztraminer Reserva and a Curico which was just delightful. I ordered the pork with apple drizzled with honey (€15.50) (I mean, how can a girl be expected to resist anything drizzled in honey?) What a fantastic word. Drizzled. Hmm. What a fantastic dish! The apple came out cored and in circular slices (like a sculpture) and the combination really is faultless (though I managed to make the most delicious apple-y/pear sauce with centinarja this week). My friend took the duck, having been to Fusion4 before and remembering how perfectly pink it was. It came with an oriental sauce which was sticky and sprinkled with sesame seeds, the sort of sauce you command your tongue to search your teeth for remnants of, after the meal is finished. She was never going to do it justice on her own, so I helped her out. What are friends for after all?
The roast potatoes were as good as the ones John makes. As for the vegetables, I still can't quite figure out what they were cooked with (had the chef not been so busy I would have gone and asked). The only word to describe them is kaleidoscopic. The colours, textures, smell and flavour were amazing. No wonder this place is featured in the Lonely Planet, amongst other international guide books. You really must find an excuse to go.
I liked the fact that it was busy and buzzy but not so noisy we couldn't talk. You could whisper gory details and share updates and roar with laughter, and not feel like you were disturbing anyone or being rude. Between one course and another, there was a cigarette break – I joined my friend out on the terrace, which is a bit of a slopey walk but stiletto veterans have nothing to fear, even after a glass or two of Gewurztraminer. We were offered a tour by Edgar who started to tell us a bit about the place. I thought it must have been an air-raid shelter in the war but that theory was explained away by the fact that although the walls were thick, the roof was not – typical of the times I guess. Who would have expected bombs to fall on you from above in the 1600s?
The terrace is just so pretty, with the last few pink and papery bougainvillea climbing and clinging onto the walls, lanterns placed to subtly light the scattered tables and the centre platform, large enough for a first dance, a presentation or a table for about 20, gives you that few inches to make you feel even more elevated than you already do.
Next stop was the museum. Edgar disappeared around a corner and switched on what I thought were just the lights when noises and movement started and we were taken back – about 100 years or so – to traditional village life. The village square with singers and a shoeshine (whatever happened to shoe-shines?) a tinsmith mending, melding and manufacturing tin wares, a woman pops her head over the balcony above you while another is hanging out clothes. Other craftsmen are creating; a potter, a saddler and a seamstress – at the same pace as today's I might add. Each of the stages is explained in great detail – apparently hundreds of school children visit the exhibition during the term – and judging by the leaflets printed up in various languages, it is popular with the Italians and French visitors too. I swear Edgar disappears down here late at night, the village comes to life and they start making Christmas presents, a kind of outsourced North Pole venture. On the way back, through the exhibition, you will see lifelike dogs sleeping by their master's feet, a grocery store with brands of old, a set of scales that would look fantastic in our kitchen and a bakery – which I sure even smelt of fresh bread which reminds you that you haven't quite finished eating. It is in fact possible to reserve a table in any part of the 'village' mechanics on or off; indeed, one romantic soul has already reserved a special place for him and his partner for next Valentine's Day! If this was the kind of restaurant you would take small children to, I'd recommend seating them in here for sure, you hear me?
The restaurant has lobster weekends and fenkatas. It opens for Sunday lunch – for which on a mild day, I would definitely take a table outside.
We walk uphill and past tables of tourists and client meetings – we head back to our seats. A team from an airline are planning a party here, and the thought tickles me. The 'tunnel' does resemble a fuselage and giggling to myself I decide to stop trying to explain the joke and just enjoy my own little world.
Back at our table we polish off the wine we have left and move into the bar for coffee. A cosy room with an interesting design on the actual bar itself... and there it is. The one thing I didn't like about the place (apart from the fact that there isn't a lock on the toilet door) is one of those pesky glass panels inviting you to see some of the cellar. It wouldn't stop me from going again though. Especially as just behind it was the desserts board with some interesting concoctions. We decided to share. Like I said, what are friends for? The white chocolate mousse arrived and the presentation didn't quite match up to the amazing marshmallow-like texture – in a regular glass and sprinkled with honeycomb and chocolate, it deserved a fancy plate with designer patissiere swirls and it should have been moulded into an impossible form. But it would have still been demolished in under a minute, so maybe they've got it right.
---
Any comments?
If you wish your comments to be published in our Letters pages please click button below.
Please write a contact number and a postal address where you may be contacted.
---


All the interviews from Reporter on MaltaToday's YouTube channel.
---
EDITORIAL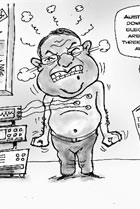 The questions that will not go away
---
INTERVIEW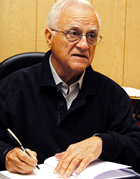 Lessons in leadership