| | |
| --- | --- |
| Interview | Sunday, 06 December 2009 | |
Don't call it dissidence, but more of a party that is "very much alive, seeking to honour itself by performing as a party in government. What is going on within the Nationalist Party is perfectly normal: it happens inside any political party."
Cautious words by former President, Prime Minister and PN grandee Eddie Fenech Adami, who almost a year since bowing out of the public scene remains quite present on the political radar.
I visit him at his Birkirkara residence: a dwelling that remained identical to how I remember it during his days of office. If only the walls could speak, they would furnish volumes with details about the people that consulted him throughout his 40 years in politics, not to mention the times he sat quietly in his private office, contemplating in silence and jotting notes for the historical speeches he delivered in Parliament and to the crowds that adulated him. Fenech Adami, the statesman and gentleman-politician remains an avid observer of the political spectrum. He reads, listens, forms an opinion and speaks only when he believes the time is right.
Tonight, Fenech Adami will make a comeback at Dar Centrali with the launch of 'Inservi', a well-researched book that takes a good look at his longstanding political career. I ask him to react to a comment that still resounds among many PN supporters: "if only he were still leader…", given the reports of dissidence within the PN backbench.
His response comes in the form of words and a smile: "Some people might regard it as dissent, but as I see it, it is an ongoing internal party exercise, which is not necessary unhealthy, but a positive discussion…"
Positive? I ask. "Sure, such discussions happen in any political party, the PN is quite alive, but what is most important is that when matters come to the crunch, all are expected and in fact do toe the party line."
Fenech Adami concedes that nowadays, the PN is definitely not the party it used to be "fifty, forty, thirty, twenty or ten years ago… In certain aspects, it has moved with the times but I hope that it won't change its principles…"
So how does Fenech Adami interpret MP Jean-Pierre Farrugia's declared concerns about the PN possibly shifting from its Christian-democrat values?
"Christian-democratic values are entrenched within the PN. They are the values that guided the party throughout the years, and I hope that they won't fade away," he replies, while contradicting my suggestion that the PN may seem to be held hostage by these values, and perhaps is often criticised as "conservative" in policy.
"I dislike the word conservative, and frankly I don't accept it… I just hope that the PN remains faithful to the principles that built it."
But given the realities of an evolving society – as indicated last Monday on TV by former President and former PN deputy leader Guido de Marco – the Maltese perhaps have higher expectations as a people belonging to an EU Member State. De Marco, who appeared together with the same Eddie Fenech Adami and predecessor Ugo Mifsud Bonnici, appeared as the three wise men, all representative of a political class that no longer exists in Parliament.
Stopping short of mentioning divorce, Guido de Marco expressed himself as 'wishful' that the next development for the country would see the people feeling in synch with their expectations – especially when it comes to civil rights.
So with de Marco's diplomatic assertion, would Eddie Fenech Adami see the PN as hostage to its own Christian-democratic principles as it moves on through this legislature and prepare itself for the next general election?
"I don't see the PN hostage to its principles at all… as I said, the PN was built on them and I don't see why they should change. In other words, the party should stand by its principles, they are the fundamentals, and have nothing to do with changes in society," he insisted.
Fenech Adami is considered to be a father figure for many, but does he play the role of 'father-confessor' for the men who sit on the government bench as well?
"To whom?" he asks…
Well, if John Dalli says he is a 'father-confessor' to disgruntled backbenchers, would he, Eddie Fenech Adami, also be a 'father-confessor' to former ministers, MPs or whoever is inside the PN?
"Definitely not!" he replies, adding that he has absolutely no regular contact with either ministers or MPs. "If I meet some ministers or MPs it happens casually during social events and our discussions are brief. I have no direct discussions with them in the sense of being a father-confessor," he stressed.
So once we mentioned John Dalli, what is your assessment of his recent nomination as EU Commissioner?
"John is definitely a top brain, and more importantly, he was hands-on in whatever portfolio he was given in the various Cabinets he served in, not to mention his expertise in industrial relations and his experience in business. I am on record in saying that in this very room where we are speaking, I had offered him the same post for EU Commissioner five years ago."
Fenech Adami explains that he had three people in mind for the post, namely John Dalli, his former personal assistant and chief EU negotiator Richard Cachia Caruana and the then Foreign Minister Joe Borg.
According to Fenech Adami, the offer for EU Commissioner to John Dalli was declined, however he added: "John told me that if it were my specific wish that he goes to Brussels, then he would have gone."
It could be plausible that in his calculations then, Fenech Adami was in the process of considering his eventual retirement from Castille and party leadership, paving the way for an eventual successor, who came with the name of Lawrence Gonzi. It was also known then that John Dalli would have tried his fate by contesting that same race towards leadership.
But while all this will probably remain 'in pectore', Eddie Fenech Adami reveals that when he approached Richard Cachia Caruana, the latter also declined to accept the post of EU Commissioner. The third and last name to be approached was Joe Borg, considered by Fenech Adami as "the architect" of Malta's EU membership.
"Joe Borg was and still is an extremely valid person who would have, and has made an excellent EU Commissioner," he said.
Asked for his opinion about the allegations that led John Dalli to resign his Cabinet post in 2004, Eddie Fenech Adami stressed that it was "utterly scandalous" that such allegations were fabricated. So should he have resigned?
"The allegations were proven to be a complete fabrication, scandalous in their entirety, but the time they were raised had made John Dalli's resignation practically inevitable."
John Dalli was since vindicated and in 2008, he was re-appointed minister in Lawrence Gonzi's Cabinet with a super-ministry as portfolio.
I mention Louis Galea, and it triggers an immediate reaction by Fenech Adami who defines today's Speaker of the House as an "incredible brain."
Louis Galea – who perhaps produced the biggest shock in last year's close-shave electoral victory for the PN after failing to be elected to Parliament – is described by Fenech Adami as a man who brought about "incredible changes within the PN and the country throughout the last 30 years."
"His strong character is second to none and his political sense is incomparable…"
So what is the loss for the current PN administration? "Oh, he is surely being missed!" Fenech Adami replies.
In this changing political scenario of outspoken backbenchers, ministers leaving Cabinet to take up posts in Brussels, and Louis Galea no longer being a member of parliament, we talk about the man who now leads the PN and government: Lawrence Gonzi.
"I believe that Lawrence Gonzi is over-stretching himself… Sometimes he is unfairly criticised. I believe that he can do more if there is more open and active assent towards his government's policies."
Do you see that Lawrence Gonzi's Cabinet should do more? "Well, I believe everybody around him can do more – not only the ministers but everybody on the backbench, the whole parliamentary group, the party as a whole and last but not least, the party grassroots."
Eddie Fenech Adami goes on to say that the impression he has is that Lawrence Gonzi is "working 24 hours a day, and that is a bit too much…"
So if there is all this energy in Gonzi, why is it that the PN had such a close shave in last year's general election, and a thrashing in June's European Parliament elections? What is happening to the PN? Can it make it again? What is Fenech Adami's prediction?
"A prediction? This is very difficult to tell. The political situation in Malta is so tight, with two major political parties. Both work hard on every single vote, and the race is on for who will garner the most. Last year's election produced a result that gave a majority, but a very slim majority for the PN… things were always very close, and having a government with a one-seat majority is not something out of the norm for Malta; in fact, they were quite normal in recent political history."
But the European elections last June were a completely different story.
"I have always seen these elections as not fought in the same way as a general one. These are elections that are practically contested in the name of the candidates, irrespective of what or for whom they stand for. If I can give an example, I have always held high regard for the strong personality AD's Arnold Cassola had, and his showing proved this as people see in him a good MEP. The same goes for Professor Edward Scicluna. A good candidate for whatever party he stood for, and, in fact, he was elected…"
Eddie Fenech Adami has made history with his successes and it is noted in the casualties incurred on his political rivals. From Dom Mintoff to Karmenu Mifsud Bonnici and Alfred Sant, today's PL has a new leader, whom Eddie Fenech Adami speaks well about.
Eddie Fenech admits he doesn't know Joseph Muscat "that well," but explains that he sees Muscat as being "full of energy and trying hard to bring about change within his party. Whether or not he is succeeding is of course another matter, but there is no doubt that the man is full of energy and is always present in the political scene."
So I ask him, what does it take to be a leader today?
"It is definitely not an easy job," Fenech Adami says, while adding that it all depends on charisma that must be nurtured not just by the leader but also by the party he leads…"
Working in politics is definitely not the most comfortable job in the world, nor having the responsibility of leading a nation or a party.
"I always trusted the people in their assessments, and will continue to believe in them, because it is they who make this nation, and it is them that make Malta the miracle it is today…"
Fenech Adami lifts his cuff to look at his watch, it is noon: a clear indication that time is up, and the interview must be over. On his desk is a book written by Corriere della Sera deputy director Magdi Allam. Allam, who has now added 'Cristiano' to his name, writes his account of conversion from Islam to Christianity. "This is a very good book, he says, "it is very interesting…" while he retires and joins his wife Mary, the woman who still stands by him and who continues to be the strongest link in his life.
---
Any comments?
If you wish your comments to be published in our Letters pages please click button below.
Please write a contact number and a postal address where you may be contacted.
---


All the interviews from Reporter on MaltaToday's YouTube channel.
---
EDITORIAL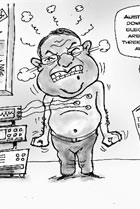 The questions that will not go away
---
INTERVIEW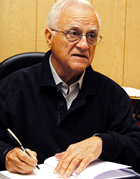 Lessons in leadership