| | |
| --- | --- |
| Film Review | Sunday, 06 December 2009 | |
The allure of Megan Fox requires no analysis. In fact, it is interesting solely for the fact that it's so blunt: the raven-haired beauty with a loose tongue – comparing Michael Bay, her director in Transformers, to Hitler was either a display of pure lady-gonadom or simply proof that superstardom is in fact skin-deep – now adorns many a teenage boys' desktop, and her stratospheric popularity (staggering, given the fact that her only real mainstream work is the depressingly popular Transformers saga) even led to a boycott in July of this year, as a 'Day without Megan Fox' was unanimously agreed upon by a number of men's websites.


She has been lazily compared to Angelina Jolie by the media, largely owing to her impressive collection of tattoos and her aforementioned outspokenness. While the sex symbol will no doubt be replaced soon enough, 'Jennifer's Body' – written by former stripper and 'Juno' scribe Diablo Cody and directed by 'Girlfight's Karyn Kusma – exploits her status as Hollywood bombshell du jour from every angle: using it to get the bums on seats, but also parodying it for the sake of the more discerning members of the audience.
Fox takes on the titular role of Jennifer Check, high-school cheerleader who becomes possessed by a hungry demon after she attends a gig at her local Minnesota town with lifelong best friend Needy (Amanda Seyfried) and is taken away to a mysterious location by the band. She begins to transition from being 'high school evil' – gorgeous (and she very well knows it), stuck up and ultra-attitudinal – to the real deal: evil/evil. The glittering beauty becomes a pale and sickly creature when she hasn't had a meaty snack for a while, and guys who never stood a chance with the heartless babe take on new lustre in the light of Jennifer's insatiable appetite. Meanwhile, Needy, long relegated to living in Jennifer's shadow, must step-up to protect the town's young men, including her geeky boyfriend Chip (Johnny Simmons).
It's impressive to see how a screenwriter with Diablo Cody's cult credentials could take precedence over the director's vision (granted, Cody is also executive producer here). The film not only shares some of Juno's supporting cast (J.K. Simmons as a wonderfully square science teacher, Aman Johal as 'Ahmed from India') it also carries over the teen-angst milieu that characterised the Cody's Oscar-winning pregnancy dramedy. The proliferation of hoodies, eyeliner, of references to Wikipedia, Hannah Montana are all there, and they amount to nothing less than the formation of an iconography. Cody, with just two films under her belt, already seems to have created a distinctive stylistic flourish. And she's not even the director.
And, in a lot of ways, 'Jennifer's Body' is 'Juno's evil twin. Boasting the same sensitivity for teenage qualms and attitudes, it plonks a supernatural schlockfest in the middle of the proceedings to intensify the characters' growing pains to great effect. But while Cody's undeniable talents with quirky dialogue and believable young characters elevate 'Jennifer's Body' above typical horror fare, there is an undercurrent of pretentiousness that mars the whole project. The main culprits here are Cody's self-confessed aims with the film: she wanted to redress a gender imbalance in horror films (by making males the target), and to explore 'the complex relationships between best friends'. A lot of this is evident in the film's pitch, and there's not all that much exploring going on. However, the idea of Jennifer externalising her bitchiness to a demonic degree, so that Needy can finally see the light, makes for a funny bit of over-the-top allegory. For indeed, Fox's status as sex goddess is driven to wickedly hilarious conclusion. The preening cheerleader becomes a literal man-eater, while her hanger-on buddy grows into a fully-fledged badass. As an old-fashioned coming of age story, it works wonderfully, even more so when compared to Juno. Just swap the baby with a demonic possession.
---
Any comments?
If you wish your comments to be published in our Letters pages please click button below.
Please write a contact number and a postal address where you may be contacted.
---


All the interviews from Reporter on MaltaToday's YouTube channel.
---
EDITORIAL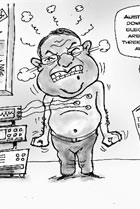 The questions that will not go away
---
INTERVIEW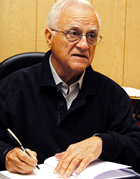 Lessons in leadership