| | |
| --- | --- |
| News | Sunday, 18 October 2009 | |
James Debono
Excavations required for the development of the new MCAST campus in Corradino could yield new archaeological finds, according to an Environmental Impact Statement for the prospective development of the college.
The report warns that extensive care should be taken not to endanger the standing Kordin III megaliths, which date back to 3,700 BC.
The temple is protected by a 100-metre buffer zone, that partly extends into the proposed development.
Both Fondazzjoni Wirt Artna – which administers the Kordin temple – and the Superintendence for Cultural Heritage have not excluded the possibility that works on the new campus could yield archaeological finds buried under modern buildings, which will now be demolished.
Kordin III is the sole survivor of the three original temples, probably saved from encroaching development by a wall built in 1925.
The report warns that during the demolition and construction phase of the project, the Kordin III megaliths would be exposed to dust pollution.
It also considers a temporary cover for the megaliths, but warns that this could alter the micro-climate of the site, which could harm the stone megaliths.
The best solution – according to the report – would be a constant monitoring of the site by conservation experts, to ensure immediate intervention when necessary.
It also warns that the excavation of bedrock to level the site could cause irreversible damage to the megaliths if adequate measures are not taken. But the development of the new campus can carry on without damaging any known archaeological site, the report goes on, if necessary precautions are taken.
---
Any comments?
If you wish your comments to be published in our Letters pages please click button below.
Please write a contact number and a postal address where you may be contacted.
---


All the interviews from Reporter on MaltaToday's YouTube channel.
---
EDITORIAL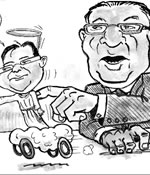 A crisis of confidence