| | |
| --- | --- |
| Editorial | Sunday, 18 October 2009 | |
As the dust settles from Franco Debono's bombshell last Saturday, the picture that is now swimming into view is really one of crass incompetence and mammoth naivety: both on the part of Finance Minister Tonio Fenech – who accepted a businessman's invitation, in direct breach of the Ministerial Code of Ethics – but also the Prime Minister who has unaccountably chosen to defend his disgraced Cabinet colleague tooth and nail.
This latter detail is perhaps the most remarkable aspect of the whole affair, as it transpires that Dr Gonzi is in fact the only person within government to so far have craned his neck out on behalf of his embattled finance minister.
In sharp contrast with his handling of the John Dalli resignation in 2004 – and more recently, the Victor Scerri incident (when Gonzi enigmatically said he expected the PN president to 'do the honourable thing') – the Prime Minister has left no stone unturned to justify his Finance Minister's apparent close connections with the Tumas Fenech group.
People would be justified in asking themselves why the Prime Minister is suddenly so keen on defending a Cabinet colleague, when on other occasions the same Dr Gonzi seemed to have no qualms in cutting adrift anyone whose behaviour could undermine his government's credibility.
Furthermore, Gonzi's excuses for Fenech's behaviour have to date come across as somewhat childish. For instance, the Prime Minister tried to reassure the public by explaining that he gave his Finance Minister the go-ahead to accompany George Fenech on a trip to Spain because "it was only a football match". Likewise, Gonzi consented to the trip on condition that Fenech and his hosts would 'not talk business' while on holiday.
This is not a serious way of doing politics. Moreover it seems to have escaped the Prime Minister's attention that, at the time of Fenech's trip on the Tumas Group company jet, his own government was about to embark on three initiatives that would indirectly favour the same Tumas Group to the tune of tens of millions of euros.
These include a clampdown of betting shops, which would divert business to casinos; a wide-reaching reform of the Lotteries and Gaming Act; and the re-opening of the Dragonara Casino tender after its lease expired in June.
What the Prime Minister evidently fails to comprehend – and in all honesty it is remarkable that this needs pointing out in the first place – is that Tonio Fenech's antics have consolidated the widely-held perception of a 'cosy relationship' between certain entrepreneurs, and the Ministers who regulate their industries.
Gonzi seems to expect the public's perception not to be influenced by the juxtaposition of a businessman jetting off with the Cabinet minister for a Champions League match abroad, and ongoing regulatory changes that could favour the same businessman.
But perhaps the most astonishing development of all occurred last Wednesday, when Dr Gonzi summoned his parliamentary group to an extraordinary meeting at the PN headquarters in Pietà – the second such meeting in less than a week, in what appears to be a rapid descent into chaos.
Judging by how this meeting was reported in the usual 'government-friendly' press, its purpose was to issue a statement 'unanimously condemning anonymous letters'. One would think that Dr Gonzi had more important things to discuss with his MPs. At a time when his own government is experiencing a crisis of credibility. In fact, the very notion that he would convene such a meeting for this reason is simply ludicrous.
Clearly, this meeting served another purpose, and if it is true (as reported in the Labour press) that it was to get his MPs to rally around their embattled Finance Minister, and issue a joint statement to the effect, then one need hardly add that the consequences of Dr Gonzi's failure are very serious indeed.
If the Prime Minister asked his Parliamentary group to support Tonio Fenech, and was flatly refused, it would leave the Finance Minister with no option but to resign with immediate effect – not so much for having breached the Code of Ethics (in itself a resigning matter, at least countries where ethics are take seriously) but more because he would have clearly lost the confidence of his own government.
Where would that leave the Prime Minister himself, as the person who demanded this show of unity, but failed to secure it? And what are we to make of Gonzi's political judgement, in convening a meeting for such a delicate purpose, when he evidently did not have any guarantee that his backbenchers would even co-operate?
The implications are little short of devastating, for Gonzi as much as for Fenech. Really and truly, it is incredible that things have come to this pass.
---
Any comments?
If you wish your comments to be published in our Letters pages please click button below.
Please write a contact number and a postal address where you may be contacted.
---


All the interviews from Reporter on MaltaToday's YouTube channel.
---
EDITORIAL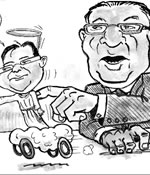 A crisis of confidence