| | |
| --- | --- |
| Mona's Meal's | Sunday, 18 October 2009 | |
A couple of weeks ago, Kitty St John made her first appearance on www.planetmona.com as resident media critic. As the nights started getting up earlier and earlier, and the first rains started growing weeds in the garden, Kitty found that her purrs were turning to miaows: the local media scene is just hilarious and tragic.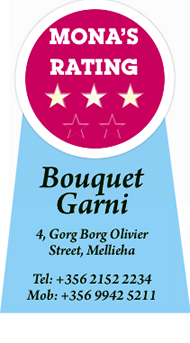 First up for the Twitterers, Facebook status updaters, Kitty and her fellow cats is Favourite Channel. What kind of a summer must these people have had to come up with these brilliant ideas? If I were Paris Hilton, I'd say it must have been "awesome xoxo", but I'm more of a Perez girl myself, so I'll say "What the ****!"
It's all there: overweight men with tyres of flesh straining through their 'modern' shirt, 'presenting' programmes; women with artificial nails as long as my legs, but thicker; discussion programmes where the man leading the discussion is dressed like the Tin Man; and of course, Malta's Top Model. If I left it up to Kitty, she would be blogging every week about this same crazy topic. The programme is so bad that it's good. Kitty actually makes a social night out of it, but every Wednesday evening sees me having an argument with The Writer because unlike me, his intestines are not lined with metal: some things he just cannot stomach. For details, please spare me the repeat (although they won't) and go read what Kitty had to say in the Lifestyle section.
The reason why all my information is from third parties and through constant tweets from the Funs is that we have been watching Masterchef: The Professionals. Comparing the BBC to our home-grown Favourite channel is a non-starter – if it's quality you want, rather than to laugh out loud at other people's tragedies and self-delusion, then this is what you should get your hands on.
Professional chefs, some from the lower rungs of Britain's kitchens, others from the top echelons, battle it out for the title of Professional Masterchef. The pace, like a kitchen's, is rough, tough and unrelenting. The food is sometimes divine, many times good, and yes, sometimes an incredible disaster. Like life.
Michel Roux Jr and Gregg Wallace are, as they should be, tough judges. If they had to apply their tasting and eye skills to some of the local fare, they would simply, and understandably, refuse to touch it. Yet the chefs' metier is tested even further when they have to cook their own menu for a panel of critics. My stomach was flipping throughout. I felt for the chefs but, of course, understood the critics.
In the semi-finals, when chefs are placed in Michelin-starred kitchens in London and join service, the heat is not just turned up: this is a full-blown furnace we are talking about. In some situations, the restaurant's Chef would go in and take their plate away and complete it himself: the risk of their having a Michelin inspector at a table is not one that any of them are going to toy with.
Apart from the inspiring food, what I truly love about Masterchef is how it manages to consolidate the life of a chef in an hour: it's a constant survival of the fittest. Chefs struggle to become good and to stay good. And the better they become, the higher the ante is upped. Which explains why some 3-star chefs give their stars back – it does get to a point where it's the constellation or your life.
Bouquet Garni is as far from Michelin-rated food as you can get, which is, in my book, a Very Good Thing. Michelin food and fine dining have their place in life, and it is certainly not on a weekday when, after a day at work, all TW and I feel like is some heart-warming, well-sourced, quality food.
I have no idea what the man running Bouquet Garni is called, but what a refreshing change he is. Warm, enthusiastic, passionate and – dare I say it – caring, he made our midweek supper an utter joy. I can assure all those who have never been that the chances of finding happy from-the-heart, very Maltese service like this in a Michelin-starred restaurant, where all is starched and process-driven, is as probable as all of Malta's roads becoming highways to heaven tomorrow morning.
The food, prepared by his sons Wayne and Darren Borg St John (they're not my best friends: I looked them up) is homely, boring at times, way too pandering to the British market – Mellieha's tourist population seems to survive on just this – and slightly schizophrenic at times (check the set menu - cheap as chips but five times as dull), as if it cannot decide whether to be bistrot, tourist, or please-everybody.
It is also very, very good. It is pleasing, mostly fresh, lovely in its simplicity yet with a nod to modernity and experimentation, although not too much of it. Sadly, most of it lacks seasoning: are the brothers tasting as they go along? It certainly does not feel like it. This is easily rectified, so they'd better get going with those tasting spoons.
My escargots, for example, lacked the punch necessary for such an uncommon (for Malta) dish. They cooked them with garlic butter, as they should, but the last time I had them, in one of my favourite bistrots in Paris, they almost made me cry. These left me bereft: the butter needs to be stronger, and where on earth was the salt? The accompanying slice of lightly toasted bread is all wrong, which was really odd. If they had just toasted their own home-made, absolutely gorgeous, wheaty and yeasty bread which they offered at nibbles-stage, everybody would have been happy, most of all me.
TW's salad, again, was unseasoned and, like my starter sides, undressed. Shame because it reads very well. The 'beetroot' in the 'beetroot salad' should have been julienned and tossed with the rest of the leaves. Instead, it was slices on the side. The brothers need to find another supplier for their goat's cheese or change the cooking method: baked or fried goat's cheese needs to take on the texture of soft chews: this one became dry and almost crumbly in the middle.
The mains are huge, which I know is the phrase 80 per cent of the readers of this column will be waiting for to start their engines and speed off to Mellieha. My rib-eye was enormous and I couldn't even finish half of it. I would have much preferred a smaller, better-trimmed cut. It was cooked as it should be, and well rested, and presented as a surf 'n' turf with a couple of soft and delicious mussels and some extremely lightly and judiciously cooked prawns. The cream sauce, again, needed seasoning. TW's fillet was cooked medium-rare as he asked. Yet it was also very large and ungainly, and the sauces on offer – pepper or mushroom – are not doing the brothers justice. I'm sure they're capable of better.
The winners of the night were the accompanying potatoes, which they roast in duck fat and unsalted butter with whole roasted cloves of garlic. They were stupendous. In fact, they were so good that I really felt like leaving all the meat there and just eating the spuds, which of course, is not the right thing, seeing as they're the support act rather the main drag.
Also holding the trophy was the spun sugar on the dessert. The first man who ever employed me in a kitchen was British ("I'm taking you on because my sister is a chef and she went through hell trying to get her first job because she's a woman: I don't want you to go through the same thing") and watching him spin at the end of a humid, waiting-for-service kitchen was like watching art being created.
The brothers obviously love their bit of drama, which is why they dressed a very humble cheesecake with a crown of gold. The cheesecake itself lacked sugar and had too much cream in the mix, which really needed the acidity of some more lime or lemon. That's not to say it was not good. TW's chocolate fudge with vanilla ice-cream was more of a cake, but for a cake it was thick, soft, moist and wonderful, even if the cocoa powder in the mix did not do it justice. We did not leave a slick of sauce on either plate.
People put too much stock by stars, which is why it would be nice if some of them actually bothered to read the contents of a review. Bouquet Garni gets 'just' three, which, in Mona's Meals, means 'good and acceptable'. It most definitely has the potential for four. All they need to do is taste their food a little: that's lesson one on Masterchef.
---
Any comments?
If you wish your comments to be published in our Letters pages please click button below.
Please write a contact number and a postal address where you may be contacted.
---


All the interviews from Reporter on MaltaToday's YouTube channel.
---
EDITORIAL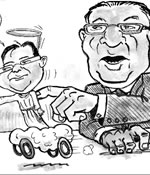 A crisis of confidence