| | |
| --- | --- |
| Film Review | Sunday, 18 October 2009 | |
Romantic comedies make themselves consistently easy to despise. Whatever one feels about them, I find it immensely difficult to believe that the relevant emotion could even come close to anything resembling genuine love.


Mass produced quantities of the most vulgar kind, they currently occupy a space that used to belong to Westerns: there seems to be a dozen of them each week, and their assertively formulaic nature doesn't seem to faze General Audiences (perhaps we should consider the fact that most Westerns released nowadays are brooding, carefully wrought epics a grudgingly-received consolation prize in this sorry state of affairs). It is a truth universally acknowledged that the course of true love never did run smooth, and from this persistent germ of a cliché, many a box-office-breaking web of comic mismatches and heart-warming reconciliations is spun. Never mind that such films blissfully bypass the wonderful mess a human heart can be, when coupled with another; never mind that they simply cut and paste the most 'relevant' snap shots of a relationship (as if such a thing is even possible), robbing the film of any chance at expressing beauty or genuine intimacy. The worst part of it all is that you're considered an irredeemable curmudgeon the second you dare to voice your dislike of the ubiquitous genre. "Lighten up," they'll say. "It's just a bit of fun - we all need to relax every now and then, switch our brains off every once in a while." As a voiceover truthfully says to us early on into Marc Webb's (500) Days of Summer, "There are two types of people in the world. There are men, and there are women." Such a universally acknowledged truth deserves a better illustration than most rom-coms are ready to provide. Thankfully, this reviewer is happy to report that Webb's little gem shines brighter than its counterparts.
Joseph Gordon-Levitt (Brick, Third Rock From the Sun, 10 Things I Hate About You) stars as Tom, a greeting-card writer who dreams of becoming an architect and finding his true love. Zooey Deschanel (The Hitch-hiker's Guide to the Galaxy, The Happening) plays Summer, a vintage-looking beauty whose ideas about love are entirely modern. When she is employed as an assistant to Tom's boss, he becomes immediately smitten. Unfortunately for Tom – whose unwavering belief in love stems from 'early exposure to sad British pop music and a total misreading of the movie The Graduate,' – Summer refuses to waver in her views on relationships even as the two embark on a seemingly blissful one. As Tom remembers his 500 days with Summer, his mind jumps from moment to moment, focusing mostly on the good times of an otherwise heady few months.
It's easy to see that very little of the film is actually revolutionary. If you take away the non-linear chronology and its steadfast heroine, you'll find it's not too different from other features in the boy-meets-girl slush pile. But that's precisely it: it's the little crucial touches that make all the difference. Maybe Webb has it easy, really: it's a genre that makes too much money with too little effort, and there is very little competition in sight for any filmmakers willing to ride the rom-com crest while retaining some dignity. But nothing can take away from the fact that this is something a lot of us have been waiting to see. Visually confident (Webb cut his teeth on music videos), it's a mature and quirky little masterpiece. Naturally, a lot is riding on its leads. Deschanel is typecast as the quirky love interest, but she manages to carry the role with a surprising maturity. Crudely put, Summer toggles between damsel and villain, so it's admirable that she manages to remain sympathetic throughout. The only real letdown is that, in a film that seems to pride itself on its honest, cliché-free take on matters of the heart, Summer comes across as largely an enigma, often teetering dangerously close to femme fatale territory. What the script lacks more than anything is a 50/50 view. Not that Gordon-Levitt makes for a lacklustre protagonist. It's so good to see him working again, and Tom was written for him.
The course of true love never did run smooth. Finally we have a film (scratch that: a mainstream film) that proves as much.
---
Any comments?
If you wish your comments to be published in our Letters pages please click button below.
Please write a contact number and a postal address where you may be contacted.
---


All the interviews from Reporter on MaltaToday's YouTube channel.
---
EDITORIAL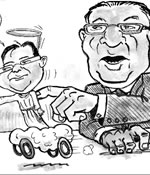 A crisis of confidence