| | |
| --- | --- |
| Mona's Meals | Sunday, 11 October 2009 | |
Ten years ago, the very thought of 'turning into my mother' – not the real thing, but the concept – would have given me a permanent ridge between my finely-threaded eyebrows. All familiar with Psychology 101 fear the grim reaper of age, habit and DNA.
The one thing that has never scared me and which I have adopted for real is my mum's – the real one, not the concept – stickleriness (is that a word? She'll get me for this one) for grammar, spelling, and table manners: no eating with mouth open, hence no eating and talking; no elbows on the table; cutlery by the side means 'still eating' while cutlery side by side in the centre of the plate says 'I'm ready'. Manners, and a sense of humour – both pre-requisites for restaurant criticism – are the one thing in life which distinguishes humans from animals. In that sense, she has given me a more important heritage than anything tangible.
A few days ago, on Top Chef, judge, food book writer and gorgeous creature Padma Lakshmi put a knife in her mouth. The web was aghast. An outrage. How rude. Yet parents other than my mother, from what I can see, reason in a different manner. People my age or older no longer have a concept of 'what one should do' when sitting at table. The issue is rather socially complicated and has been so for quite a while.
Years ago, eating with an English friend of mine, the son of a British Lord, no less, I had to control my gag reflex: watching him eat felt like falling into an abyss of bits of masticated food and saliva. Not pretty. I was young then, and still naïve enough not to know that manners at the table had nothing to do with social class or background (etiquette and protocol, maybe). In South Park terms, Butters wouldn't dare, Kenny wouldn't know better, but Stan might still do it.
Even posture speaks volumes. I never have any idea how to behave when my dining companions bend over and take their mouth to the plate, rather than bring their food up to their mouths. You cannot have a social supper if you're looking the grilled fish in the eye.
Cutlery is meant to be held in a certain way, and that is certainly not as you would hold a pen or wield a weapon. If you're struggling, then your fingers are probably too close to the tangs or the blade. Wolfing everything down and finishing ten minutes before everybody else is something that not just our dog does, and that is just so sad. Where's the enjoyment in speed? Speed does kill – taste in this case.
Nowadays, most people do not even know how to use a real napkin – that, believe it or not, is one made of cotton or linen rather than cellulose or paper. I have had guests who say "Oh, bring out the disposables," as if they are doing me a favour, but really they're just scared they'll stain the square bit of fabric and that I will be angry because at home, real napkins were for 'special days' – like the salott.
Napkins are there to be used, then washed, ironed and folded. Then they are stored. Nonetheless, I seem to be in the minority with this. A real napkin, you see, sits heavily on your lap or even tucked in your collar. It has weight. A fake one exists only to wipe away the sauce from around your mouth. More and more restaurants have done away with the real thing.
In most cases, I blame the shape of modern food and its source: if manoeuvring around bones using metal implements – also called 'eating a T-bone/rack of lamb/leg of chicken' – is not something you have ever done because all you have had access to is chicken nuggets, pizza, burgers or that blandest, softest meat, like chicken breast – then method will not be in your repertoire. When faced with a dish you cannot use your fingers for, such as a beef patty in a bun (aka 'burger', the very invention of which centred around the non-use of cutlery or need for a table) you have to start learning all over. Most people cannot be bothered.
Moreover, we are passing on these habits to our children. Parents are scared to discipline children in anything just in case they seem like fuddy-duddies. So they raise savages who munch loudly and complain if the pizza cannot be eaten without a fork and knife.
Table manners cropped up as a topic of conversation during dinner with the Social Networking Expert and the Australian Food Writer at Peppino's. I had managed to hide behind The Writer on the way up and therefore screened myself off from Dede, the owner, who I reported to as my boss many, many moons ago. His presence is permanently attached to the ground floor of this three storey restaurant, so I knew I would be safe upstairs.
Way up on the highest floor, we had a stunning view of Spinola Bay, with the lights twinkling below us and the sound of traffic only noticeable when the night crowd had had too much to drink and decided to squeal its tyres. The real noise was closer: TW and the SNE ended up spending most of dinner avoiding a full frontal view of the men opposite them, both part of a table of guys. Men in bunches are worse in their habits: loud slurps, open mouths and flying bits of food are condoned in a way they would never be on a date.
We all agreed that the 'no elbows on the table' bit was a little outdated and duly plonked ours there.
Peppino's is looking a little worn around the edges. It is now a trattoria, although when I was there years ago, it had fine dining touches. We spent hours polishing cutlery, forming real napkins into swans (yes!) and placing them in the centre of each setting. These days, you'll get light cellulose, which is infuriating. Not a single trattoria or bistrot in Sicily or France would try and fob you off with that; I don't know why we do it in Malta.
The glasses for wine and water are made of thick recycled glass, old and ugly. They really need a revamp (aka recycling bin). The woman who was clearing tables upstairs needs someone to rein her in – towards the end of service she was calling another staff member, loudly, to go see something over the edge, right next to some diners. The waitress felt embarrassed and only went to shut her up. Still, that did not stop either of them from sitting at a table inside and 'resting'. Dede needs to put cameras up there.
Otherwise, it was a joyful – especially when compared to last week's fiasco, which has become www.planetmona.com's most commented-on article – experience. Peppino's food is utterly unrefined, it has no elegance, nobody stops to think about how the plate looks before it goes out: it is more a question of 'is it full?' and into the dumb waiter it goes.
Yet what it lacks in refinement, it makes up for in taste, flavour, seasoning, combinations and texture. For the money you pay and the area you are in, it is bang on the money and probably the best value. Sadly, the waitress did not even know what a farmed fish was, but when she asked Dede or the chef about our gurbell (brown meagre) they told her it was, which was honest of them. And nice.
Every single dish we had was fun, copious and amazingly satisfying in a rough, I-needed-that way. The linguini with scampi – a revelation of smooth sauce attached to the pasta strands and slightly overcooked crustaceans – was so pleasant that I ate it all, even if my starter was exactly the same portion as the AFW's main. TW's risotto was lovely, with some good prawn stock thrown in for good measure, suffusing the grain. The prawn-orange segment combination was fresh. The fritto misto had calamari in a brilliantly crispy batter and bits and bobs of everything seafood.
The SNE's cozze was so peppery and creamy, the mussels themselves soft and smooth, that he ended up asking for bread to mop up the sauce with. Again, in a very rough way, the bread is handed to you out of a 'common to all' basket. The SNE worried about other people having touched it, but of course, if that is a consideration, then he should never eat out: so many people have touched your food by the time you get it that you may as well keel over and die from the very thought. Poor thing: he's Australian and we all know what happens to you if you try and do something unhygienic in Australia, thanks to the myriad horror-at-the-customs TV shows.
The red snapper which SNE and I shared was slightly on the dry side for me, even if not enough to suck the saliva out of my throat. The lampuka fillet was just fantastic: it is practically impossible to ruin a good, fresh lampuka. TW's roast baby calamari were lovely, again slicked in a reduced tomato sauce, terribly fresh and giving.
The potatoes accompanying the mains were reheated in what tasted like cheap oil. The salad had sweetcorn. I remember writing about this ages ago and Peppino's have kept it there: it's horrid, it's cheap and it's only done in Maltese and American restaurants which have developed a penchant for the Green Giant and its kidney bean friend.
We summed it all up with some crème brulees which here are served in a ramekin: crème brulees need a lower height container so that the creaminess is offset by a couple of millimetres of burnt sugar. These were rough. TW's lime and cherry cheesecake was fantastic: all of it genuine, the 'cheese' part smooth as a lackey's tongue and the cherry part, although straight out of a can, still terribly pleasing.
All in all it was a lovely, very relaxed experience, assisted by the man who seemed to be the head-waiter and who was wonderfully attentive in a very discreet way towards all the tables in the area. That includes the one with the munching, spitting, loud men. If you can be polite to rude people, then I guess that makes you the most polite man of all.
---
Any comments?
If you wish your comments to be published in our Letters pages please click button below.
Please write a contact number and a postal address where you may be contacted.
---


All the interviews from Reporter on MaltaToday's YouTube channel.
---
EDITORIAL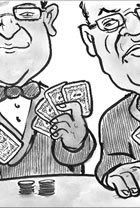 The game's afoot
INTERVIEW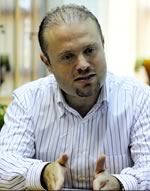 Joseph's amazing Technicolor coalition