| | |
| --- | --- |
| Interview | Sunday, 11 October 2009 | |
In his bid to attract disillusioned Nationalists, JOSEPH MUSCAT has added a pale blue tint to Labour's pinkish progressive coat. But is the party's transformation only skin deep?
When Joseph Muscat took over the Labour leadership last year, he promised an earthquake of change. A year has since gone by and some things have certainly changed... but is the Labour Party's leftwing ethos one of them?
Muscat sometimes gives this impression. For instance, the kind of budget he would present right now is bereft of any sacrifice, and with its promise of tax cuts it would be music to the ears of disillusioned middle class voters.
"I would present a responsible budget which tackles the concerns of Maltese families: namely the cost of living, corruption which has never been so rampant... and I would also give incentives to help families, even through tax cuts."
He promptly anticipates my doubts on the sustainability of tax cuts right in the middle of a recession. "You will ask me where the money will come from", he adds, going on to explain that tax cuts would act as a "stimulus to the economy."
When I ask him whether it is responsible for a government to slash the top income tax bracket from 35% to 25%, as promised by the PN before the election and by Muscat now, he accuses me of thinking like Finance Minister Tonio Fenech.
"You are looking at the problem in the same way as Minister Tonio Fenech. Previous ministers like John Dalli and George Bonello Dupuis used to perceive taxes as a stimulus for the economy. When they reduced taxes, government revenue increased. This is one of the solutions. The other solution is to cut waste and inefficiencies."
And for Muscat this is not just a matter of calling on a government to honour an electoral pledge, but also an integral part of Labour's stimulus package.
Music for the disillusioned centre right voter's ears, perhaps – but reason enough to raise doubts on Joseph Muscat's progressive credentials. He seems to read my facial expression, and immediately takes a leftward drift: defending single mothers from the latest neo-conservative assault.
Instead of targeting "a small, vulnerable" segment, the government should focus on sectors like Enemalta; where waste and inefficiencies are rampant.
"The government is appealing to base instincts in an attempt to divide and attack the most vulnerable parts of society."
And anticipating my lingering doubts that he is trying to please everybody, Muscat reveals that some insiders warned him not to speak about single mothers because "this issue is not popular."
But Muscat boasts of not succumbing to this pressure, proving the point that he is not so desperate for power as to forget his party's historical vocation to defend minorities.
"This is not a question of being a popular. It is a question of turning the most vulnerable sectors into scapegoats to make up for government inefficiencies."
I resist the temptation to take Muscat to task on other convenient scapegoats such as illegal immigrants, and instead try to probe harder to explore the Labour leader's stand on more populist issues.
For example Muscat has been very cautious on taking a stand on the proposal to build a parliament in Freedom Square, alongside the redevelopment of City Gate and the Opera House ruins. Once again Muscat would not say no, even if he goes one step further in distancing himself from the project.
"As a citizen I would like the theatre and gate to be rebuilt. But we have always made it clear that such a project should not be the ego trip of any politician, and should be a national project."
And he also expresses strong doubts about whether "we need to spend a lot of money to build parliament to suffocate an open space".
Muscat concurs with the Keynesian view that spending during a time of crisis is not necessarily a bad thing, as it can act as an economic stimulus. But he doubts whether this is the case with the City Gate project.
"When I asked the Prime Minister where the money will come from, he replied that the government will be saving €20 million a year for the project. But then it turned out that he has not saved anything this year... perhaps because the government has overspent, as the estimated €88 million deficit has spiralled to €345 million."
He also criticizes the government for ignoring civil society.
"People are clearly saying that their priority is not that of having a new parliament. They are saying that if the process has to take place it should be limited to rebuilding city gate and the theatre. The priority of this project does not reflect people's sentiments and I am in synch with the people's sentiments."
Being in synch with people's sentiments is clearly one of Muscat's strongest points. By focusing on the cost of living, he is addressing the number one concern of the Maltese people. So how will the cost of living go down with Muscat at the helm?
"If I were Prime Minister instead of Gonzi, I would not have introduced the crazy utility bills."
For Muscat the tariffs were even crazier because these were introduced at a time when oil prices were going down, despite the assumption that tariffs will now reflect oil prices.
But Muscat shies away from committing himself to bring the tariffs down, proposing instead to cap the maximum tariff.
"If I were the Prime Minister responsible for the next budget, I would introduce a maximum tariff rate that would remain stable for the whole year, thus giving a guarantee that irrespective of oil prices, the tariff will remain the same."
According to Muscat, the Maltese government should shoulder the burden of higher tariffs in the same way that governments in other countries have shouldered the burden of the crisis by helping failed enterprises.
But what if oil prices increase so much that these become a burden on the taxpayer?
"What I am saying is that people are not robots. One cannot simply dictate that tariffs increase whenever the price of oil increases. For me, the role of the state is to sustain people to remain productive. I prefer to help people in this way, rather than spending the same sum of money in unemployment benefits."
And how will he bring medicine prices down? Once again Muscat lashes out at government inefficiencies, hinting that the debts owed by the government to medicine importers is one of the reasons for the high prices in Malta .
"When medicine importers are not paid on time, they end up charging more those who do pay them on time, and the consumer ends up paying more."
But he also warns that if talks with importers fail, a Labour government will use the tools given to it by the European Union to ensure that the consumer gets a fair deal.
Muscat contends that, because many medicines are out of stock, people are suffering a double setback.
"I meet people whose elderly mother is entitled to free medicines. But when she is told that these medicines are out of stock, they end up buying them at a very high price as they cannot afford to wait."
He also questions the very idea of making spending cuts at the expense of the quality of service offered to the patient.
"When one spends to offer a better cure to the patient, one ends up saving money as it would save the patient from a deterioration of his or her condition in a way that he or she would otherwise need more expensive treatment or operations."
For Muscat, liberalisation could be one of the instruments which could be used to bring prices down but he criticizes past Nationalist government for not distinguishing between liberalisation, privatisation and competition.
"In our country we had lots of privatisations, less liberalisation and even less competition. The government ended up replacing public monopolies with private monopolies by simply selling its assets. For me liberalisation makes sense only when the consumer benefits."
The government has issued a tender for the operation of a new public transport system replacing the current monopoly. In the end only one company will be given the tender but at least the government will have a choice.
Without taking a clear stand in favour or against liberalisation, Muscat warns that if the new system would mean higher tariffs liberalization would be counterproductive.
"One could have a state of the art system but if people cannot afford it, it will be useless. Some students pay up to €2 a day to go to school to MCAST. This is not a small amount. Let's say the system improves, but his daily expense of this student is increased to €8. Would he afford it?"
I try to test Muscat's readiness to criticise the big business interests who replaced previous monopolies, as was the case with liberalisation of cargo handling. In this case industry was promised a decrease in costs. Muscat concurs with my observation that this never happened, adding that "in reality prices have increased."
But would Labour take back those public companies like the postal services, which were privatised by the Nationalist government?
"It is not time to turn the clock back. What we have to see is that liberalisation is responsible. What is certain is that I will not allow privatization for the sake of privatization, simply to have private companies instead of the government."
And he takes a solemn commitment not to privatise Air Malta, irrespective of any offer made for it.
"It is a valuable strategic asset. We will say: hands off."
Nor does Muscat have any qualms about disagreeing with the fines from speed cameras, and wardens end up filling the coffers of the private companies operating them.
"I am all in favour of discipline. There should be a reasonable system, but not one designed to suck money out of people. And surely any money collected should go back to the community for better traffic management, and not to the private companies managing the system."
He also asks how much of the monies collected from the CVA in Valletta has ended in the coffers of private companies.
Muscat has been trying to give the impression that a future government led by him will be more inclusive. But he will not do away with political appointments, insisting that "anyone serving on a board should be willing to implement the mandate of the government"; and that "one cannot afford to have people who put spokes in the wheel".
But he promises that there will be space for "the growing number of people who are alien to partisan politics but have a lot to contribute" and that this resource would "be used to the full" instead of being discarded.
One of the PN's former political appointees, ex-Housing Authority chairman Marisa Micallef, has just defected to Labour. What does Marisa Micallef have that many Labour activists do not to merit this job?
"Marisa's job is to help us look at the picture from another angle. When I want to hear a woman's point of view I listen to women, and when I want to know what dockyard workers are thinking, I talk to them directly. People like Marisa are needed to help us understand the views of former Nationalists disillusioned by Lawrence Gonzi. We want to hear a variety of views. This is part of her brief. "
Judging by his previous replies I doubt whether Muscat needs Marisa to understand the Nationalist psyche. But for Muscat, Micallef's defection may well serve another purpose.
"Marisa puts a face to many people who are coming to us through emails, letters and private conversations, and who – unlike Marisa herself, who abstained in the last election – voted for the PN. These people are telling us that this is not the Malta they want. They are telling us that they are interested in our vision. This places on us the onus of explaining this vision."
Yet the transformation of Marisa Micallef from staunch Gonzi supporter to Labour's latest addition has also baffled people. For Muscat, the fact that Micallef felt so comfortable making her move "is to the credit of the Labour Party and the progressive movement we are building".
For Muscat, it also signals the end of an era.
"The time when people were excluded for not conforming to stereotypes depicted in the media is over."
Marisa's entry coincided with Jason Micallef's exit from secretary general after being appointed chairman of One Productions. When I ask Muscat to explain Micallef's new role Muscat replies that he has the same responsibility as other people who previously occupied this post. "And I am sure he will do a good job," the Labour leader adds after a pause.
But what does Micallef's exit from the party's administration say about internal party democracy, considering that he was elected in a general conference by party delegates?
"What happened in the past weeks shows that members of Labour Party have the party at heart and their ideals go beyond personal interest. This includes Jason and other persons."
But wasn't it a question that you were unable to work with Jason Micallef?
"What we had to say, we said in the press release. I will leave it at that."
Muscat has presented a parliamentary motion on the power station tender. Is this a way of testing the waters in view of dissident voices on the government's backbench?
Muscat does not see any connection, reminding me of the chronology of events.
"Let's put things in perspective. It was only after we spoke about the issue that government members started expressing doubts..."
Raising the matter in parliament is only a logical conclusion of this process. But Muscat also expresses his surprise at Gonzi's reluctance to discuss the motion, especially in view of the fact that "with one notable and rare exception, Maltese governments have always won the day in Malta".
He also warns that a lot more will come out about this case.
"For us it is not a question of embarrassing the government, as the government is already doing a good job at embarrassing itself. I do not want to be an accomplice in a contract in which we bought a technology which pollutes more... and which we will have to replace in seven years' time... and for which we changed the law on emissions... and on which someone received €4 million in commissions..."
And for Muscat, the responsibility for the contract lies squarely on the Prime Minister. "He should never have given the go-ahead. It is on these occasions that one can assess a safe pair of hands."
Muscat has repeatedly described the government as unstable. He promptly reminds me that it was the Economist's Intelligence Unit which was the first to refer to the government's instability.
Muscat refuses to delve into whether the government risks losing its majority or not, but sees instability as threat to the country's well being.
"We have a Prime Minister who spends more time focusing on the problems of his party than on the problems facing families, businesses and the country. At this moment the country needs a stable government, not one undermined by internal rifts."
Following a brief chat on international politics in which he justified his party's hard stance on immigration by referring to the drift of working class voters in Italy to the hard right Lega Nord, I leave with this lingering feeling: while Muscat may well succeed in undermining the Nationalist hegemony on the middle classes without losing his own, his newly assembled coalition might well be just as pregnant with contradictions.
---
Any comments?
If you wish your comments to be published in our Letters pages please click button below.
Please write a contact number and a postal address where you may be contacted.
---


All the interviews from Reporter on MaltaToday's YouTube channel.
---
EDITORIAL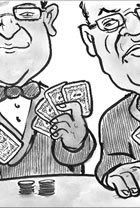 The game's afoot
INTERVIEW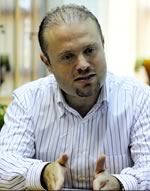 Joseph's amazing Technicolor coalition